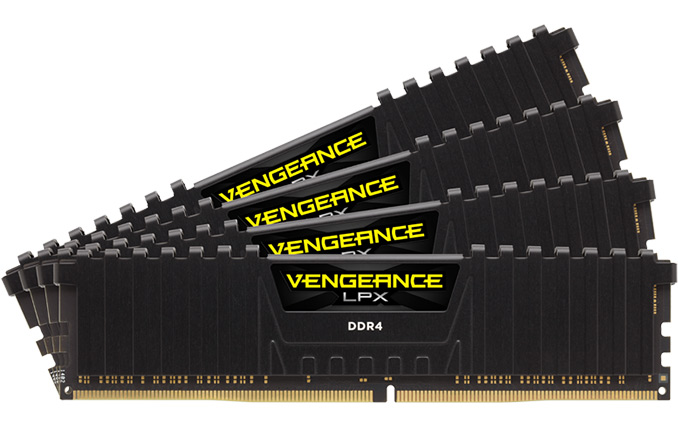 Corsair recently revealed a new 32 GB memory kit rated to run at DDR4-4333. The product consists of four modules and is the fastest set of DIMMs featuring such capacity to date. Of particular interest here are the kit's very specific compatibility requirements: due to the heavy strain on a CPU's memory controller from running so many DIMMs this far overclocked, the kit is only compatible with some Intel's latest 8th Generation Core processors, with Corsair going as far as suggesting interested buyers pickup pre-binned CPUs in order to ensure compatibility.
Corsair's Vengeance LPX 32 GB DDR4-4333 (CMK32GX4M4K4333C19) kit is rated to run in dual-channel modeat 4333 MT/s with CL19 26-26-46 timings and 1.5 V. Like other latest enthusiast-class DDR4 modules, the 8 GB DIMMs from the new kit are based on pre-binned Samsung B-die DRAM chips made using the company's 20 nm process technology. The modules traditionally feature XMP 2.0 profiles with appropriate SPD settings to make their setup easier. To ensure that the 32 GB DDR4-4333 kits work stably, Corsair uses Intel's Core i5-8600K CPU running on the ASUS ROG Maximus X Hero motherboard.
Corsair's "World's Fastest" 32 GB DDR4 Memory Kit for Intel's Coffee Lake
Speed
CL Timing
Voltage
Kit
Config.
Kit
Capacity
Family
PN
DDR4-4333
CL19 26-26-46
1.5 V
4×8 GB
32 GB
Vengeance LPX
CMK32GX4M4K4333C19
As reported, Intel's Coffee Lake CPUs work a bit differently with high-end DDR4 modules and require looser tRAS sub-timings than the preceeding Kaby Lake CPUs. With this in mind, it is not entirely surprising that Corsair's Vengeance LPX 32 GB DDR4-4333 kit is intended only for the latest Coffee Lake processors.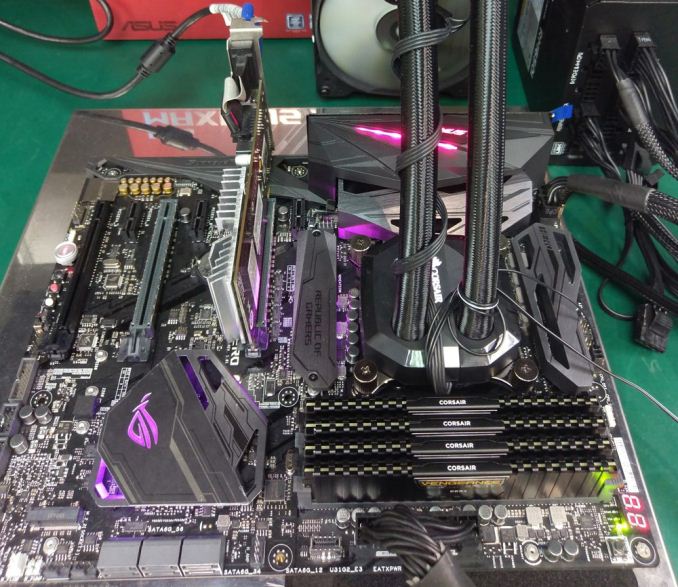 As mentioned earlier, Corsair says that not all Coffee Lake CPUs can handle the kit's rated DDR4-4333 speed. This is due to a combination of the kit's already high clockspeeds, coupled with the fact that running 4 DIMMs (2 DPC) is harder on a memory controller than 2 DIMMs (1 DPC). Functionally speaking this is a facet of processor overclocking – in the form of overclocking the memory controller – and with Corsair pushing the envelope so hard, ultimately not all CPUs are going to be capable of maintaining stability this far overclocked.
Consequently, Corsair recommends using pre-binned processors and high-quality motherboards with this 4 DIMM kit. Such CPUs are sold by select stores, such as Overclockers UK and CaseKing.de, and are more expensive than the regular parts since it takes time to find samples with a high overclocking potential. Given the very special positioning of the 32 GB DDR4-4333 Vengeance LPX kit, it remains to be seen whether Corsair will sell it only directly from its web site, or through select retailers.
At present, Corsair's fastest dual-channel 32 GB DDR4 kit is the Dominator Platinum 32GB (4×8 GB) DDR4-4000 C19 (CMD32GX4M4E4000C19) set of memory modules available either directly for $599.99 or from Newegg for $579.99.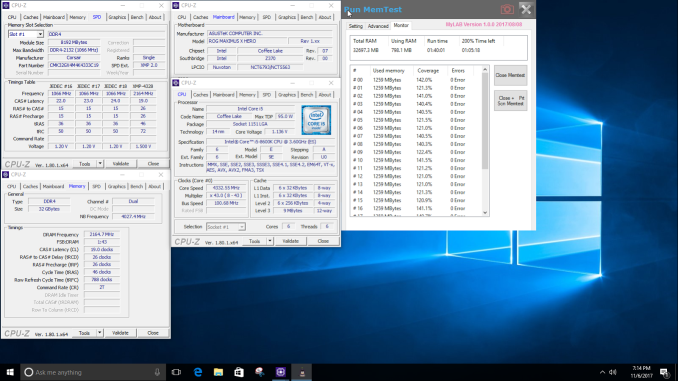 Related Reading:
Source: Corsair