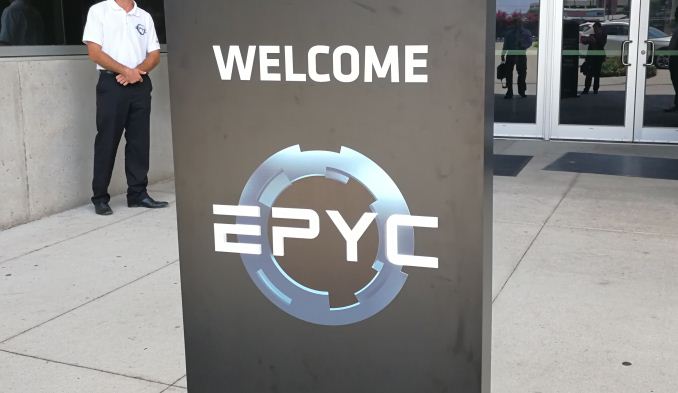 03:38PM EDT - Just getting seated, 20 minutes to show time
03:38PM EDT - This is AMD's launch for their Server parts. Code named Naples, branded EPYC
03:40PM EDT - Marking a return to the enterprise market for AMD, after BD and several years of little-to-no movement
03:40PM EDT - With the right execution, AMD has a large market to chip into
03:43PM EDT - I'm sitting here next to Patrick Kennedy from STH and Paul Alcorn from Tom's Hardware
03:43PM EDT - The room is filling up. Around 100 press/analysts, a lot of customer relations, a lot of the AMD Server team
03:43PM EDT - with such a large launch, I suspect they want everyone involved here
03:47PM EDT - Wifi is spotty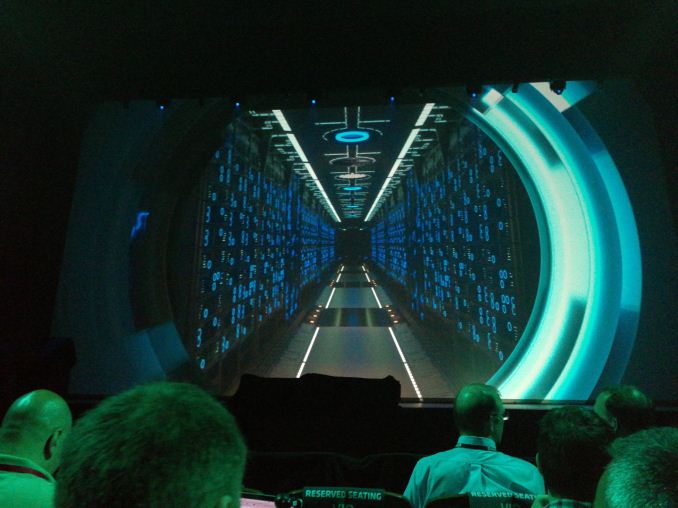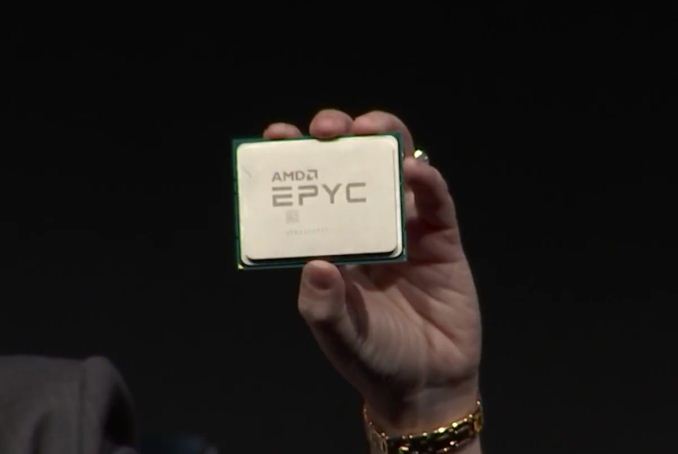 03:51PM EDT - Here's a picture of the EPYC chip from AMD's Financial Analyst Day a few weeks back
03:53PM EDT - We were told they will have up to 32 cores from 4 zeppelin dies, with 128 PCIe lines
03:56PM EDT - Five minutes to go. The main people are here: Lisa Su, Mark Papermaster, Forrest Norrod, Mike Clark, Scott Ayler, and their teams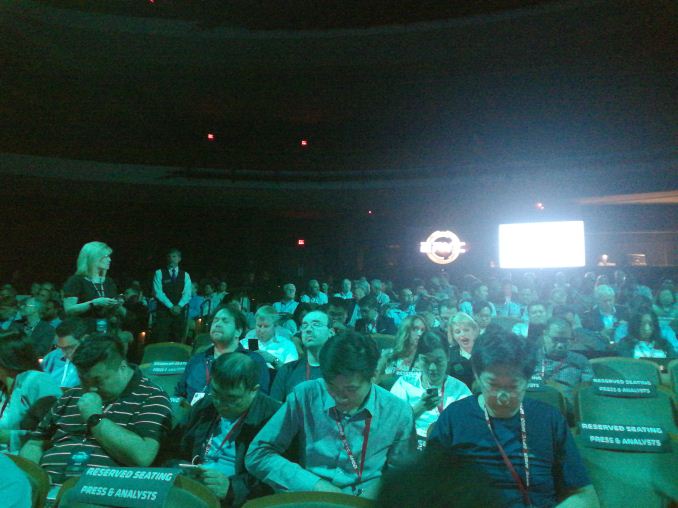 04:00PM EDT - Here we go
04:01PM EDT - Dr. Lisa Su to the stage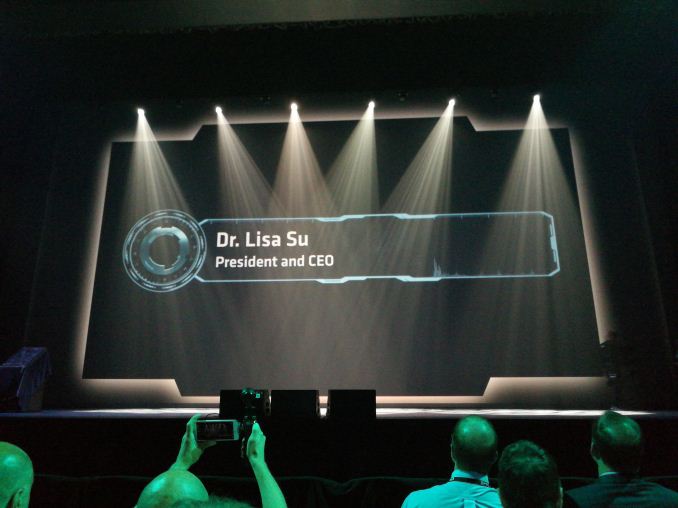 04:01PM EDT - 'We have so much to share with you'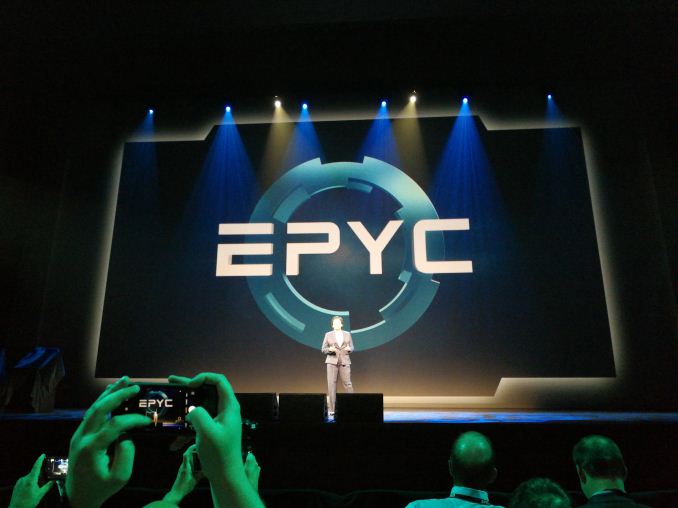 04:01PM EDT - Our article on the announcement just went live: http://www.anandtech.com/show/11551/amds-future-in-servers-new-7000-series-cpus-launched-and-epyc-analysis
04:01PM EDT - ' We wanted to return AMD to high performance leadership '
04:02PM EDT - ' We want to set ambitious goals, and be focused on executing them'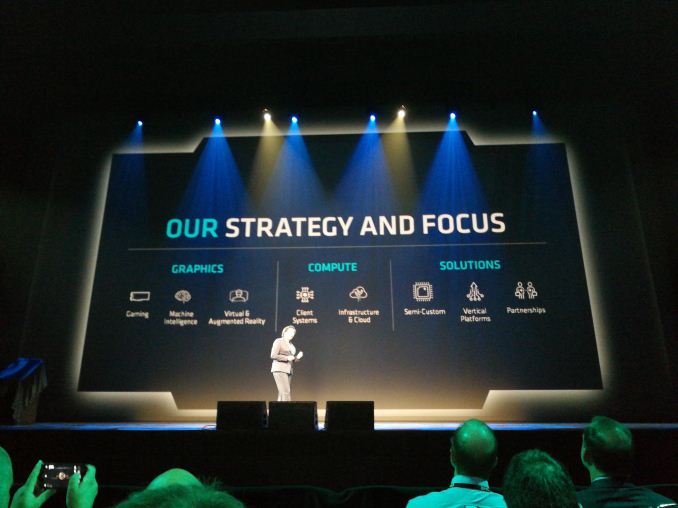 04:02PM EDT - 'We are super focused on our strengths and our goals'
04:03PM EDT - 'Everybody needs high performance computing in so many areas, but today we focus on the datacenter'
04:03PM EDT - $21B TAM in the Datacenter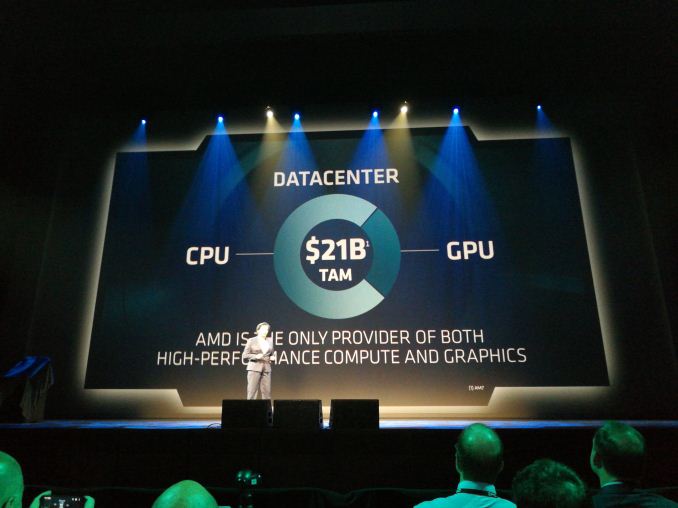 04:03PM EDT - 'AMD is uniquely suited for both CPU and GPU in the datacenter'
04:04PM EDT - '90% of the data created int he world was done in the last 2 years'
04:04PM EDT - 'This is driving an incredible set of new demands'
04:04PM EDT - 'Datacenter of today demands performance, adaptation, openness, and security'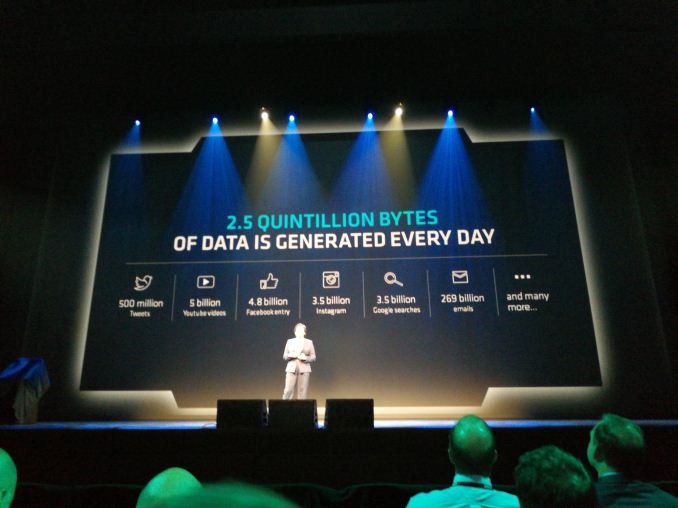 04:04PM EDT - 'One size does not fit all'
04:04PM EDT - 'You need your datacenter built for your workload'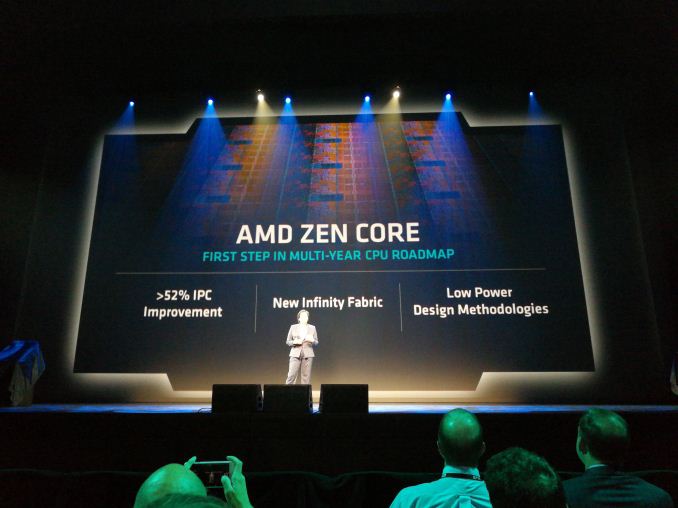 04:05PM EDT - 'To address the datacenter, we knew we needed a new CPU core, a new platform, a new approach to system design'
04:05PM EDT - 52% IPC, new Infinity Fabric
04:05PM EDT - 'We have reached our goals'
04:06PM EDT - 'Infinity Fabric is built for the future, with flexibility and new low power design techniques'
04:06PM EDT - EPYC is the next page for the datacenter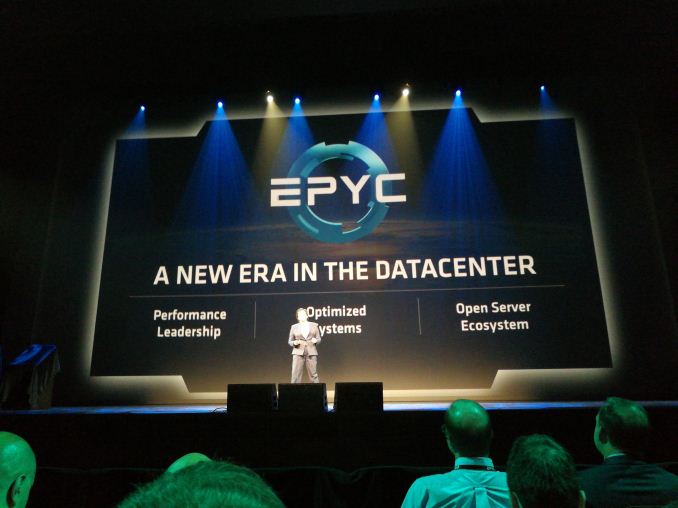 04:07PM EDT - 'We are absoultely delivering high performance for data center workloads'
04:07PM EDT - 'All workloads require optimized systems, and EPYC does that'
04:07PM EDT - 'Important in the server business requires an open ecosystem - we are open on day one'
04:07PM EDT - 'The strongeest people in the ecosystem will provide their experience with EPYC'
04:08PM EDT - The flagship is the EPYC 7601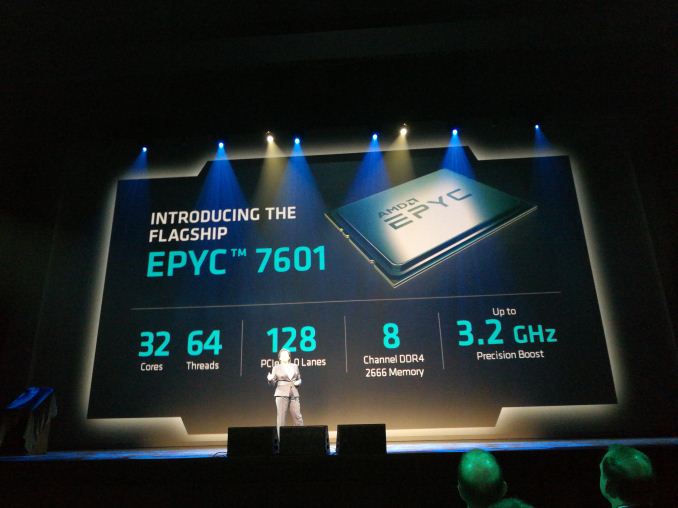 04:08PM EDT - 32 cores/64 threads, 128 PCIe 3.0 lanes, 8 channel DDR4-2666, Up to 3.2 GHz boost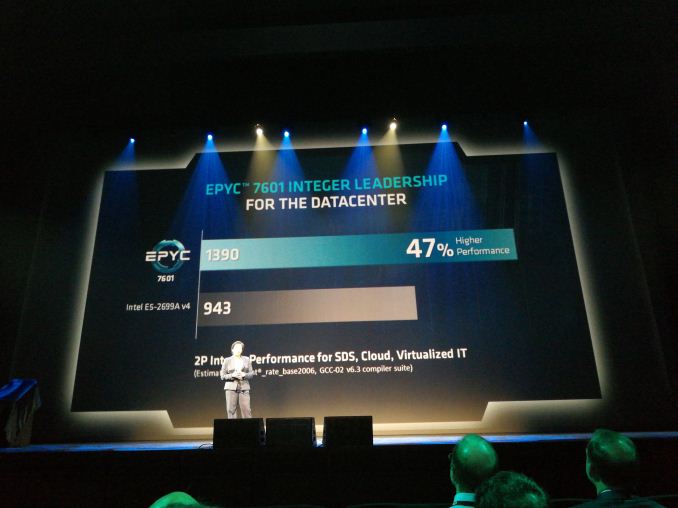 04:09PM EDT - SPECint_rate_2006 scores +47% perf over E5-2699A v4 using GCC 6.3
04:09PM EDT - +75% for SPECfp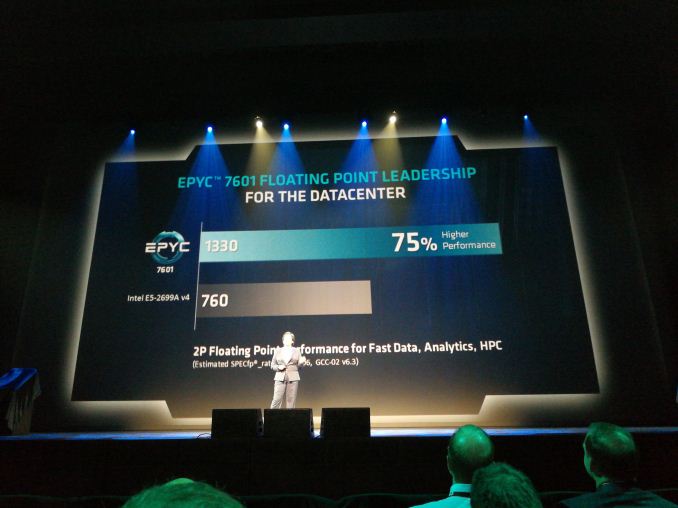 04:09PM EDT - Memory bandwidth on STREAM Triad is 2.4x over Broadwell E5
04:10PM EDT - 'As important as the benchmarks are, we are focused in performance for real workloads, for HPC or machine learning ot the cloud'
04:10PM EDT - Partners to the stage
04:10PM EDT - first up HPE
04:10PM EDT - 'EPYC was a big bet for AMD, and it was important to have a market leader to get the right requirements'
04:11PM EDT - First partner is HPE, a foundation partner, been with AMD on day one
04:11PM EDT - HPE to the stage, Antonio Neri EVP/GM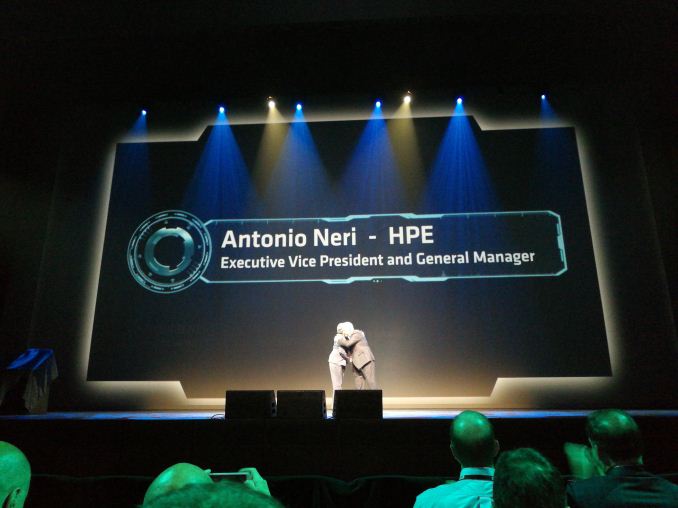 04:12PM EDT - 'HPE believes to have an open server ecosystem with innovation, this is what customers are looking for'
04:12PM EDT - 'this has been an amazing journey'
04:12PM EDT - 'As excited as we are about R&D, we get more excited about products'
04:12PM EDT - 'HPE has been leading this industry for many years'
04:12PM EDT - 'It's a market ready for disruption'
04:13PM EDT - 'We saw the opportunity to work with AMD to accelerate that disruption'
04:13PM EDT - 'We are here to make some exciting announcements with AMD'
04:13PM EDT - first cloud system
04:13PM EDT - for big data
04:13PM EDT - storage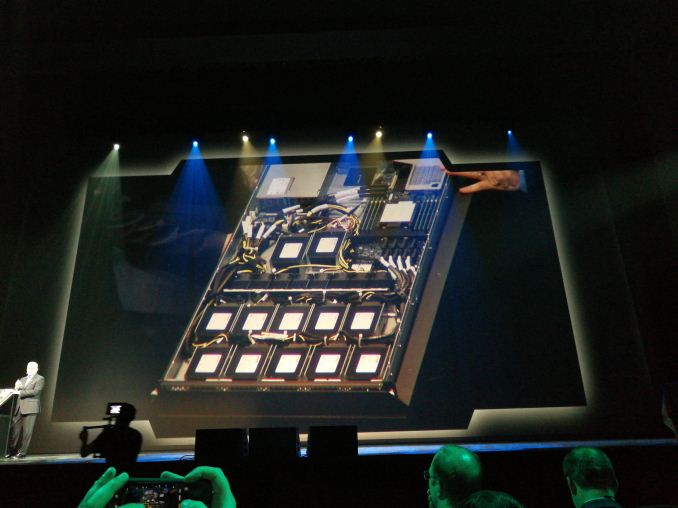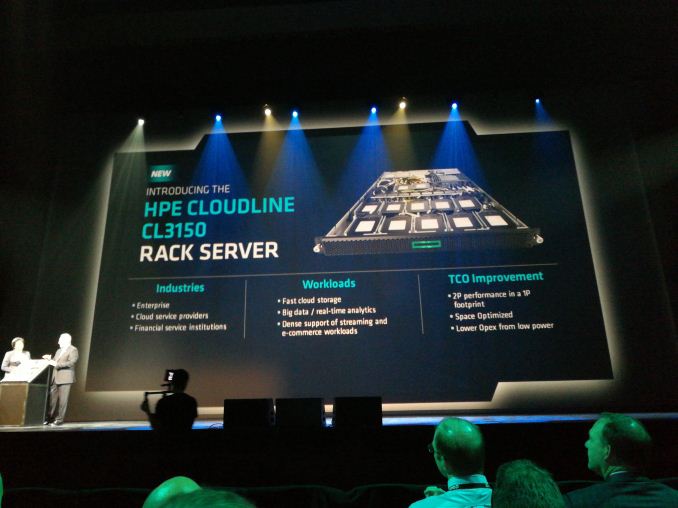 04:14PM EDT - Really important in the software defined storage space
04:14PM EDT - 2P perf in 1P footprint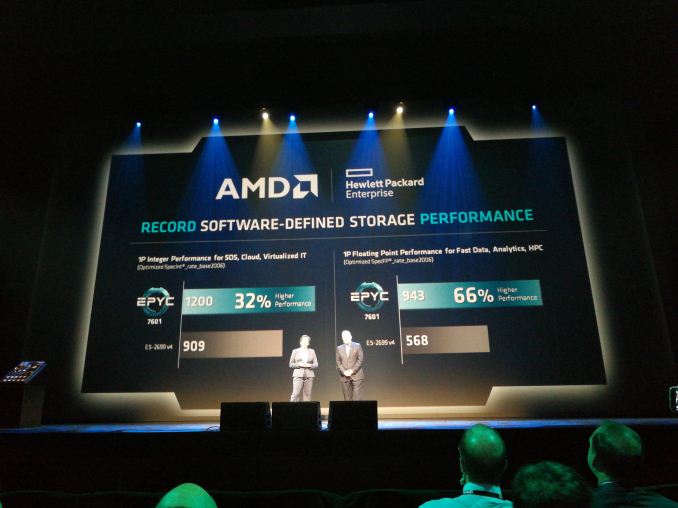 04:15PM EDT - 'With optimized compilers, the cloudline provides 60% more FP than the competition'
04:16PM EDT - 'For 24 drive NVMe, Intel requires 2P plus PCIe switches. AMD can do on a single socket'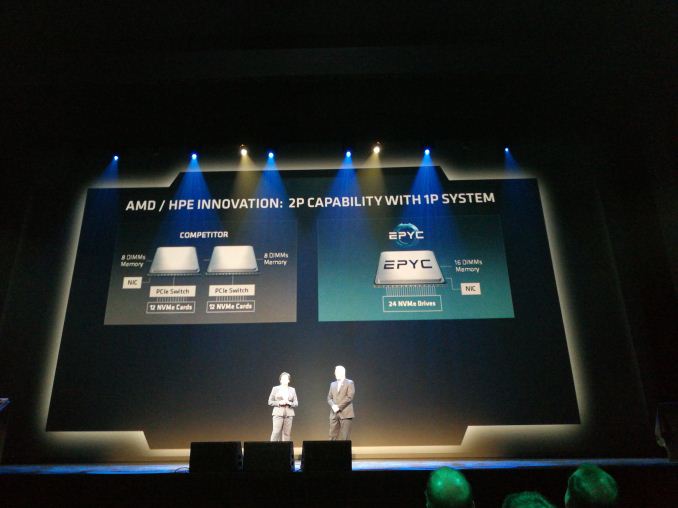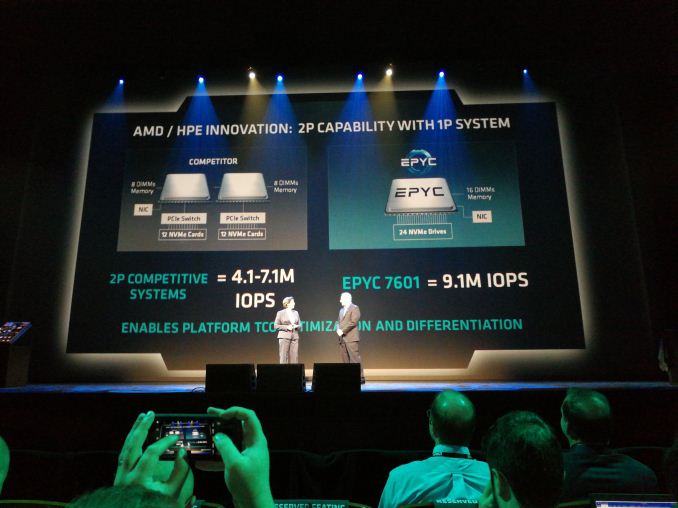 04:16PM EDT - 4.1-7.1M IOPS vs 9.1M IOPS on EPYC
04:17PM EDT - Now talking Gen10 server platforms from HPE
04:17PM EDT - 'This is going to be the most industry standard secure server on the planet'
04:17PM EDT - 'We have our own silicon'
04:17PM EDT - 'Silicon root of trust'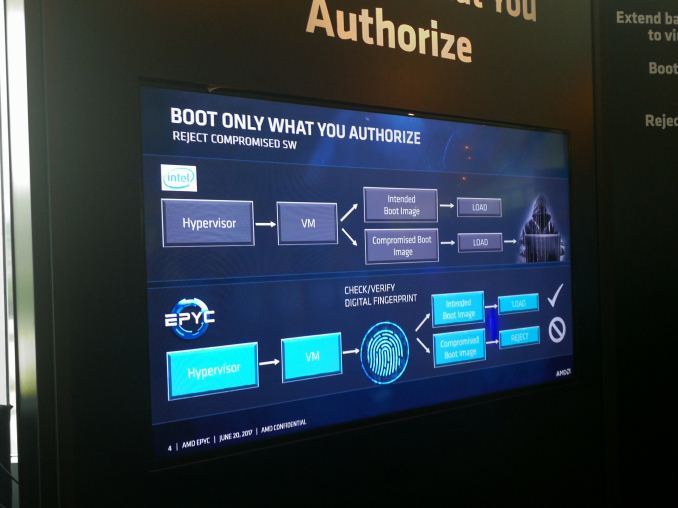 04:18PM EDT - 'We can fine tune the optimization the power and features of the server in real time'
04:18PM EDT - 'So the customer can get the best performance'
04:19PM EDT - 'Gen10 provides the best density for storage on the market, up 50%'
04:19PM EDT - 'The ability to pay for only what you use'
04:19PM EDT - 'from the metering services'
04:19PM EDT - 'innovation at the technology level'
04:20PM EDT - Coming second half of 2017
04:21PM EDT - Now Dropbox
04:21PM EDT - Video time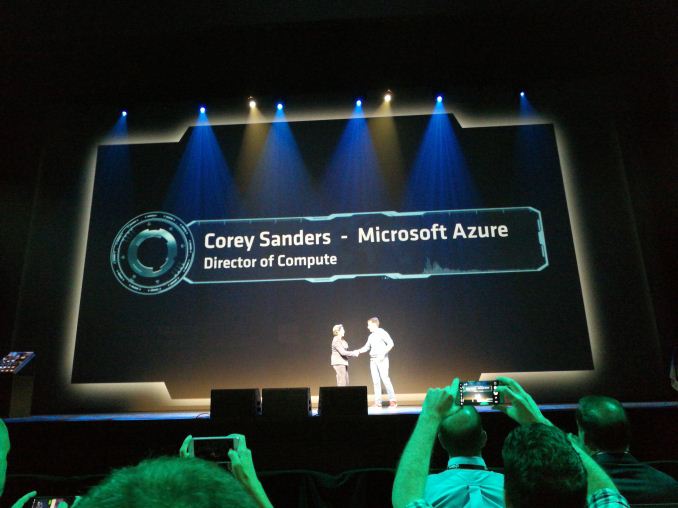 04:23PM EDT - Microsoft Azure to the stage, COrey Sanders VP/GM
04:23PM EDT - 'Cloud is changing how customers work'
04:23PM EDT - 'Looking to the cloud to change the way they innovate'
04:24PM EDT - 'Always looking for the latest and greatest'
04:24PM EDT - 'We want to tackle the problems of tomorrow'
04:24PM EDT - 'Hyperscale becomes very important'
04:24PM EDT - 'Innovating in new technology forms, like machine learning or AI or IoT'
04:25PM EDT - 'We've had a deep partnership, and the Azure partnership is critical'
04:25PM EDT - 'This has been a long time in the making'
04:25PM EDT - 'The Open partnership has been a great aspect of the relationship'
04:25PM EDT - 'We've beat our expectations on performance'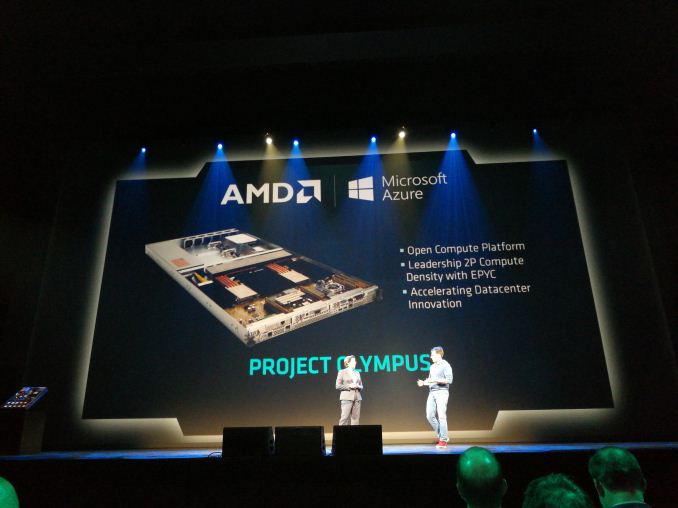 04:26PM EDT - Project Olympus reducing time to market
04:26PM EDT - Open Compute
04:26PM EDT - 'It's been an opportunity to have a deeper relationship'
04:27PM EDT - 'EPYC is being prepped for Azure'
04:27PM EDT - 'Deployment in the second half of 2017'
04:27PM EDT - 'Azure will be the first cloud provider with EPYC available by the end of the year'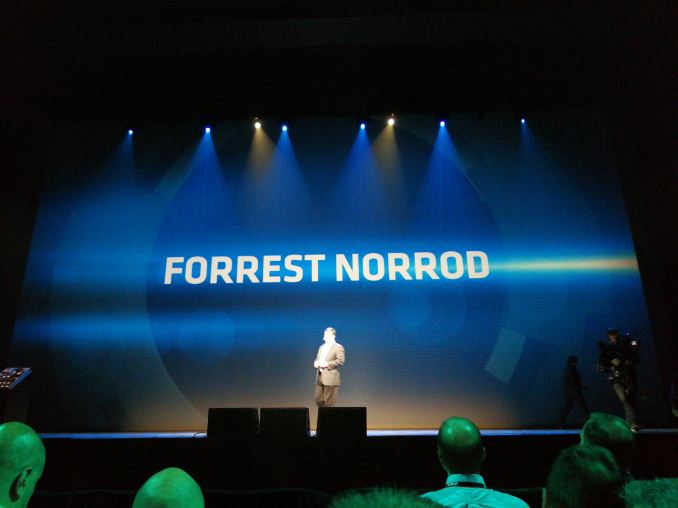 04:28PM EDT - Forrest Norrod to the stage, SVP/GM of this side of the business
04:28PM EDT - '5 years of love and labor'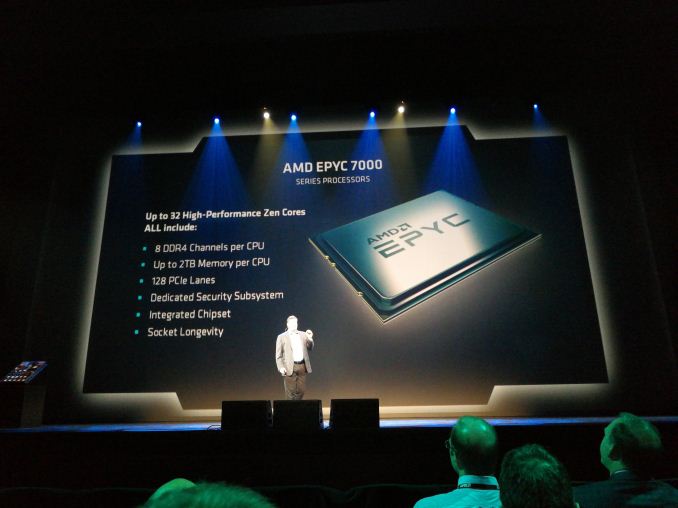 04:29PM EDT - EPYC 7000-series using the Zen core
04:29PM EDT - Socket Longevity will be important
04:30PM EDT - 'Every EPYC provides all the features: 128 PCIe, 8 channel, 2TB DRAM support, security, integrated chipset'
04:30PM EDT - No product differentiation down the stack except power, cores and frequency
04:30PM EDT - See the full list in our post: http://www.anandtech.com/show/11551/amds-future-in-servers-new-7000-series-cpus-launched-and-epyc-analysis
04:30PM EDT - Or right now, they're being shown on the stage
04:30PM EDT - 9 SKUs for dual-socket systems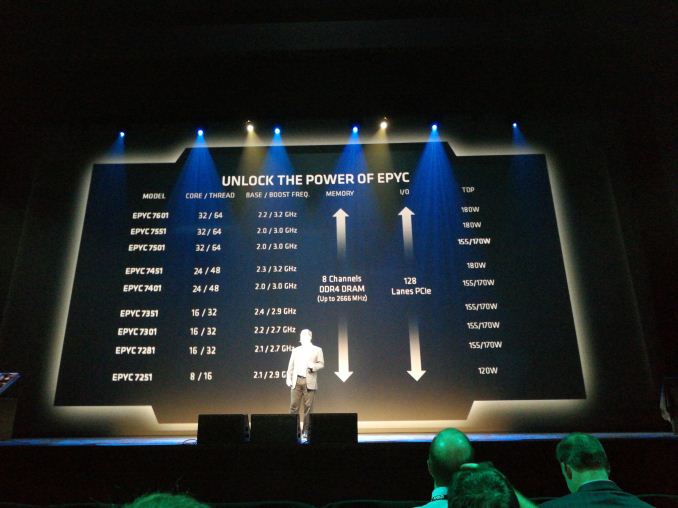 04:32PM EDT - 8 cores to 32 cores
04:32PM EDT - up to 180w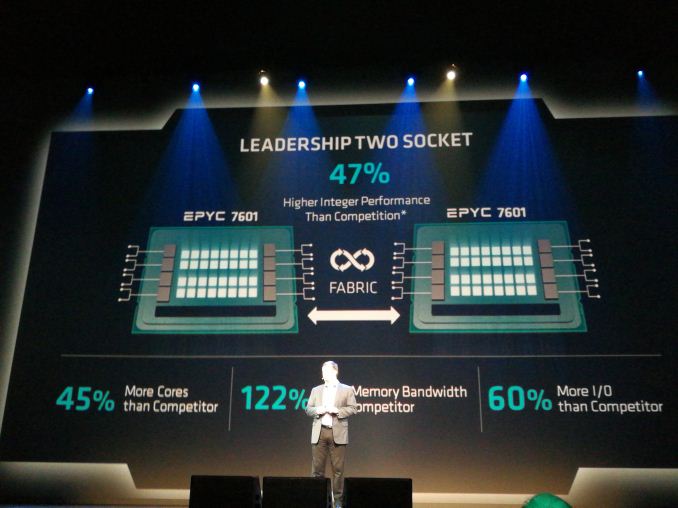 04:32PM EDT - 'EPYC 7601 is a record breaking CPU'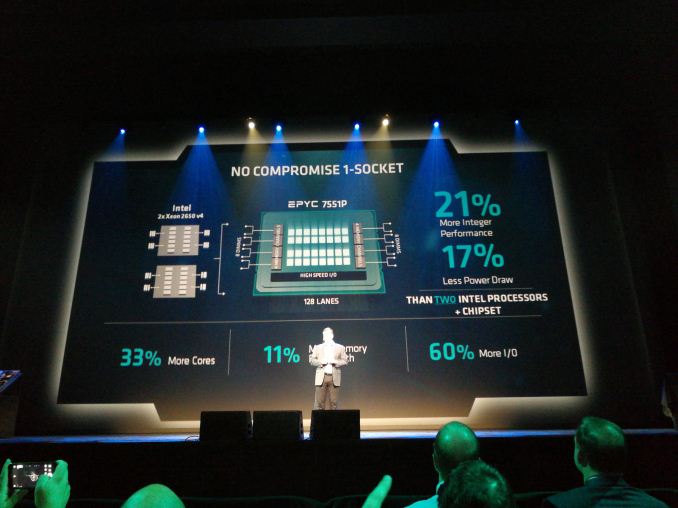 04:33PM EDT - One EPYC CPU can outperform a dual socket Intel system
04:33PM EDT - 'No compromise 1 socket'
04:33PM EDT - Lu Chao from Baidu to the stage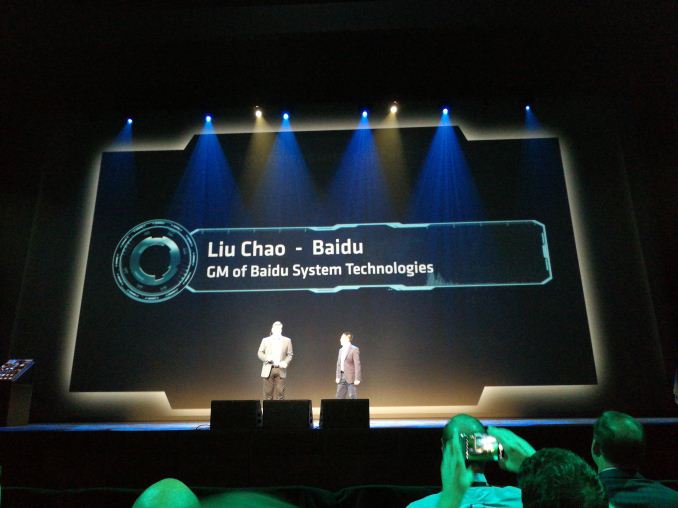 04:34PM EDT - 'Leading China search and AI company'
04:34PM EDT - 'Our new mission is to simplify the world with technology'
04:35PM EDT - 'The core strategy of Baidu is AI - storage, compute, algorithms, infrastructure and products'
04:35PM EDT - 'We want to run an integrated approach with AI, Big Data and Compute : The ABC strategy'
04:35PM EDT - 'Baidu chose to be an early adopter for EPYC'
04:36PM EDT - Baidu video time
04:36PM EDT - 'EPYC is a major innovation'
04:36PM EDT - 'Single socket optimized for Baidu's server workload'
04:37PM EDT - 'EPYC's solution increases efficiency and having a better TCO'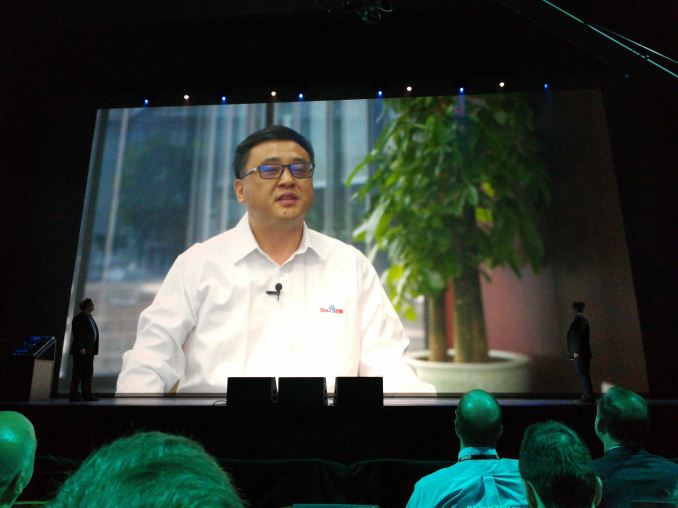 04:37PM EDT - 'Optimizes OpEx and Density'
04:38PM EDT - Deploying second half of 2017
04:38PM EDT - lots of 2H 2017 timeframes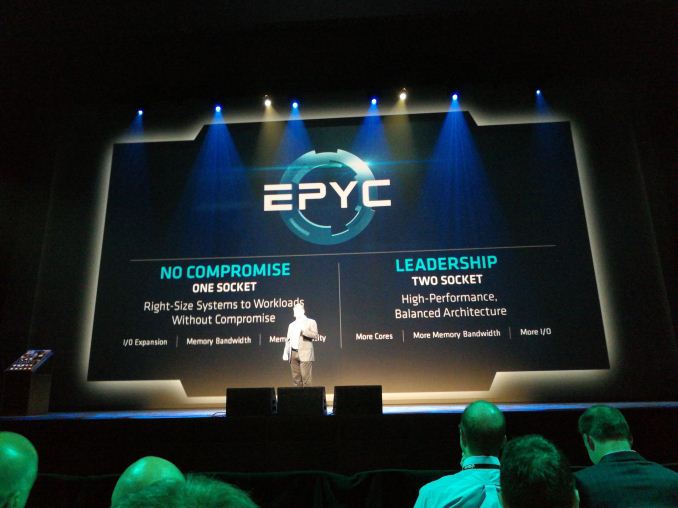 04:39PM EDT - 'Flagship 2P server, setting WR for performance in its class'
04:39PM EDT - 'millions of hours of work from engineers'
04:39PM EDT - 'Security is becoming a bigger concern every day'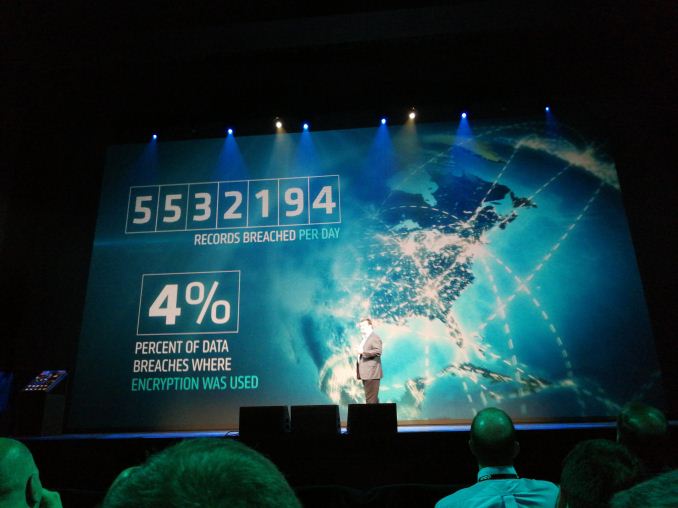 04:40PM EDT - 'We had to build a rich set of security in this new era of the cloud'
04:40PM EDT - 'Begins with a foundation'
04:40PM EDT - 'Hardware Validated Boot: ensuring the system is booted in a secure way'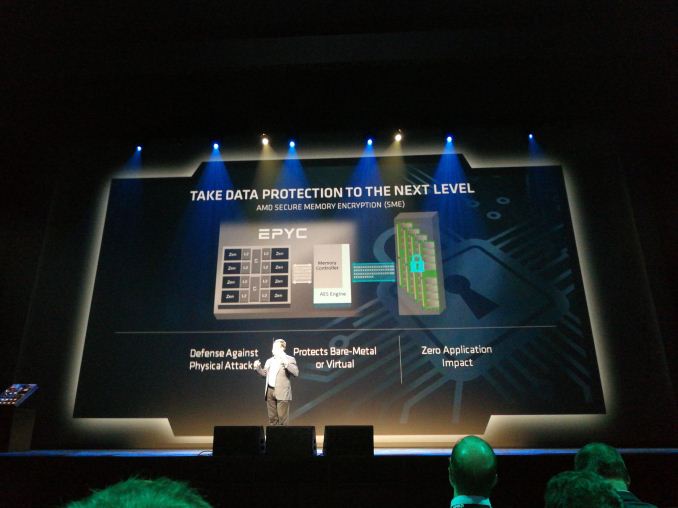 04:41PM EDT - In every memory controller is an AES-128 crypto engine
04:41PM EDT - Secures the data and instructions in main memory
04:41PM EDT - allows for physical security
04:41PM EDT - especially NVDIMMs
04:42PM EDT - You can't remove an NVDIMM and use the data still on the modules
04:42PM EDT - Different VMs can offer different encryption keys for their memory segments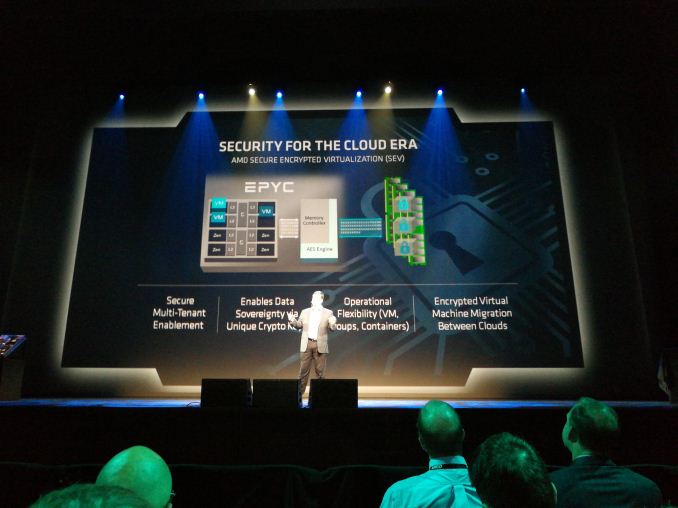 04:42PM EDT - No cross contamination
04:43PM EDT - 'Move encrypted VMs from one server to another, across the world. without exposing the user data'
04:43PM EDT - 'The crypto is woven so deep with a sub-1% impact on performance'
04:44PM EDT - Up to the stage, Dell, President and GM Server Division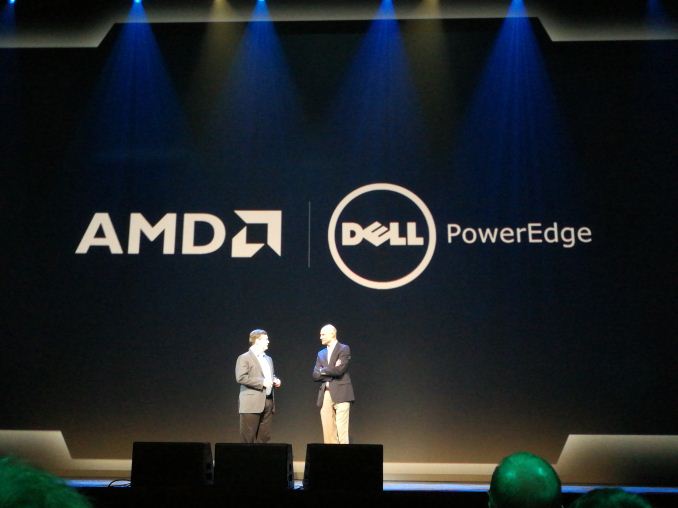 04:45PM EDT - We're in Dell theatre for this presentation
04:45PM EDT - 'We think about IT and transformation'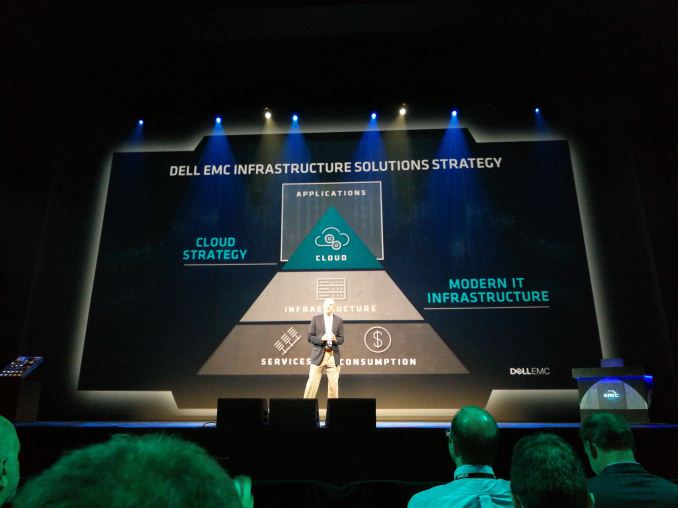 04:45PM EDT - 'we're welcoming the return of AMD to the datacenter'
04:46PM EDT - 'most of our customers want cloud like agility and flexibility (if not cloud like location), which lands on the infrastructure'
04:46PM EDT - 'Meeting our customers head on, on their terms, regarding digital transformation'
04:46PM EDT - Poweredge - the world's best selling server
04:47PM EDT - 'it's becoming a software defined infrastructure world'
04:47PM EDT - 'Scale up, scale out, storage'
04:48PM EDT - 'We mine stories from our customers to find the common themes about business transformation'
04:48PM EDT - 'Scalability, Automation and Scaleability were the three main elements'
04:50PM EDT - He's talking about setting up server and configurability, nothing specifically about EPYC, just the Dell focus
04:52PM EDT - 'we believe that technology coming from EPYC brings the security story to the next level'
04:52PM EDT - 14G server with AMD inside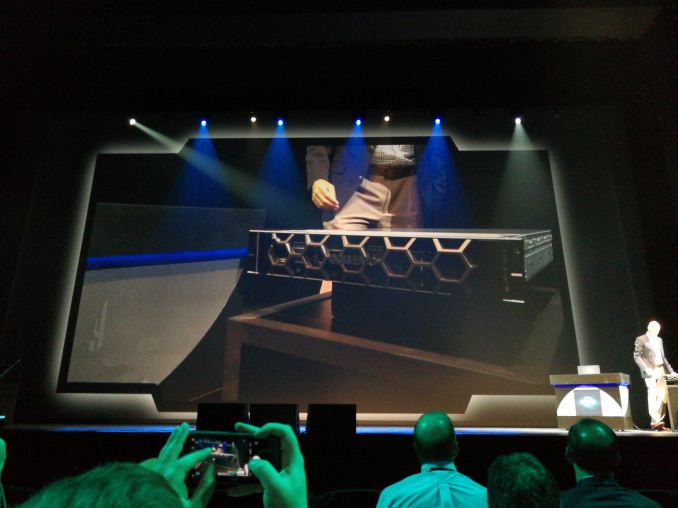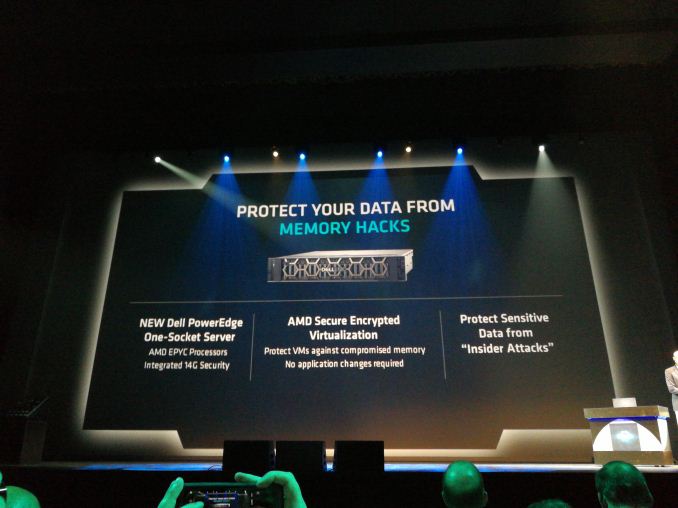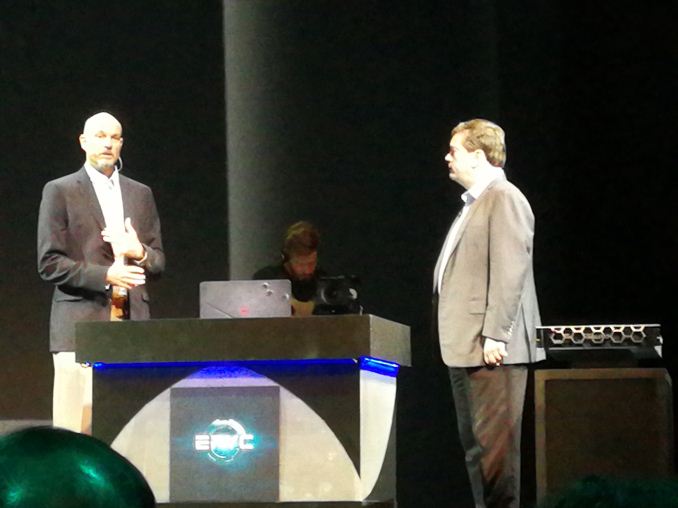 04:53PM EDT - 'Preventing hacking from external sources'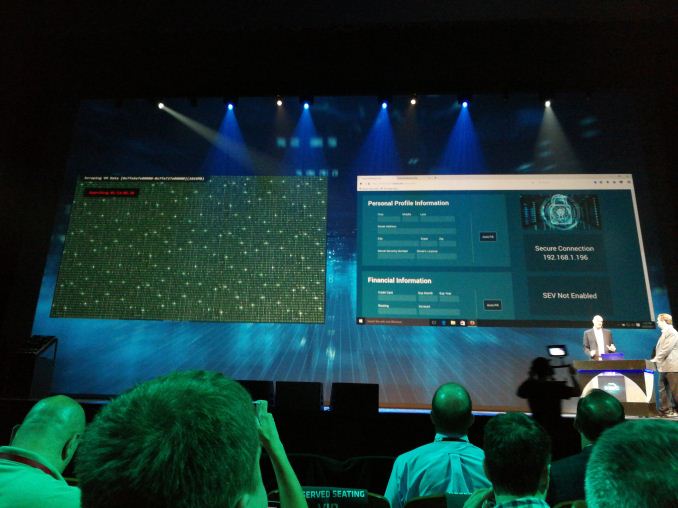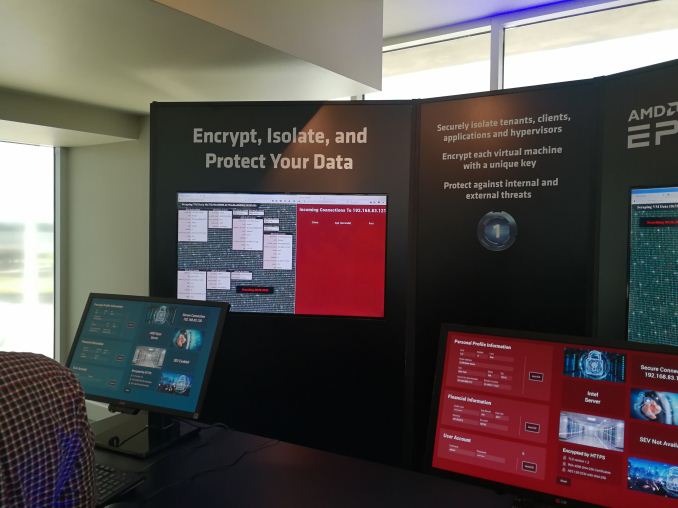 04:53PM EDT - Showing how to get up some personal data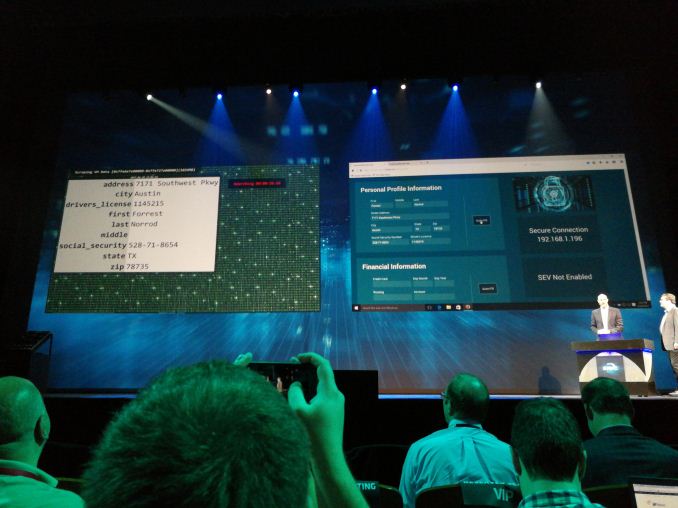 04:54PM EDT - 'now the hacker has it'
04:54PM EDT - Now to show the same action with an SEV enabled EPYC server
04:54PM EDT - 'can protect data in flight and data in memory'
04:54PM EDT - 'This technology can also be layered'
04:55PM EDT - 'A new line of servers with EPYC technology'
04:55PM EDT - 'We're excited for the opportunity'
04:55PM EDT - Shipping second half of 2017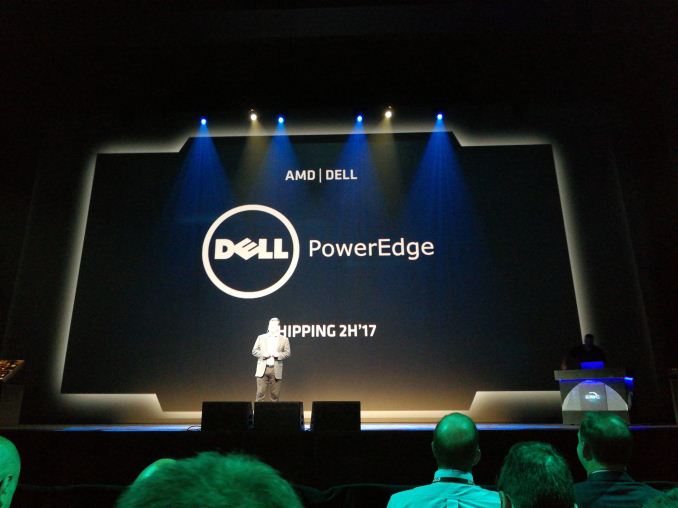 04:56PM EDT - 'Customers are excited about security'
04:56PM EDT - 'Not only Dell, HPE and also cloud understand that SEV is important for their customers'
04:56PM EDT - 1&1 cloud provider video time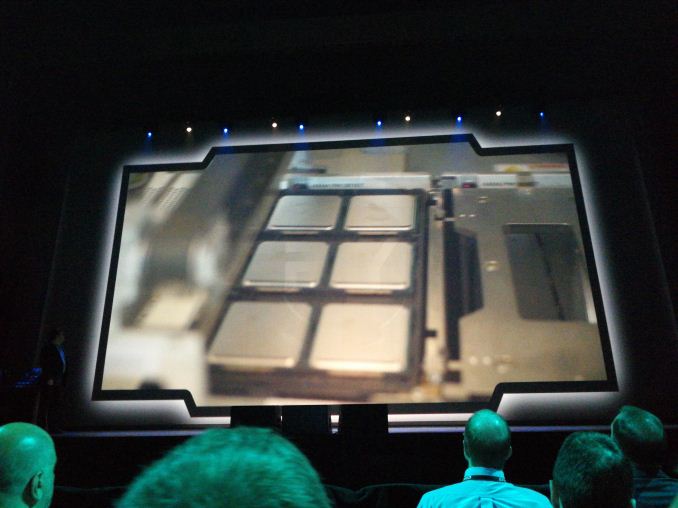 04:57PM EDT - 'EPYC has given us more performance than anything else on the market'
04:57PM EDT - 'customers can be safe on our cloud infrastructure'
04:57PM EDT - 'This partnership will continue'
04:57PM EDT - 'A new and amazing processor'
04:58PM EDT - Forrest back
04:58PM EDT - 'So many of our partners in the ecosystem are working with us'
04:58PM EDT - Mark Papermaster, CTO to the stage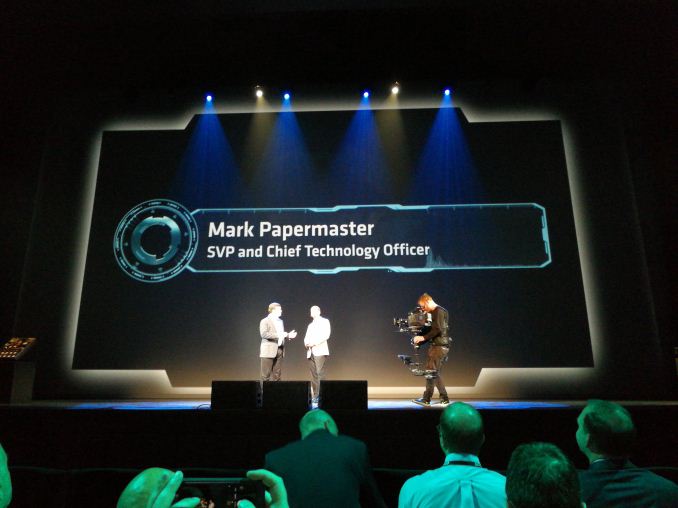 05:00PM EDT - 'We knew we were sitting on incredible x86 talent, and we knew how to do servers, but it was all about putting it altogether and setting aggressive goals'
05:00PM EDT - 'As we roll this out, it's not only about high performance but also the ecosystem'
05:00PM EDT - 'A seemless application for our customers to deploy'
05:00PM EDT - 'Taking advantage of the existing tool chain that exists around x86'
05:00PM EDT - 'We are committed to open standards'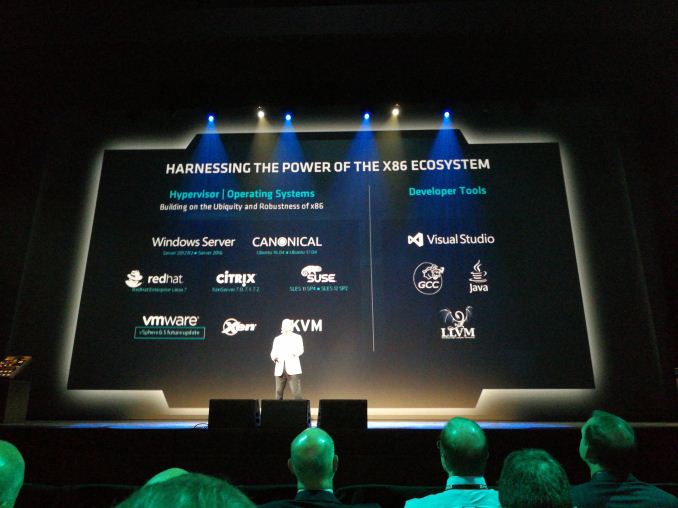 05:01PM EDT - Windows Server 2012R2, 2016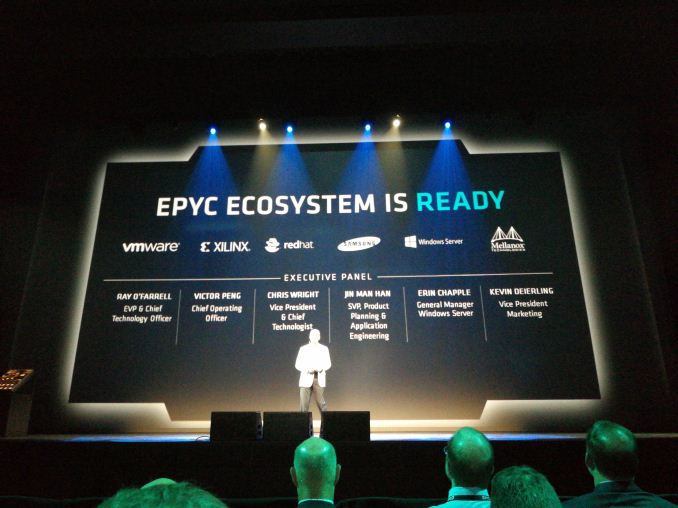 05:02PM EDT - Partners to the stage, chairs are coming out. Looks like a scheduled Q&A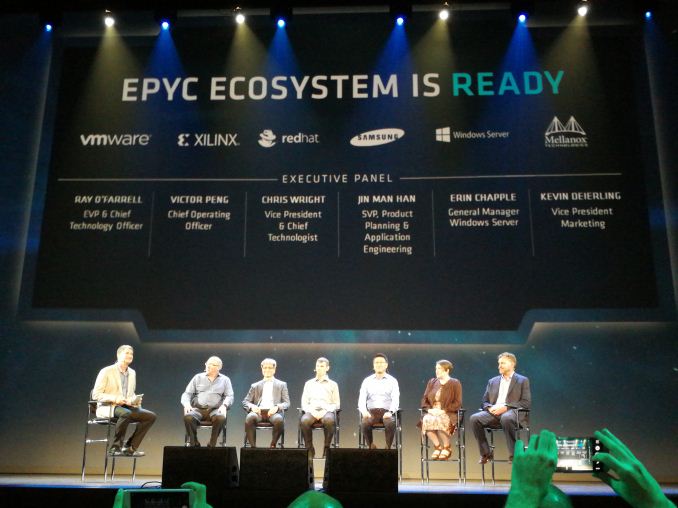 05:02PM EDT - VMWare:
05:04PM EDT - 'EPYC + VMWare: very happy EPYC has launched. Partnership is always about trying to solve problems and create new opportunities. VMWare has moved into cloud and device management, and it's moved towards software defined infrastructure. Can we get the best use model for that infrastructure. We look at EPYC's memory bandwidth and core counts to run better workloads and consolidation which plays to the economics of the datacenter. Our current version of vSphere will be updated soon with support for EPYC. Look forward to working with AMD and other OEMs'
05:04PM EDT - Xilinx
05:07PM EDT - 'EPYC + Xilinx: Data needs compute, and delivering optimized performance for the workload. It's all about acceleration: FPGA is so configurable for a variety of workloads, such as compute and storage, and drives new services such as FPGA as a service. We've been working with AMD, especially with the PCIe capability to help reduce TCO, and drive standards such as standards for interconnects, and the ability to scale out. Engineering teams working closely together, looking forward to working more together'
05:07PM EDT - Redhat
05:11PM EDT - 'EPYC and Redhat: Redhat been with AMD on EPYC for a long time. Open source technology history is rich, adding Virtualization support with Zen and EPYC, and what we see in innovation in open source is with software support. Open hybrid cloud, we see our customers supporting a compbination of private and public cloud - for us the key platforms to enable that is open shift, our container platform. We are seeing EPYC play a part with deconstructing monolithic software into services witht he core count and memory support. Data is driving application and business value, either application or infrastructure: this is where accelerators really start to take hold. This is a great combination for x86 and accelerated workloads. Our customers benefits from a more efficient infrastructure as well as agility'
05:11PM EDT - Samsung:
05:13PM EDT - 'EPYC and Samsung: Samsung belives EPYC has potential for efficiency, EPYC will allow data center customers to take advantage of the latest DDR4 and NVMe drives. The 8 channels support 16Gb monolithic DDR4, support up to 2TB to socket. Support for the 32 SATA and NVMe drives per socket. Suitable for anytone wanting high capacity and high bandwidth applications, such a software defined storage, machine learning, and hihg performance compute. EPYC plus VEGA and HBM2 gives AMD and Samsung to collaborate together and invest into solutions for customers
05:13PM EDT - Windows Server:
05:17PM EDT - 'EPYC + Windows: Super excited with AMD's reentry into the server space. We're looking forward to the strong level of partnership. Overwhelemed by the positive response to windows server 2016 - working together at a strategic level and a fundamental to provide WinServ2016 support on EPYC from day one. Engineers have worked together to enable storage spaces, SDS, from today. Continued collaboration towrads networking and security. Optimized for containers on top of WinServ. Containers are getting a lot of interest, taking advantages of DevOps tools and processes, and rearchitecting. The underlying infrastructre is important - starts today with EPYC and WinServ2016. Focused on reliability, speed and ease of use. From Fall, moving to a semi annual release cadence of WinServ2016. Cycle with customer feedback to improve top to bottom. We are responding to what our customers are demanding. WinServ is the base of our offering, 60% of customers have a hybrid environment, 80% have a hybrid strategy. EPYC helps enable that, delivering value for enterprises and the data center
05:18PM EDT - Mellanox:
05:20PM EDT - 'EPYC + Mellanox: Pleased to work with AMD and EPYC ecosystem partners. This is a fantastic platform. It's not about powerful compute but also bandwidth and unmatched IO subsytem. We bring best in class netowrking to scale out. Because it is x86 we reap the benefits from decades of investments. The new class of 25/50/100 GbE to deal with massive amounts of data, you need a balanced platform for connectivity. Financial services, big data, media platforms, AI enabled on Infiniband or RoCe - we are getting line rate performance on EPYC. Also telcos running OBS and getting full rate including packet management. Also with SDS, getting all the workloads are being enabled with Mellanox, connecting EPYC size clusters
05:21PM EDT - Mark Papermaster: 'AMD, with our ecosystem partners are all ready to go with EPYC'
05:21PM EDT - Example now with Supermicro
05:21PM EDT - Supermicro to the stage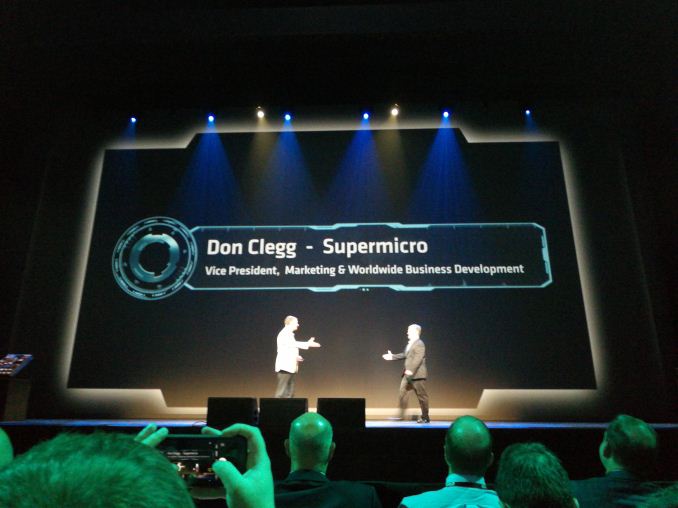 05:22PM EDT - Don Clegg, VP Supermicro
05:22PM EDT - 'Thanks for the 10+ year relationship and congrats'
05:23PM EDT - 'One of the values of Supermicro is our engineering expertise with a differentiated product portfolio and unrivalled TTM'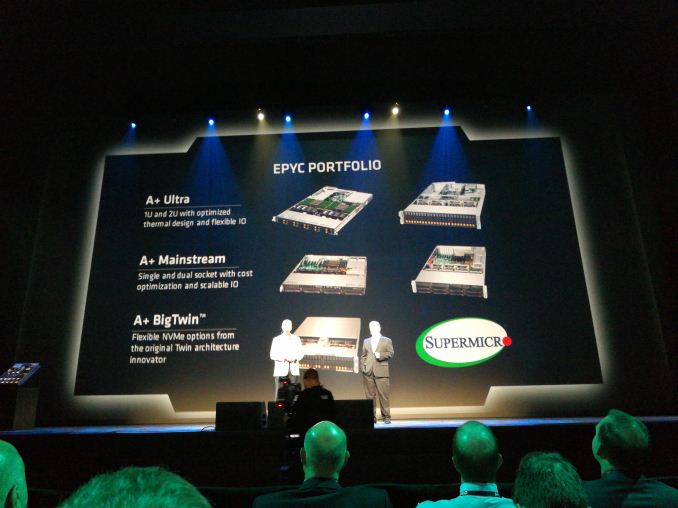 05:23PM EDT - Announcing the A+ server line
05:24PM EDT - A+ Ultra in 1U and 2U, memory, networking, storage, add-in cards, thermally optimized design for any CPU at maximum load
05:24PM EDT - A+ Mainstream, 1P and 2P, traditional workhorse with proven x86 server tech
05:25PM EDT - A+ BigTwin: Flexible NVMe - multiple nodes in a single enclosure, each node can be optimized for different apps such as scale out and hyperscale
05:25PM EDT - 'We were thrilled with Naples to eliminate the need for external PCIe switches: customers get lower cost and better performance'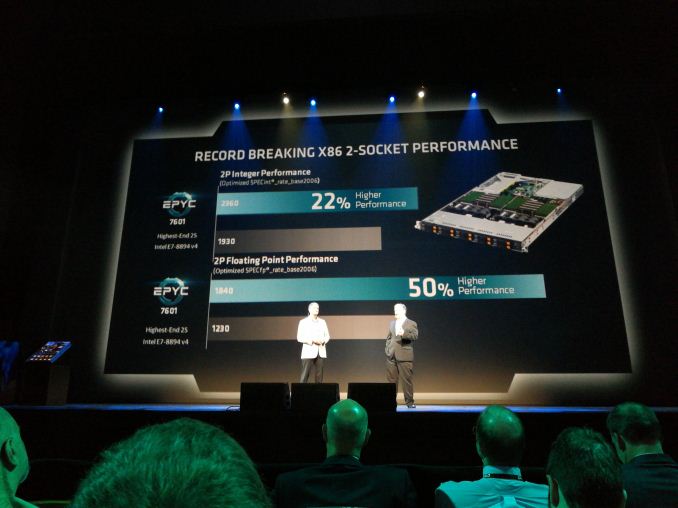 05:26PM EDT - Highest recorded SPECint SPECfp 2P scores ever
05:27PM EDT - No mention of launch date...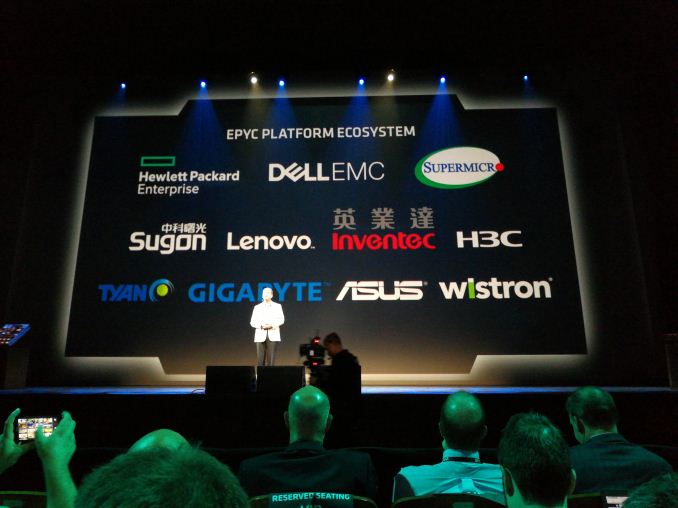 05:27PM EDT - More partners - Tyan, GIGABYTE, ASUS, Wistron, Lenovo
05:27PM EDT - Deeper look into each SKU
05:27PM EDT - Forrest back to the stage
05:29PM EDT - EPYC 7601 offers 73% perf per dollar over E5-2699v4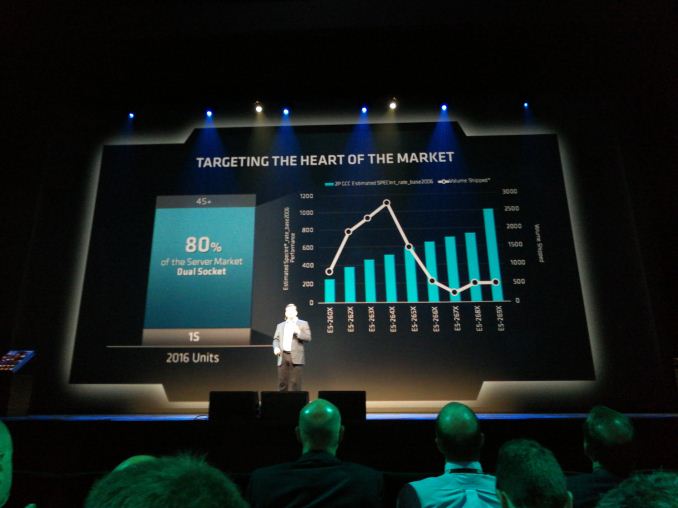 05:29PM EDT - The most popular SKU is the E5-2640 line, so we want to beat this
05:30PM EDT - EPYC 7301 vs E5-2640 v4 gives +70% better SPECint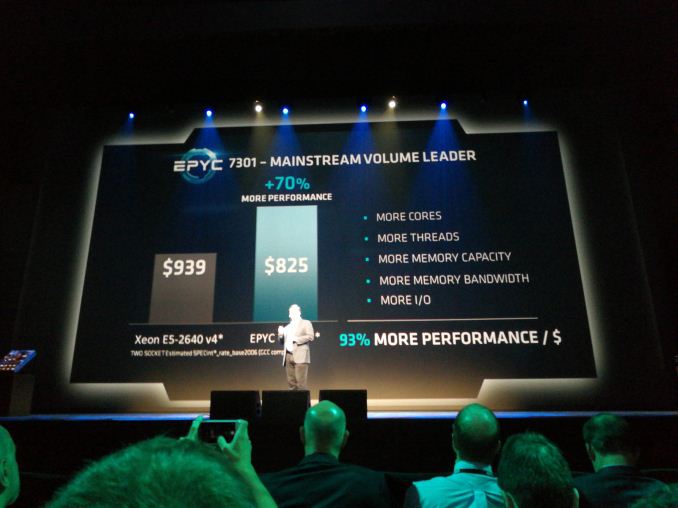 05:30PM EDT - +93% perf per $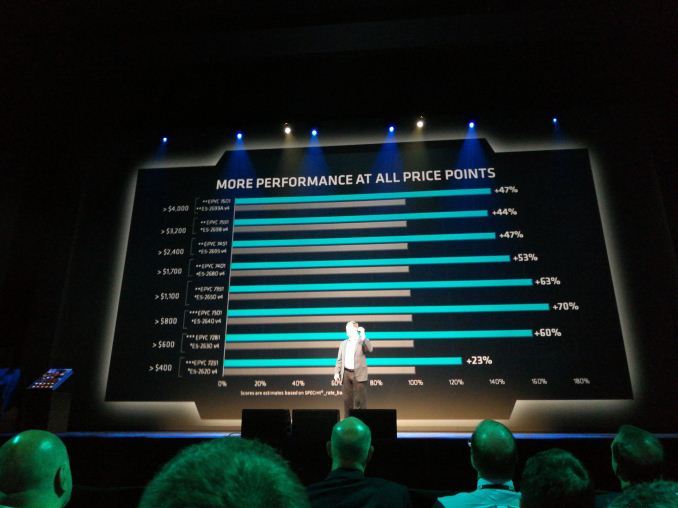 05:30PM EDT - 'Offering more perf and better value at every price point'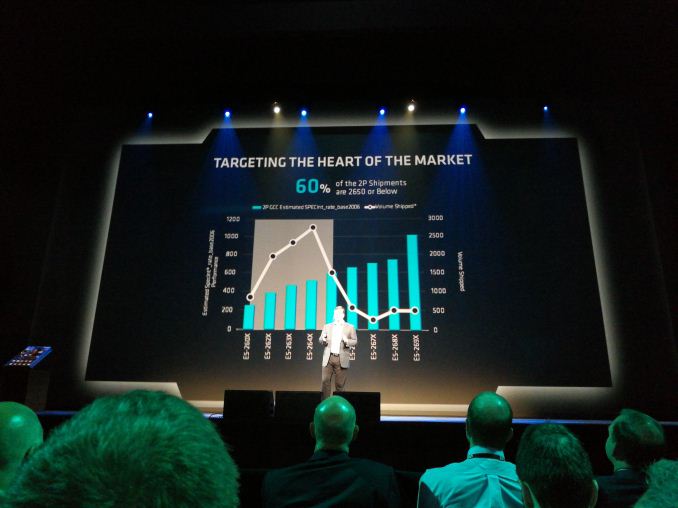 05:31PM EDT - 60% of the market is at the E5-2650 or below
05:31PM EDT - 'The ability to address this market is key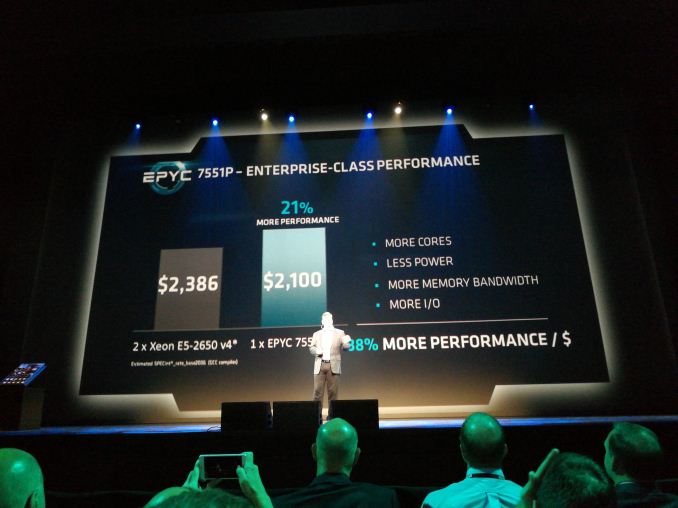 05:32PM EDT - offering a 1P system that is cheaper and performs better than an Intel 2P system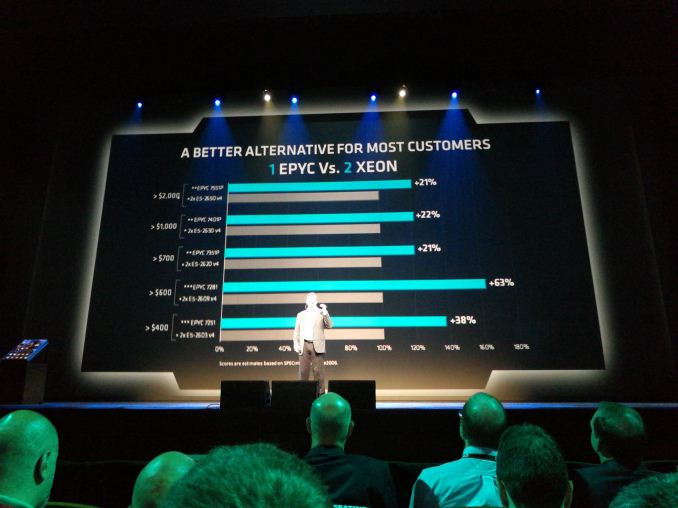 05:32PM EDT - Offering a one-socket alternative with better value and perf than an Intel 2P
05:33PM EDT - 32-core CPUs starting at $3400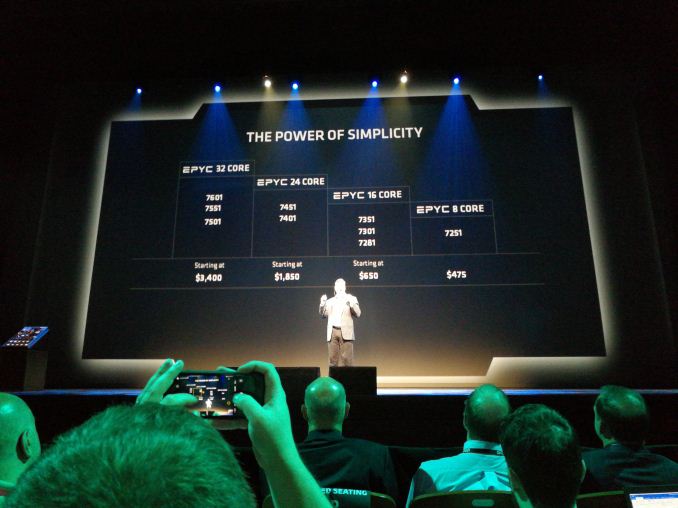 05:33PM EDT - 24-core from $1850, 16-core from $650, 8-core from $475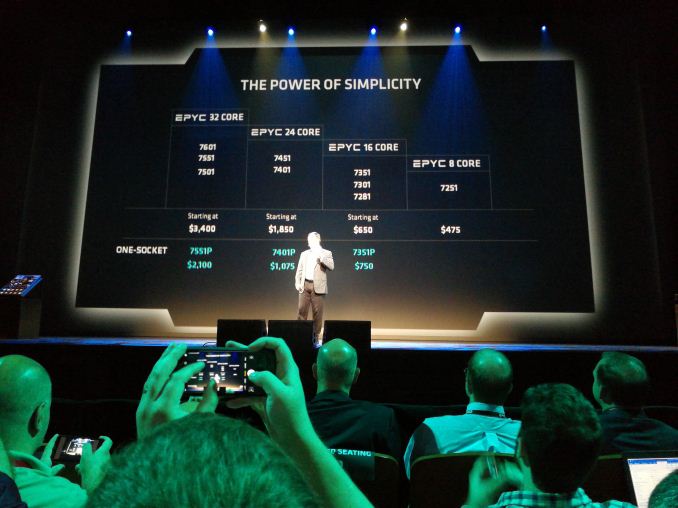 05:34PM EDT - Single socket pricing: 16-core at $750
05:34PM EDT - So there's your ThreadRipper pricing, probably
05:34PM EDT - 32-core single socket at $2100
05:34PM EDT - Top four 2P SKUs will be available from today, the rest of the stack available at the end of July
05:35PM EDT - (so no ThreadRipper before August)
05:35PM EDT - ?
05:36PM EDT - Lisa Su back to the stage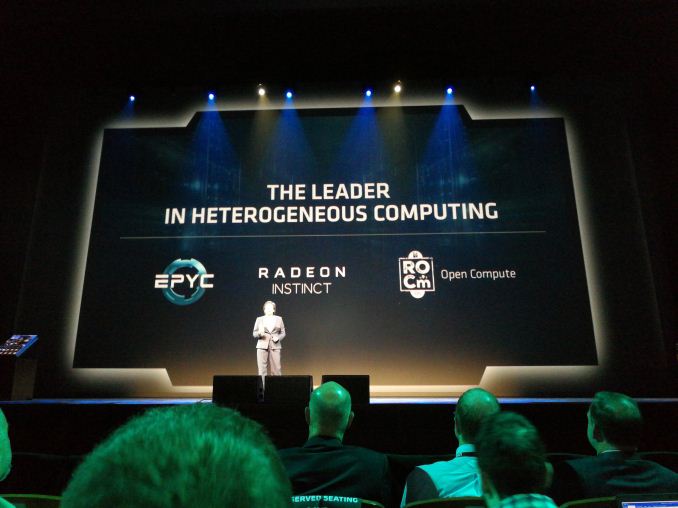 05:36PM EDT - 'It's all about the system, AMD is uniquely positioned with EPYC, Radeon Instinct and an Open Compute ecosystem'
05:37PM EDT - 'Each product is great on its own, but we've architected these pieces together to deliver breakthrough performance'
05:37PM EDT - Now some stuff about the GPU roadmap
05:38PM EDT - Radeon Instinct MI25 on the stage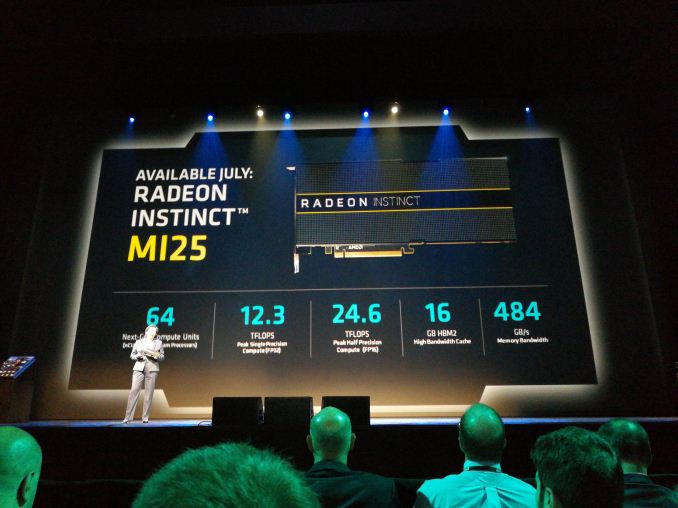 05:39PM EDT - EPYC can connect up to 6 Radeon Instinct cards on a single socket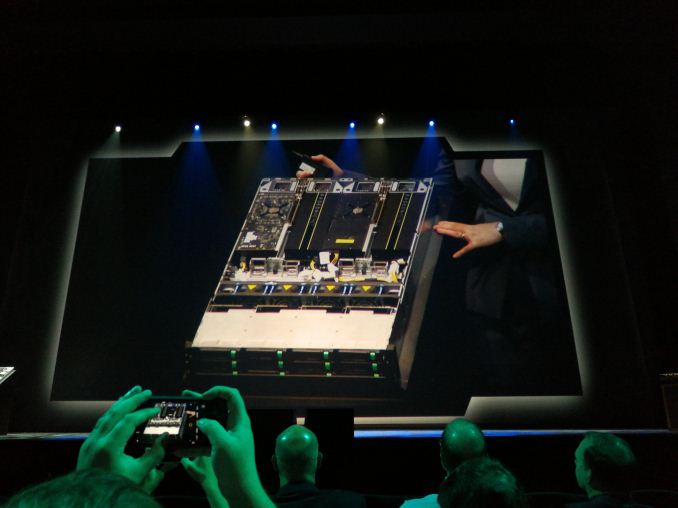 05:40PM EDT - Invantec system with one CPU and 6 GPUs: 100 TFlops of performance in this form factor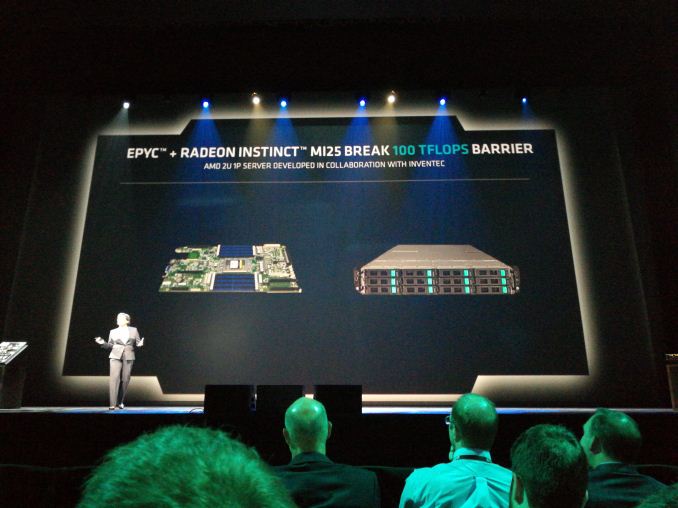 05:40PM EDT - Roadmap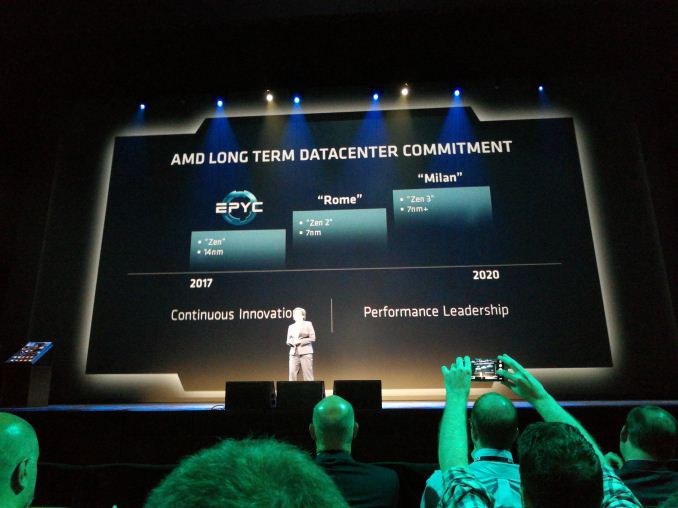 05:40PM EDT - Rome = Zen 2
05:41PM EDT - Milan = Zen 3
05:41PM EDT - Rome will be on 7nm
05:41PM EDT - So, 2019?
05:42PM EDT - 'With perf leadership, with optimized workloads, AMD can do something extraordinary in the industry'
05:44PM EDT - That's a wrap. Time for some demos. See our prepped news piece here: http://www.anandtech.com/show/11551/amds-future-in-servers-new-7000-series-cpus-launched-and-epyc-analysis