Battery Life
Previous Surface devices were always fairly efficient, offering a good amount of battery life for the given battery capacity, but the Surface Pro has always been bottlenecked by absolute battery capacity. When you are building a tablet, there's just not a lot of space for battery when you've already packed in an entire PC. The Surface Pro 4 offered 39 Wh of battery capacity, well under the 50 Wh average of most Ultrabooks of its day.
Ultrabooks have continued to add more battery capacity as well, since it's the single easiest way to improve battery life, and Microsoft has also done that with the new Surface Pro. With new packaging, and smaller components like the BGA SSD inside, they've been able to squeeze in a 45 Wh battery in the latest version of the Surface Pro, all without altering the thickness or weight of the system. That, coupled with the more power-efficient Kaby Lake processor, should lead to better overall battery life results. It does have to be noted that the Surface Pro 4 we will be comparing against was the Core i5 model, and despite the same TDP, the Core i5 models tend to do slightly better than Core i7 models of the same device due to the lower maximum boost frequency. But since we didn't get a chance to test against the Core i7 Surface Pro 4, we'll make do with what we have.
The new Surface Pro, like other Intel powered Surface devices, does enable Content Adaptive Backlight Control (CABC), or what the Intel calls Display Power Savings Technology (DPST) when on battery, but it's supposed to disable this when plugged in. The CABC doesn't seem very agressive, however it also doesn't appear that it can be disabled as of right now.
One thing we can't comprehensivey test is standby time. The Surface Pro 4, especially shortly after launch, had some power management issues with the Skylake CPU that could cause it to burn through the battery very quickly in Modern Standby. Microsoft has stated that they've seen significant increases in Modern Standby battery life with Kaby Lake. Resume times also seem to be quicker, and more reliable, with the latest CPU.
Battery Life 2013 - Light
Although we'll be phasing out this older test, it is still the one we have the largest pool of data to compare against, so it's still interesting to look at even though the test is getting to be much too light even for lower TDP chips.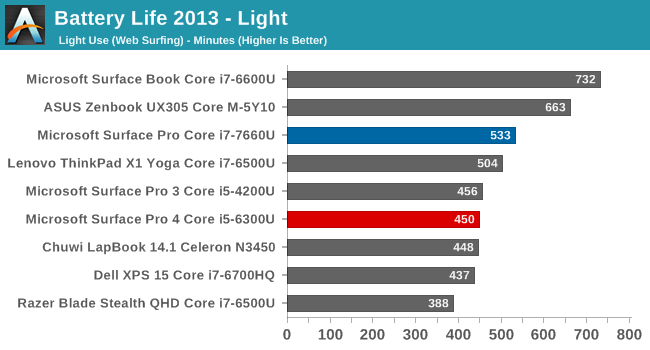 The new Surface Pro does offer longer battery life than the old model, and the gap isn't insignificant either. This is almost nine hours of uptime at 200 nits, albeit with a very light test. This is with the device set to best battery life, so there's going to be a boost from that as well.
Battery Life 2016 – Web
Our newer web browsing test is much more demanding, but due to the review schedule, it's mostly been run on larger gaming laptops only. Consequently there are fewer Ultrabooks to compare it against, but we do have a couple of other machines we've tested.

Despite having a smaller battery capacity than the ThinkPad X1 Yoga, which has a 52 Wh battery, the Surface Pro picked up more than an hour of battery life with the display set to 200 nits. This is a strong result, and highlights the efficiency that Microsoft has been able to achieve.
Normalized Web Browsing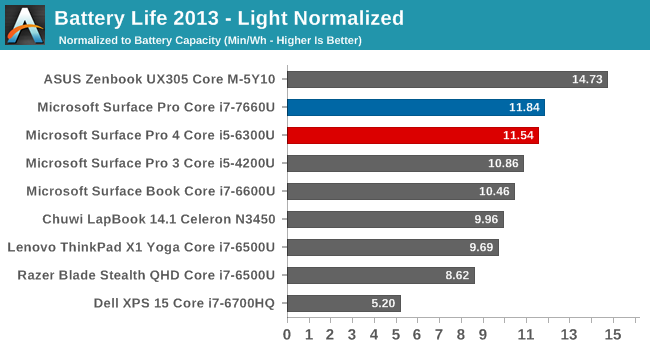 Removing the battery capacity from the results gives a picture of overall device efficiency, and here the Surface Pro really shows what it can do. It's well ahead of the ThinkPad, which had a Skylake i7, and even ahead of the Atom powered Chuwi LapBook, which utilizes four Goldmont cores.
Looking at the older 2013 test, where there is more data points, the results are very positive. The overall efficiency has ticked up slightly, despite this using a Core i7 CPU and Iris graphics, but the device was set to Best Battery Life, so the maximum power draw would have been trimmed. Surface Pro continues to be one of the most efficient devices we've tested. That being said, the majority of the battery life gains are from the increased battery capacity, which is not unsurprising, since the CPU architecture hasn't changed.
Movie Playback
Microsoft quotes the new Surface Pro at up to 13.5 hours of battery life, and when they quote that value, it's using local video playback as the source. It would be great to see companies not use video playback as the only source of battery life results, since all of the video functions are offloaded to fixed function hardware on the CPU, allowing the CPU to go into a low power state (and movies, typically darker, also play better with CABC). This exaggerates the results, even though they are technically valid. Most people buying a Surface Pro are likely to be doing more than just watching movies on it, so a more comprehensive test from the Redmond company would likely provide better real world results.
We do run a movie playback as well though, since it's really a best-case scenario for any device, but we run it with the display set to 200 nits, whereas Microsoft doesn't quote its screen brightness value.


There's a significant jump in overall battery life on the Surface Pro compared to the previous generation, and we were able to get almost 11 hours of battery life playing back a movie. It's not quite the 13.5 hours quoted by Microsoft, but it's close, and we likely run the display brighter. Compared to the Surface Pro 4 though, efficiency doesn't change very much, and most of the extra life is thanks to the larger battery. That's not a bad thing of course, since the extra battery capacity is very much welcome.
Charge Time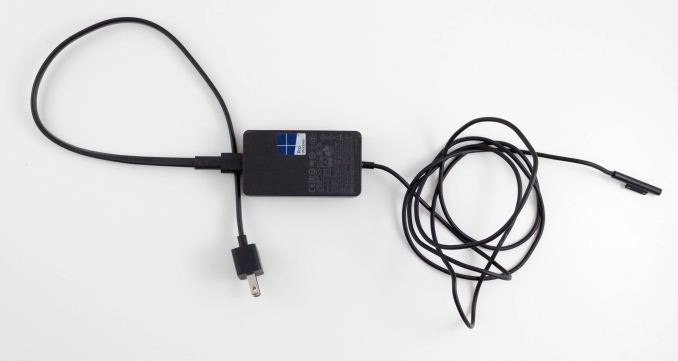 The new Surface Pro comes with the same 44-Watt adapter, which connects over the magnetic Surface Connect port. The charging adapter also includes a full-size USB port, allowing you to charge other accessories at the same time, without having to take up the single port on the Surface Pro. It is a compact and quiet AC adapter.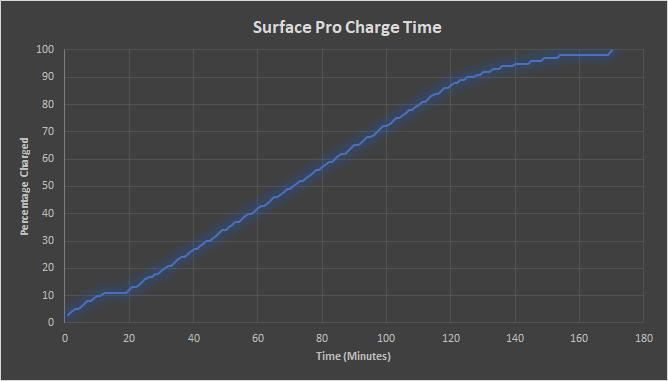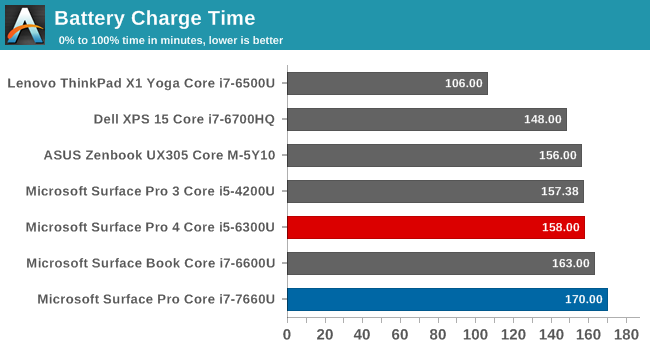 With a slightly larger battery size than the outgoing Surface Pro 4, it's perhaps no surprise to see that the charging time has increased by a few minutes over the old model. It's able to hit 50% in just over an hour, and 93% charge in two hours.