Final Words
Google is clearly and unambiguously targeting the flagship market with its Pixel phones. With a starting price of $649 for the smaller 5.0-inch Pixel with 32GB of storage ($749 with 128GB) and $769 for the 5.5-inch Pixel XL with 32GB ($869 with 128GB), Google is competing directly with Samsung's Galaxy S7 and Apple's iPhone 7 lineups. Especially in North America where Samsung and Apple dominate, Google needs more than an impressive list of hardware and features to attract customers. It needs to deliver an excellent user experience with few pain points. With its Pixel phones, Google is asserting more control over hardware and design, hoping tighter integration leads to better phones that are worth more than the sum of their parts. Unlike Apple, who executes this strategy well, Google fails to realize any benefit from its more hands-on approach with its Pixel phones.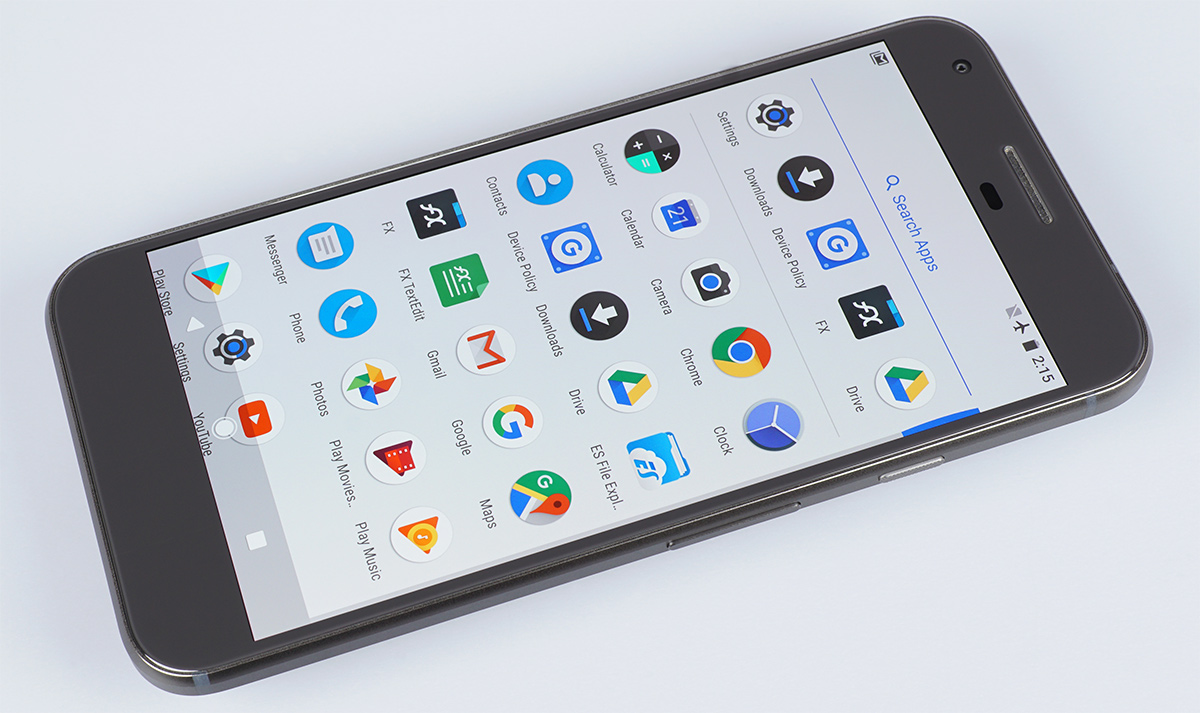 Its aluminum and glass hybrid design is unbalanced and top-heavy. The front is boring and unattractive, which could be forgiven if it was not for the overly large and useless bezels. The wasted space below the screen is a direct result of the Pixel's poor internal layout. On the plus side, the Pixel XL feels solid, has virtually no black border around the display (which is especially nice with the white front), and the color coordinated fingerprint sensor and antenna lines are a nice touch.
The Pixel XL's 5.5-inch 1440p AMOLED display is also somewhat disappointing. Maximum brightness tops out around 400 nits, well below what Samsung's Galaxy S7 edge, or pretty much any phone with an IPS LCD, can achieve. Its default display mode delivers good grayscale accuracy with only a mild blue tint, but colors are oversaturated because of its wide gamut coverage and use of color compression. This may not be a drawback, however, for people who enjoy more vivid-looking colors. For those who prefer more accurate colors, the Pixel XL does have an sRGB mode hidden in the developer options menu. When using this mode color accuracy is good but not great, and grayscale accuracy is actually worse than the default mode with a distracting green tint applied to white backgrounds. In this respect, the Pixel XL is a bit of a regression from the Nexus 6P.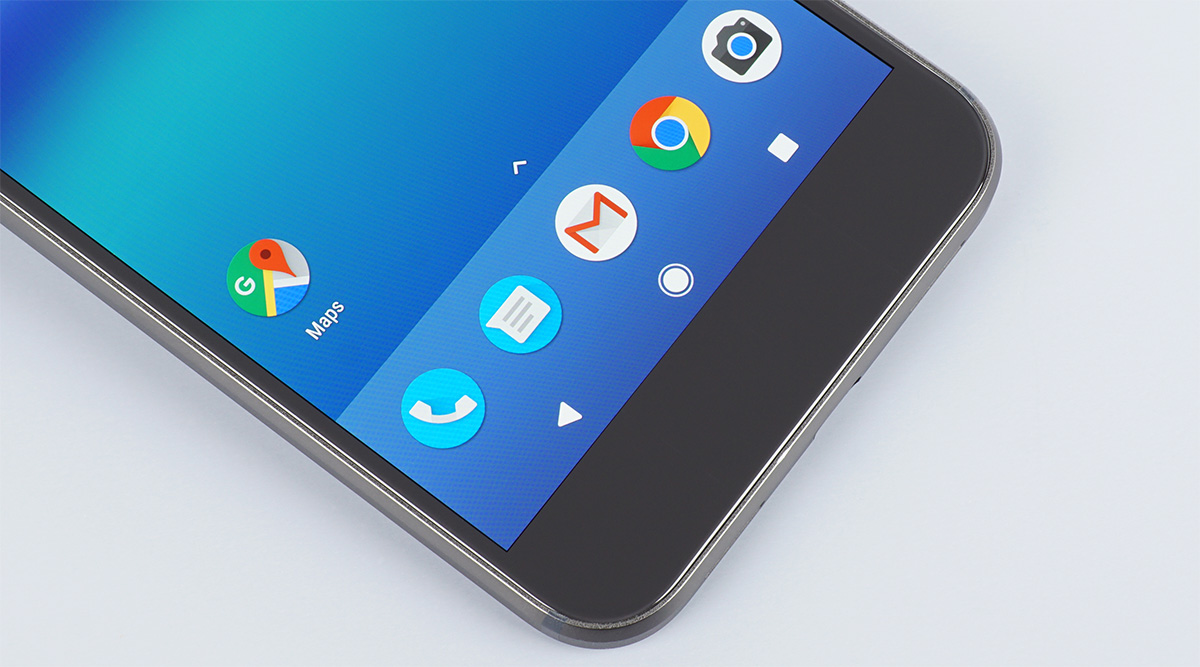 Inside the Pixel XL is a slower-clocked version of Qualcomm's latest Snapdragon 821 SoC, whose four Kryo CPU cores top out at the same peak frequencies as the Snapdragon 820. Performance is generally good, but inconsistent. Android Nougat's user interface feels fluid and responsive, but opening and working in apps can sometimes feel a bit slow. This behavior is partially captured by the Pixel XL's score when running PCMark's real-world scenarios: It scores lower than the Nexus 6P, a phone that's not particularly quick either, and the Xiaomi Redmi Note 3 Pro, which uses Qualcomm's midrange Snapdragon 650 SoC and costs less than $200. In other cases, such as web browsing, the Pixel XL is as fast or faster than any other Android flagship phone, but again the issue comes down to inconsistency. Other Snapdragon 820 flagships, such as the Galaxy S7 and OnePlus 3, and Apple's iPhone 7 are noticeably faster during use. The Pixel XL's Adreno 530 GPU performs well, and the Pixel exhibits good thermal stability, exhibiting less throttling than other Android flagships.
The Pixel XL's battery life results are a bit mixed too. In our Wi-Fi browsing test, it clearly loses out to Samsung's Galaxy S7 edge and Apple's iPhone 7/7 Plus. It also does not last as long in our GFXBench gaming test, although that's mainly because it throttles less and maintains a higher level of performance than other Android flagships. When running everyday code that relies on Android system APIs, the Pixel XL fares better, equaling the S7 edge's runtime; however, this comes at the cost of reduced performance, so this is really more of a draw than a win.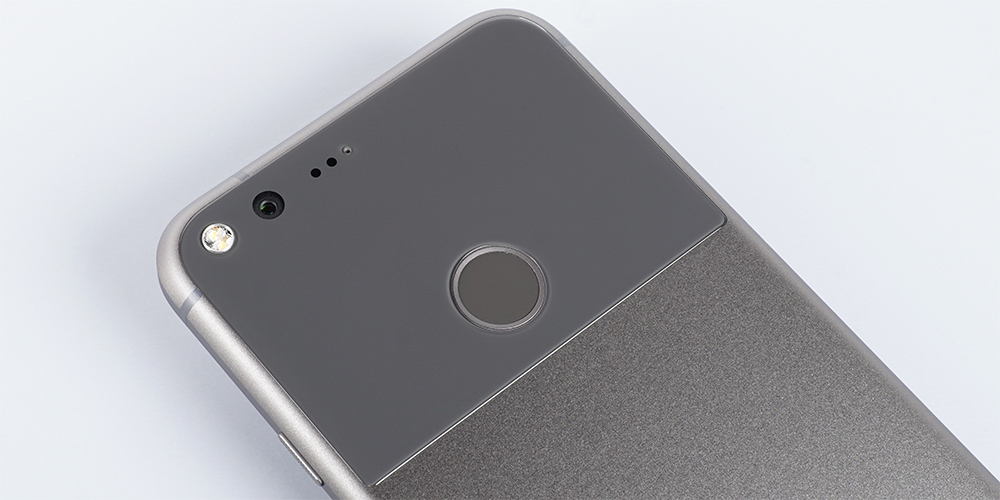 According to Google, one of the Pixel's key selling points is its camera performance and HDR+ mode. Based on our subjective testing, its camera is certainly very good, but it's not the best. The auto exposure, auto white balance, and autofocus routines deliver consistently good results in most conditions, and its colors are nicely saturated but accurate. In good lighting conditions, the Pixel's rear camera equals or even surpasses the Galaxy S7 edge's camera, but it cannot match the S7's detail and low noise levels in lower-light conditions.
Google's HDR+ mode is definitely a winner. There were a few occasions in good lighting where turning HDR+ off produced a better photo, but in nearly all cases, especially with less light, HDR+ improved image quality. Using HDR+ on the Pixel XL is also noticeably faster than on previous Nexus phones, with the "HDR+ auto" setting having essentially zero shutter lag.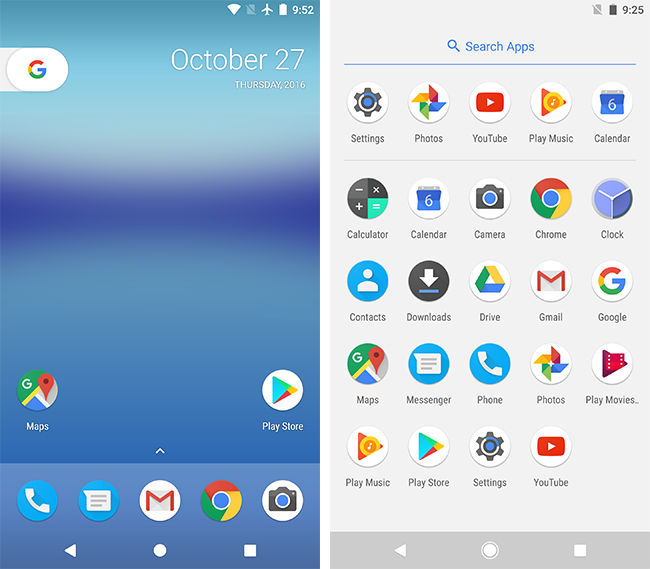 Pixel Launcher home screen (left) and app drawer (right)
The Pixel XL comes with Android 7 along with a couple of extra Google goodies. The first is Pixel Launcher, which makes a few tweaks to the standard Android home screen. Swiping right takes you to the Google search screen (the search box does not appear on the home screen) that also displays a list of Google Now cards showing news updates or personalized information about your day. The app drawer functions more like a drawer, sliding up from the bottom of the display with a corresponding swipe. Personally, I like the swipe gesture a lot more than tapping a button. The app drawer is arranged alphabetically, with the top row showing the most frequently used apps. Long-pressing app icons on the home screen or in the app drawer opens a list of shortcuts. Unlike Apple's 3D Touch, the Pixel's display is not pressure sensitive, but there is some haptic feedback. Unfortunately, this feature is not really useful, at least not yet, because it only really works with Google's apps, and even then there are not enough shortcut options.
We did experience some issues with Android 7 and Pixel Launcher, however. Occasionally, the phone would stall, and it even locked up once. Pixel Launcher also has an annoying tendency to be evicted from RAM, resulting in a blank home screen until it can reload. There's really no excuse for this behavior, and it gives the phone an unpolished feel.
The second new software addition is Google Assistant. This is not really a brand new feature, but an improvement upon the existing Google Now service and "Ok Google" voice assistant. Google Assistant basically wraps these features together with natural language processing that makes it possible to have a conversation with your phone much like you would another person. The Assistant taps into Google's Knowledge Graph and other web services, which makes it a fairly powerful tool and a big improvement over Google's previous assistant.
Another software feature worth mentioning is the option to pull down the notification shade by swiping down on the fingerprint sensor (swiping up on the sensor closes it), which makes it much easier to access notifications one-handed.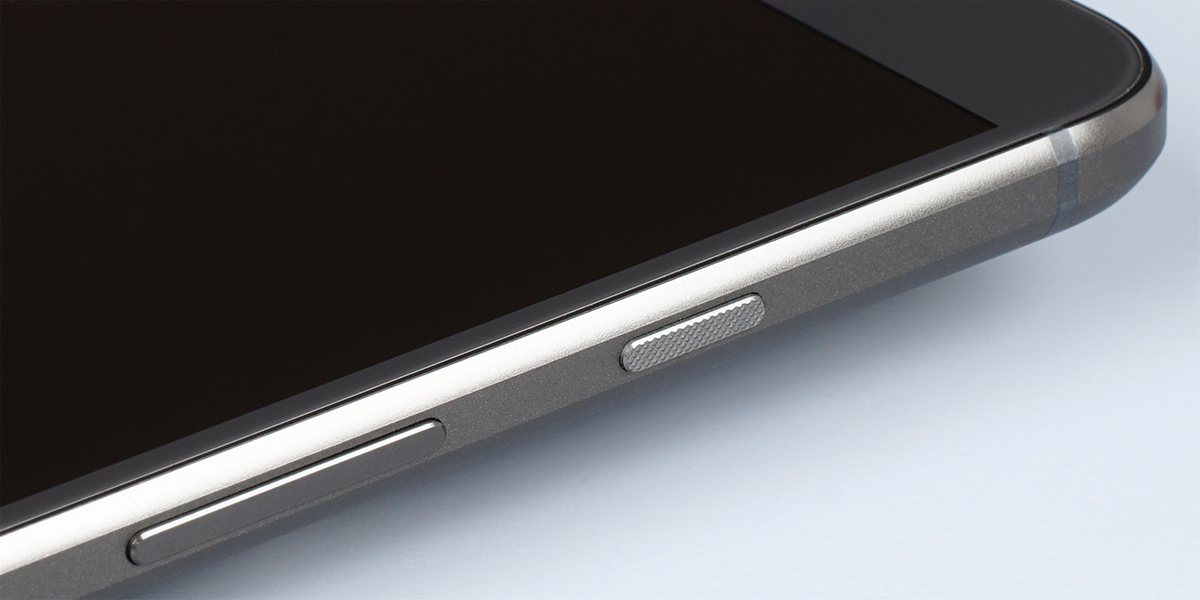 In the end, the Pixel XL is a decent enough phone, but it is not the ultimate Android phone that people were likely hoping for. It fails to stand out in a crowded market and cannot claim to be the best in any single category; at best it is a jack of all trades. This is a serious problem for a phone that is positioned as and priced like a flagship phone. It also does not help that it's missing support for microSD cards and wireless charging (it does support the USB Power Delivery specification for 18W fast charging), features that are available on the Galaxy S7 edge. There's also no environmental protection against water and dust, which both the S7 edge and iPhone 7 Plus include. Even its exclusive software feature, Google Assistant, should be available on future Android phones. In the end, the Pixel XL is a Nexus phone with another name. It still delivers a pure Android experience and timely software and security updates, but is that enough to justify its flagship price?