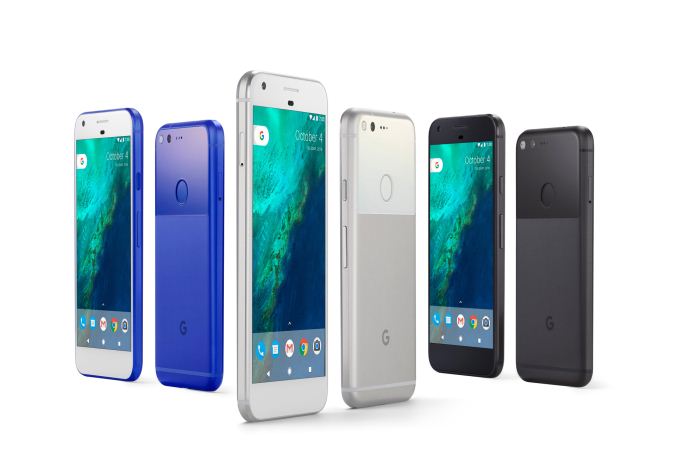 At an event today in San Francisco, Google unveiled its latest vision for Android smartphones—the Google Pixel and Pixel XL. For this generation, Google nixes the familiar Nexus name, along with the cluttered and confused Nexus model numbering system, replacing it with the newer Pixel moniker and creating a unified hardware family that also includes the existing Chromebook Pixel notebook and Pixel C tablet.
Despite early rumors that Huawei would manufacture the new Pixel phones, that arrangement reportedly hit a snag and HTC eventually won the contract. Huawei partnered with Google for last year's Nexus 6P (LG manufactured the Nexus 5X), and helped create a unique-looking, well-built phone with a few minor shortcomings. A follow-up device would be intriguing, but instead Google has come full-circle, enlisting the help of HTC who created the Nexus One, the very first Nexus phone.
Though make no mistake: Google may be contracting out the manufacturing, but all of the branding is explicitly Google. The name of the event "Made by Google" says it all. Google is presenting the Pixel as their phone, not an Android phone with stock firmware as how the Nexus was originally presented.
Google Pixel & Pixel XL
Overall Google is introducing two phones: the Pixel and the Pixel XL. The former is the successor to the Nexus 5X, while the XL replaces the Nexus 6P. Compared to past generations of the Nexus lineup and even competing phones, these two phones are much closer in construction and specifications. Other than their sizes, display resolution, price, and battery capacity, both phones have the same internals and configurations, including the same cameras with the same capabilities. As a result the Pixel XL is for all practical purposes a bigger Pixel, with a battery and display to match.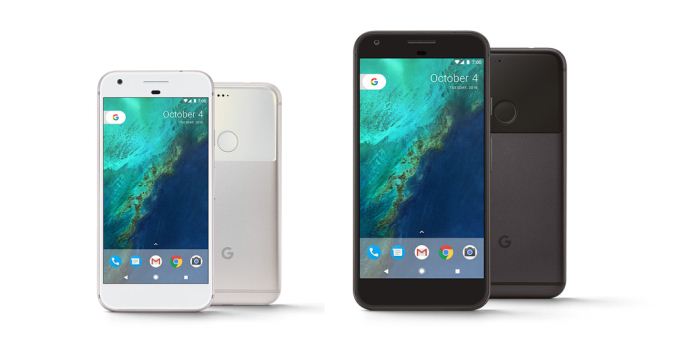 In terms of design and market positioning, one thing to note from the very start is that unlike the mid-range(ish) Nexus phones, the Pixel phones are meant to be flagship products. This means that Google is placing a greater focus on features and design, and that they're also pricing the phones to match. So current Nexus users who are coming from $400 phones may be in for a bit of a shock at the $649+ Pixel. The Pixel may succeed the Nexus, but it is definitely not meant to be the Nexus.
The overall design for the Pixel then is another take on the rounded glass and aluminum designs we have seen in multiple phones over the years. The back of the phone uses both materials; the top-half (including the fingerprint sensor) is glass, while the bottom half is aluminum. Matt will have more on the feel in his hands-on, but at first glance it looks like it should be similar to other phones that have used this style. Meanwhile both phones will be available in a trio of colors. Taking a minor dig at Apple, Google has named these Quite Back, Very Silver, and Really Blue, with the latter being the pre-ordained "limited edition" color.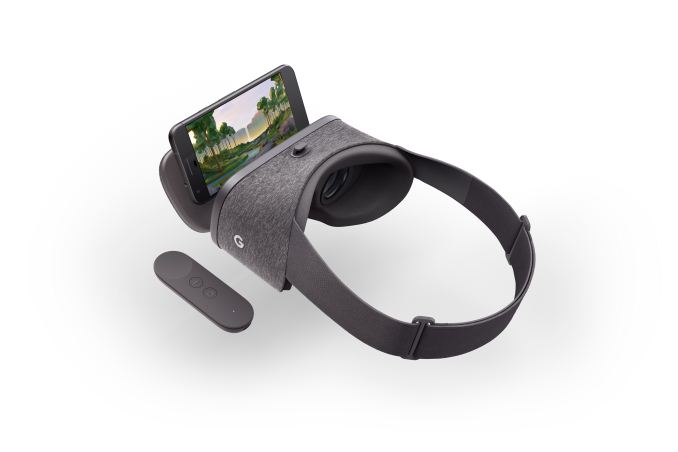 Meanwhile we'll get to the hardware specifications in a moment, but it's worth noting that Google is using the Pixel phones as a launch vehicle for a couple of their new technologies/initiatives. The Pixel is the first phone ready for Google's Daydream VR platform, and pre-order customers will receive the associated Daydream View VR headset for free. The Daydream system wirelessly connects to the phone – so Google doesn't need to worry about USB port alignments – and Google is ramping up the content side of the system with the usual mix of partnerships and leveraging YouTube's growing capabilities.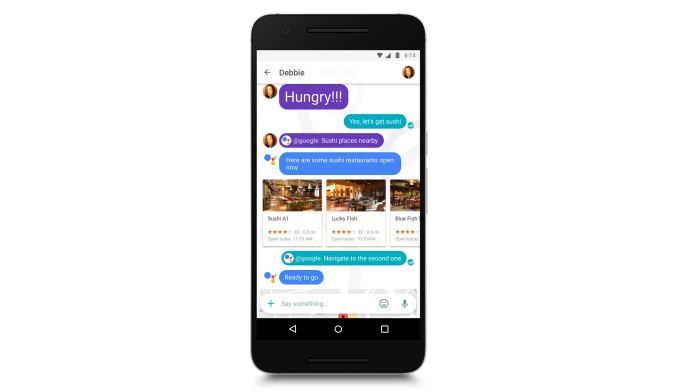 The Pixel is also being used to launch Google's enhanced Google Assistant functionality. The successor to the Ok Google functionality in previous generation phones, Google is further expanding what their voice-activated search and action software stack can do, with a focus on making that a core part of the Pixel phone experience. This also includes opening up the system to outside developers via a new SDK that will be launching next year, so that 3rd party developers can add actions to the system.
Google Pixel Phones (2016)
Google Pixel
Google Pixel XL
Google Nexus 5X
Google Nexus 6P
SoC
Qualcomm Snapdragon 821
(MSM8996 Pro AB)

2x Kryo @ 2.15GHz
2x Kryo @ 1.6GHz
Adreno 530 @ 624MHz
Qualcomm Snapdragon 808
(MSM8992)

4x Cortex-A53 @ 1.44GHz
2x Cortex-A57 @ 1.82GHz
Adreno 418 @ 600MHz
Qualcomm Snapdragon 810 v2.1
(MSM8994)

4x Cortex-A53 @ 1.56GHz
4x Cortex-A57 @ 1.95GHz
Adreno 430 @ 600MHz
Display
5.0-inch 1920x1080 AMOLED
5.5-inch 2560x1440 AMOLED
5.2-inch 1920x1080 IPS LCD
5.7-inch 2560x1440 SAMOLED
Dimensions
143.8 x 69.5 x 7.3-8.5 mm
154.7 x 75.7 x 7.3-8.5 mm
147.0 x 72.6 x 7.9 mm
136 grams
159.3 x 77.8 x 7.3 mm
178 grams
RAM
4GB LPDDR4
2GB LPDDR3
3GB LPDDR4
NAND
32GB / 128GB
16GB / 32GB (eMMC 5.0)
32GB / 64GB / 128GB (eMMC 5.0)
Rear Camera
12.3MP Sony IMX378, 1.55µm pixels, f/2.0, PDAF + Laser AF, HDR+
12.3MP, 1/2.3" Sony IMX377 Exmor R, 1.55µm pixels, f/2.0, Laser AF, Auto HDR, dual-tone LED flash
12.3MP, 1/2.3" Sony IMX377 Exmor R, 1.55µm pixels, f/2.0, Laser AF, Auto HDR, dual-tone LED flash
Front Camera
8MP Sony IMX179, 1.4µm pixels, f/2.4
5MP, 1/4" OmniVision OV5693, 1.4μm pixels, f/2.0
8MP, 1/3.2" Sony IMX179 Exmor R, 1.4μm pixels, f/2.4
Modem
Qualcomm X12 LTE (Integrated)
2G / 3G / 4G LTE (Category 11/9)
Qualcomm X10 LTE (Integrated)
2G / 3G / 4G LTE (Category 6)
Qualcomm X10 LTE (Integrated)
2G / 3G / 4G LTE (Category 9)
SIM Size
NanoSIM
NanoSIM
NanoSIM
Battery
2770 mAh
non-replaceable
3450 mAh
non-replaceable
2700 mAh (10.3 Wh)
non-replaceable
3450 mAh (13.18 Wh)
non-replaceable
Connectivity
USB 3.0 Type-C, 3.5mm headset
USB 2.0 Type-C, 3.5mm headset
USB 2.0 Type-C, 3.5mm headset
Wireless
802.11a/b/g/n/ac 2x2 MU-MIMO, BT 4.2, NFC, GPS/GNSS
802.11a/b/g/n/ac 2x2 MU-MIMO, BT 4.2, NFC, GPS/GNSS
802.11a/b/g/n/ac 2x2 MU-MIMO, BT 4.2, NFC, GPS/GNSS
Launch OS
Android 7.1
Android 6.0
Android 6.0
Launch Price
$649 / 749
32GB / 128GB
$769 / $869
32GB / 128GB
$379 / $429
16GB / 32GB
$499 / $549 / $649
32GB / 64GB / 128 GB
Under the hood, the Pixel phones pack a Snapdragon 821 SoC, which includes four of Qualcomm's custom 64-bit Kryo CPU cores. The two cores in the performance cluster have a peak frequency of 2.15GHz, while the other two cores in the power cluster have a peak frequency of 1.6GHz. Relative to the Snapdragon 808 and 810 SoCs found on the Nexus phones, this is a shift in both frequency and architecture. As Snapdragon 821 is just a new iteration of Snapdragon 820 there won't be any surprises here, but based on what we've seen in other phones that have made a similar transition to 820, we should see a good performance uplift in both CPU and GPU tasks.
The Pixel phones also include 4GB of LPDDR4 RAM, twice as much as the Nexus 5X, or 33% more than the Nexus 6P. Again this is pretty standard for Snapdragon 820 devices, and should provide a kick to multitasking performance under Android.
The amount of internal storage has also been significantly increased. The base models come with 32GB of NAND, while the high capacity models come with 128GB. Google has not officially disclosed which flash storage technology the Pixel is using, but it's almost certainly UFS given the SoC and the phone's flagship status. Like the previous generation Nexus phones, there's no micro SD card support for the Pixel phones, so high NAND capacity is important. Coming off of the Nexus 6P little has changed – that phone was already available at 128GB – while this is a 2-4x capacity improvement over the more constrained Nexus 5X. Even then, Google is being mindful that 128GB is still a finite amount, and they will be offering unlimited photo and video storage in their cloud service for free in order to alleviate any capacity anxiety.
Helping to fill that capacity will be the phones' camera. Here Google is using a 12.3MP Sony IMX378 sensor, which can capture 1080p video at up to 120fps, or 4K video at up to 30fps. Focusing the camera is provided by the usual combination of phase detection and laser detection. Meanwhile the front camera uses a smaller Sony IMX179, an 8MP sensor with slightly smaller pixels.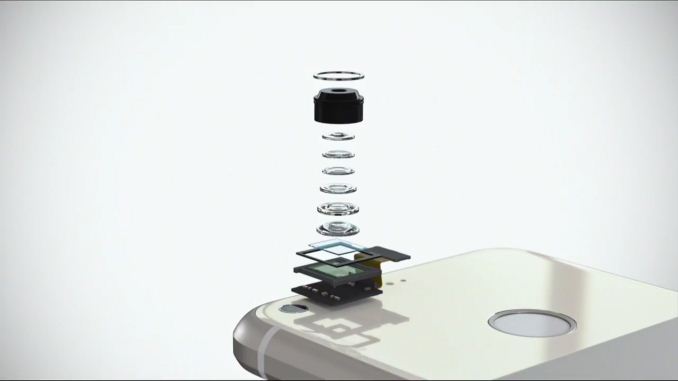 Somewhat surprisingly, there isn't any OIS available on either phone. OIS is admittedly not very common on 5" and below phones, as the mechanism takes up space and Google wanted to avoid a camera hump. So the lack of OIS on even the Pixel XL may be a consequence of the shared camera model between the two phones.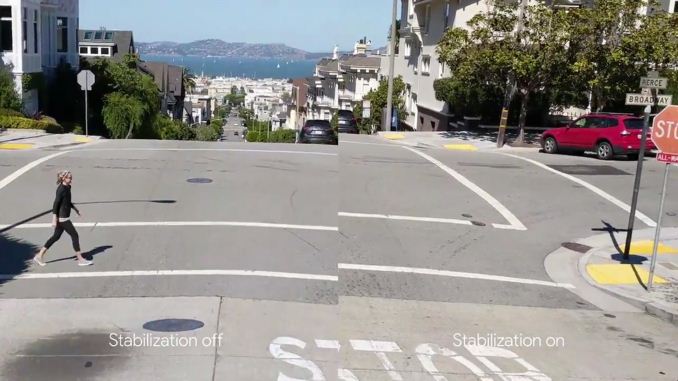 That said, despite the lack of OIS, one of the major marketing points for the phone is its EIS image stabilization. Here Google claims they're sampling the gyroscope at 200Hz in order to apply what they're promoting as some of the best image stabilization on the market. So it will be interesting to see how well that holds up in practice. EIS has made great strides over the years, but OIS sets a very high bar in the flagship market.
Overall, Google spent a significant amount of time touting the image quality of the Pixel's camera as a key product differentiator from both their earlier phones and the competition. Google's partners used a very similar sensor on the last-generation Nexus phones, so it'll be interesting to see just how things compare. Meanwhile on the software/implementation side, Google is also claiming that their capture time is faster than any other phone, including zero shutter lag in HDR+ mode.
Meanwhile, on the display side, the Pixel and Pixel XL use 5" and 5.5" AMOLED displays respectively. The smaller phone is a 1920x1080 display, while the larger phone bumps that up to 2560x1440. We'll have a bit more here in our hands-on look at the phone, but in the meantime Google has somewhat frustratingly opted to define the color space in terms of NTSC. So from the specifications alone it's not clear what these phones can do beyond the usual sRGB color space, though clearly Google is looking to offer some form of wide color gamut support. That said, as Google/HTC are sourcing panels from the usual vendors, it's unlikely there's anything here we haven't seen before.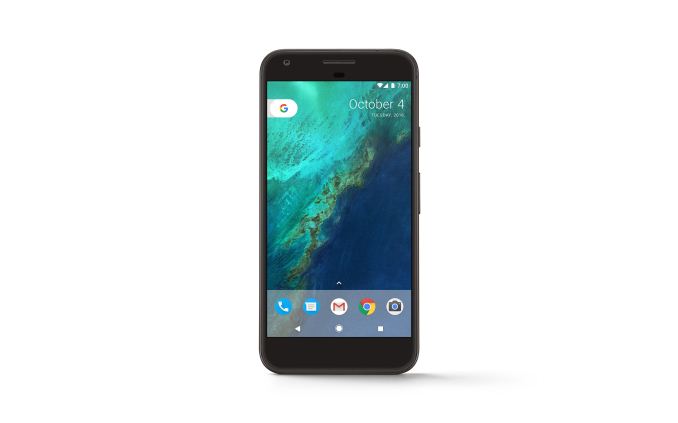 In terms of battery capacity, the smaller Pixel packs a 2770mAh battery – virtually identical to the Nexus 5X – while the Pixel XL bumps that up to 3450mAh, which is even more identical to the Nexus 6P. Google's touting 26 hours of battery life for voice calls and 13 hours for internet browsing for the Pixel, and 32 hours/14 hours respectively for the Pixel XL. Both phones also implement quick charging via the USB Type-C Power Delivery standard, and Google says that the included 18W power adapter can fast charge the phone to "7 hours of use" in 15 minutes.
Moving on to the modem, both Pixels are relying on the Snapdragon 821's integrated Qualcomm X12 LTE modem, which offers up to Cat 11 performance depending on the carrier. Interestingly, in their tech specs Google notes that there will be two configurations of the phone: a North American version, and a Rest of World version. The band support for the two phones is slightly different, and this likely has something to do with Google working with Verizon as their carrier partner for the US launch.
Wrapping up the specs, you'll find the usual collection of wireless standards and interface ports. This includes 2x2 802.11ac WiFi, a USB Type-C port that supports 3.0 speeds, and a 3.5mm headset jack.
Pre-orders are starting today, with units available in stores (and pre-orders presumably arriving) on October 20th. Unlike the Nexus phones, Google is going head-first into the flagship market here, so the Pixels are priced accordingly. The 32GB Pixel is $649, and the 32GB Pixel XL is $769. Bumping the capacity up to 128GB will in turn add another $100 to those prices.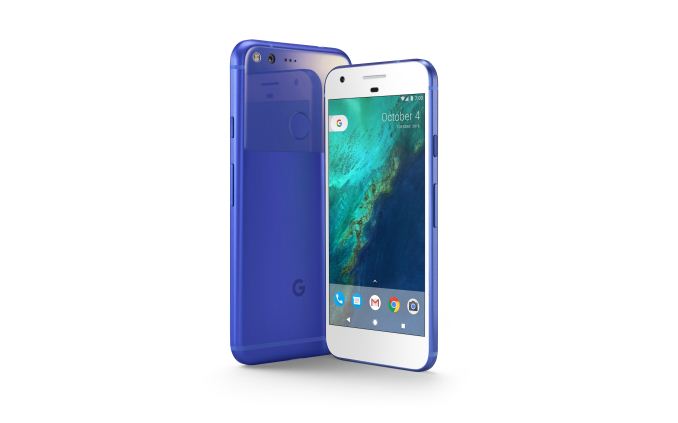 Source: Google