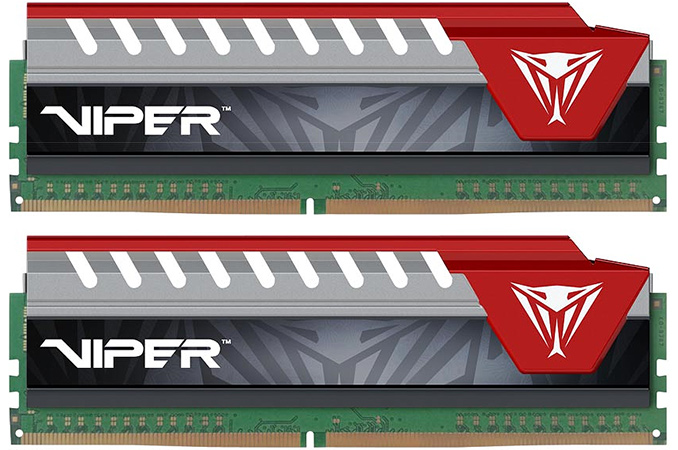 Patriot this week unveiled two new DDR4 kits rated to run at DDR4-3733. The dual-channel kits are designed for Intel's latest platforms and belong to Patriot's Viper Elite and Viper 4 families. The new DDR4-3733 memory modules will be the fastest in Patriot's lineup.
Patriot's new Viper Elite and Viper 4 dual-channel memory kits are rated to run at 3733 MT/s with CL17 19-19-39 timings at 1.35 V. The sets consist of two 8 GB modules, which use modern 8 Gb memory ICs (integrated circuits) from an undisclosed manufacturer. The new modules are designed for Intel's 100-series platforms and come with XMP 2.0 profiles to make it easier for end-users to run them at their rated specifications with the right timings and voltage.
Specifications of Patriot's DDR4-3733 Kits
Module Capacity
Kit
Capacity
Latencies
Voltage
Height
Part Number
Viper Elite
8 GB
16 GB
17-19-19-39
1.35 V
43.0 mm
PVE416G373C7KRD
Viper 4
42.6 mm
PV416G373C7K
The difference between the Viper Elite and the Viper 4 modules in all in the look. Typically, Patriot positions its Viper Elite products below the Viper 4, and aims them at modders. These modules come with heatsinks of three different colors (red, blue and grey). The Viper 4 family typically focuses on the faster segments and features red extruded aluminum heatsinks. Nonetheless, in this particular case both the Viper Elite DDR4-3733 devices also come only with silver and red heatsinks. Therefore, the difference between two types of DDR4-3733 solutions from Patriot lies only in aesthetics and dimensions.
Patriot's Viper 4 and Viper Elite 16 GB (2 x 8GB) DDR4-3733 dual-channel memory kits will be available for purchase online and in stores starting from August 3 for the recommended price of $159.99.
Only a few memory module makers offer DDR4 sticks rated to run above 3400 MT/s speeds because it requires sufficient binning, as well as an appropriate volume of sales to make it worthwhile. It gets rather tricky to cherry pick a sufficient amount of such ICs to build appropriate products. The fact that Patriot rolled out two DDR4-3733 kits indicates that the company is willing to compete for very high-end systems featuring fast memory as well as showing the ability of mass-produced DDR4 chips to run at higher frequencies.
Source: Patriot Memory