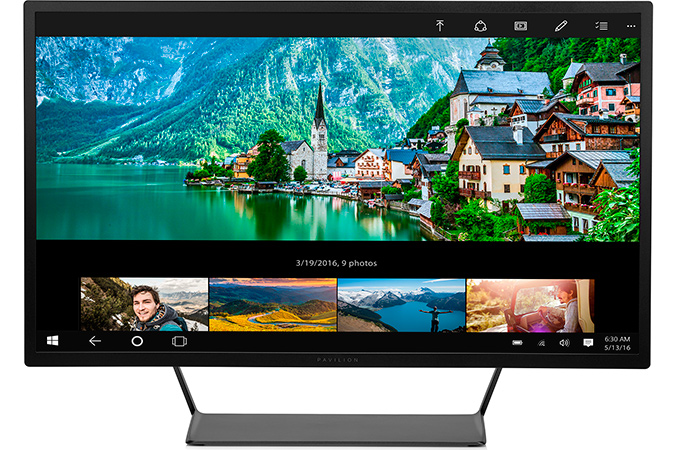 HP has introduced its Pavilion 32 display (V1M69A), which promises to combine large size, QHD resolution, VA panel and affordability. The Pavilion 32 monitor may not appeal to professionals or hardcore gamers, but for mainstream users this one could be a game changer because of its price-point. The monitor will hit the market late next month as a part of HP's back-to-school product refresh.
Modern day desktop workloads involve a lot of multitasking as well as long documents, large spreadsheets and high-resolution images. For many tasks, big displays are not a luxury, but rather a necessity. However, it is not easy to find a monitor that boasts with a large size, a good quality panel and an affordable price. There are relatively inexpensive 24" and 27" monitors with IPS or VA panels available, but when it comes to models with diagonals like 30" and larger, then it is not easy to find a good quality affordable display. While there are low-priced 32" monitors from unknown brands, they usually feature cheap TN panels and can hardly boast with good quality. Meanwhile, well-known suppliers charge $500 and up for their 32" models, which is more than many people are willing to spend on a display. With its Pavilion 32, HP wants to address the market of affordable monitors with an offering that is currently not available from its rivals.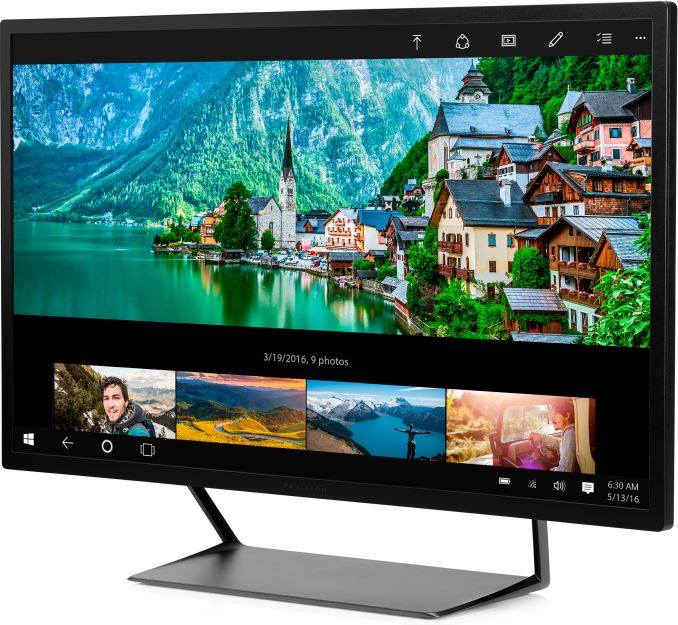 The HP Pavilion 32 (V1M69A) display uses a 32" WVA+ panel with 2560×1440 resolution, 300 cd/m2 brightness, 3000:1 static contrast ratio, 178°/178° horizontal/vertical viewing angles as well as 60 Hz refresh rate. WVA stands for wide viewing angle, which is a general term to describe various types of panels (including *VA and PLS) used by display makers in their products. HP does not disclose exact type of the panel that powers the Pavilion 32", but confirms that this is a VA panel (though, we have no idea whether this is AH-VA, A-MVA, etc.), not a TN (which is typically used for low-cost displays). In many ways, the Pavilion 32 resembles the Envy 32 monitor, which HP introduced several months ago. The Envy 32 has a similar WVA+ panel, but features stereo speakers as well as AMD's FreeSync to appeal to gamers, but it is also more expensive.
Specifications of HP Pavilion 32 and HP Envy 32
HP Pavilion 32
V1M69A
HP Envy 32
N9C43AA
Panel
32" WVA+
32" WVA+ with Anti-Glare
Resolution
2560 × 1440
Refresh Rate
60 Hz
60 Hz with AMD FreeSync
Response Time
7 ms gray-to-gray
Brightness
300 cd/m²
Contrast
3000:1
Viewing Angles
178°/178° horizontal/vertical
Color Saturation
100% sRGB
Pixel Pitch
0.276 mm
Pixel Density
91.8 pixels per inch
Inputs
2 × HDMI
1 × DP 1.2
1 × HDMI
1 × MHL
1 × DP 1.2
3.5 mm stereo-in
USB Hub
2-port USB 2.0 hub
Audio
None
Stereo speakers with Bang
& Olufsen enhancements
Launch Price
$399.99
$499.99
The new Pavilion 32 display from HP is equipped with two HDMI and one DisplayPort 1.2 connectors (cables are included in the package). In addition, it has an integrated USB 2.0 hub, which should be enough to connect a keyboard, but which will not be sufficient for modern external USB flash memory drives that support USB 3.0 transfer rates. Keeping in mind that the hub is located on the backside of the monitor, it looks like it was not intended for removable storage in general. The design of the Pavilion 32 allows adjusting tilt, but not height. Asides from that, the monitor cannot be used in portrait mode, which is hardly a problem for the vast majority of its potential buyers.
Select retailers as well as HP's online store will start to sell the HP Pavilion 32 on June 26 for $399.99. The monitor is covered by a one- or three year-limited warranty.
The key selling points of the HP Pavilion 32 are its relatively low price as well as its VA panel. Right now, the majority of 32" displays with QHD resolution from well-known suppliers cost over $500. By making its product available for $400, HP appeals to a broader audience of users, who currently buy smaller monitors. What remains to be seen is whether other display makers follow HP with their inexpensive 30" QHD parts.
Source: HP