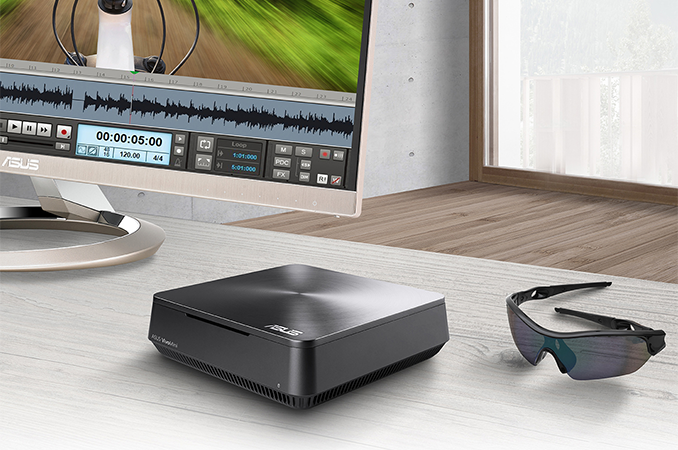 Intel's NUC and Mini-STX form-factors are designed to build tiny PCs with decent performance with more or less standard components. However, these form-factors have traditionally not supported discrete graphics processors in any form and can integrate only one or two storage device - at present, only some of GIGABYTE's BRIX line and Zotac's mini-PCs are using GPUs in a larger chassis to achieve this, particularly due to the increased heat generation. ASUSTeK's Vivo desktop personal computers are designed to fit between NUC and mini-ITX in terms of size and the company this week added two new models in to the lineup.
The new ASUS VivoMini VM65 and VM65N PCs are going to be available with either an Intel Core i3 or the Core i5-6200U, featuring the Skylake micro-architecture as well as an unnamed Intel PCH. The systems are equipped with two SO-DIMM slots for up to 16 GB of DDR4-2133 memory, space for one 3.5-inch drive (or two 2.5-inch with optional Vivo DualBay), an 802.11ac Wi-Fi module, Gigabit Ethernet, a 4-in-1 card reader, four USB 3.0 ports, two USB 3.1 type-A ports (the VM65N only), one audio output jack, an HDMI connector, one Dual-mode DisplayPort output (capable of driving DP-to-HDMI and DP-to-DVI over passive adaptors), built-in 2x2W SonicMaster speakers and a Kensington lock.

The more advanced VM65N also comes with the NVIDIA GeForce GTX 930M mobile graphics processor (384 stream processors), with 1GB of onboard DDR3 memory and running under NVIDIA's Optimus technology. ASUS claims that this gives 56% better synthetic benchmark scores over the non-GPU version of the VivoMini. While ASUS does not position the VM65N directly as a gaming machine, it claims it could serve as a photo or video editing platform thanks to its ability to connect to three displays (one using HDMI, two using dual-mode DisplayPort). While it is noteworthy that ASUS has managed to install a discrete GPU into a tiny PC, the question is whether such a graphics chip can bring much of a benefit to a standard user beyond CUDA support.
Specifications of ASUS VivoMini VM65-Series Desktops
ASUS VM65
ASUS VM65N
CPU
Intel Core i3
Intel Core i5-6200U (2C/4T,

2.3-2.8 GHz, 1

HD 520, 15 W TDP)

PCH
Intel 100-series
Graphics
Intel HD Graphics 520
NVIDIA GeForce GT 930M
Memory
Two SO-DIMM slots, up to 16 GB of DDR4-3000
M.2
One M.2 (PCIe 3.0 x4) slot for Wi-Fi module
SATA 6 Gbps
2
Storage bays
1x3.5"
2x2.5" with optional Vivo DualBay
Wi-Fi
802.11ac + BT 4.0
Ethernet
Gigabit Ethernet
Display Outputs
1 HDMI,
1 Dual-mode DisplayPort
Audio
One mini-jack for headphones, one mini-jack for microphone
USB
4 USB 3.0 type-A
2 USB 3.1 type-A
4 USB 3.0 type-A
Dimensions
7.48 x 2.21 x 7.48 inches (18.99 x 5.61 x 18.99 cm)
PSU
External
The choice of the GPU was conditioned by its TDP of around 33W. At present, the 930M is NVIDIA's nearly most powerful mobile graphics processor at this power and is rated at 790.3 GFLOPS. The combined TDP of the CPU and the GPU of the VM65N is 48W - if we select a single Intel CPU that comes in under this limit, we get something like the Core i5-6350HQ (45W TDP), which runs with four cores and uses the Iris Pro Graphics 580 processors for $304 – $306 (up from $281 for the i5-6200U) and comes with an additional 128MB of eDRAM. The i5-6350HQ offers 1152 GFLOPS of graphics processing power, or a 46% increase in pure performance, with a combined cost lower than that of the i5-6200U plus the 930M.
The other side of the equation is CUDA support of the extra graphics chip, or a potentially better ability to drive certain display types. It has also been pointed out that splitting the power generation across two chips may be better for heat removal and heatsink/fan noise, but also makes it easier to use the same motherboard across all VivoMinis. Though it would be interesting to compare the internal designs.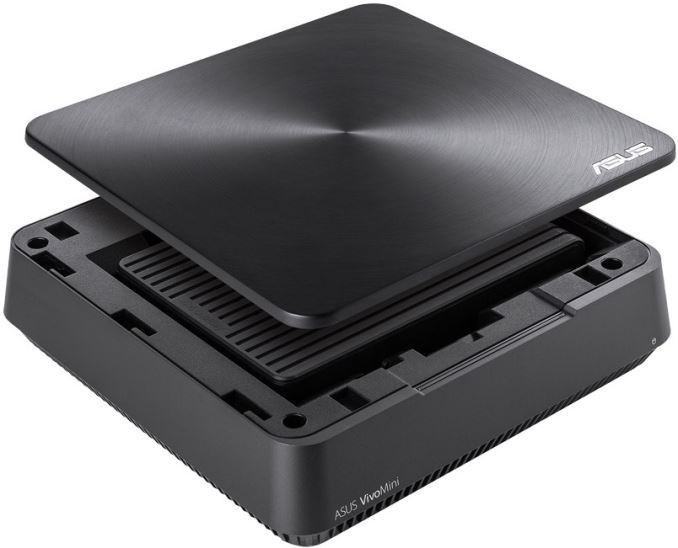 VivoMini PCs from ASUS come in sub 2-liter enclosures made of brushed aluminum. The systems are larger than Intel's NUCs, but they are still more compact that mini-ITX PCs. They can be attached to the backside of displays using standard VESA mounts (presumably 100x100mm, not confirmed), or placed on the desk.

The exact pricing of the VivoMini VM65 and VM65N is unknown. Right now Amazon sells the previous generation models, the VM62 and VM62N, starting at $458 and $1073 respectively.
Source: ASUS