Office Performance
The dynamics of CPU Turbo modes, both Intel and AMD, can cause concern during environments with a variable threaded workload. There is also an added issue of the motherboard remaining consistent, depending on how the motherboard manufacturer wants to add in their own boosting technologies over the ones that Intel would prefer they used. In order to remain consistent, we implement an OS-level unique high performance mode on all the CPUs we test which should override any motherboard manufacturer performance mode.
All of our benchmark results can also be found in our benchmark engine, Bench.
Dolphin Benchmark: link
Many emulators are often bound by single thread CPU performance, and general reports tended to suggest that Haswell provided a significant boost to emulator performance. This benchmark runs a Wii program that raytraces a complex 3D scene inside the Dolphin Wii emulator. Performance on this benchmark is a good proxy of the speed of Dolphin CPU emulation, which is an intensive single core task using most aspects of a CPU. Results are given in minutes, where the Wii itself scores 17.53 minutes.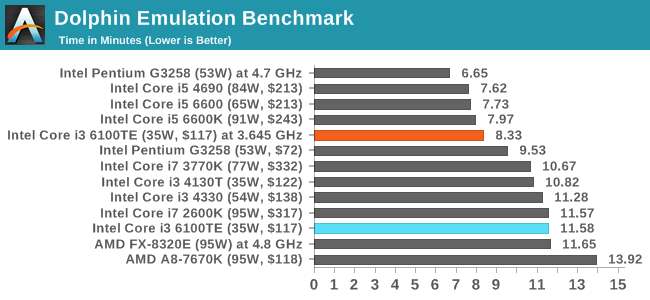 Dolphin loves single threaded performance, and got a big boost when Haswell was introduced. The overclock puts it within spitting distance of a few i7 parts, and comfortably above the lower clocked i5 processors.
WinRAR 5.0.1: link
Our WinRAR test from 2013 is updated to the latest version of WinRAR at the start of 2014. We compress a set of 2867 files across 320 folders totaling 1.52 GB in size – 95% of these files are small typical website files, and the rest (90% of the size) are small 30 second 720p videos.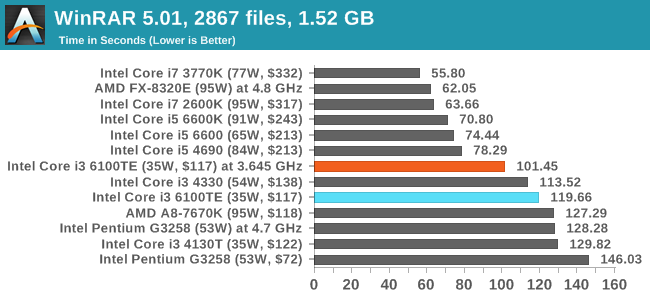 Being a variable threaded workload, the 6100TE gains some benefit with an overclock but is still behind the true quad core parts. This is most likely due to cache contention on the hyperthreads.
3D Particle Movement
3DPM is a self-penned benchmark, taking basic 3D movement algorithms used in Brownian Motion simulations and testing them for speed. High floating point performance, MHz and IPC wins in the single thread version, whereas the multithread version has to handle the threads and loves more cores.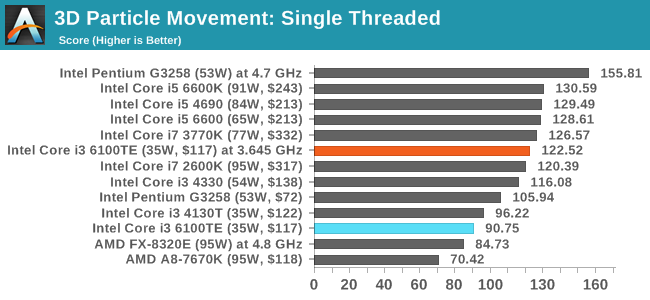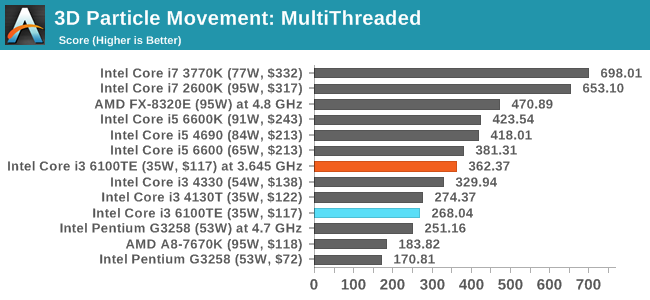 For the single threaded test, similarly to the G3258 when overclocked, the frequency and architecture make a big difference. In the multithreaded test, the Core i3-6100TE when overclocked starts to play with the i5 parts.
3D Particle Movement v2.0 beta-1
I am in the process of updating the 3DPM benchmark, and you can follow the progress with source code and files in this thread on our forums. It was pointed out that the original code, while written under the naivety of a chemist rather than a non-computer scientist, might have some rough time with a phenomenon called false sharing which seems to affect low-cache AMD processors more than Intel processors (but both get a big increase in performance). The software is currently in the beta phase, with the core algorithms in place, but to showcase the difference we ran it on a few processors.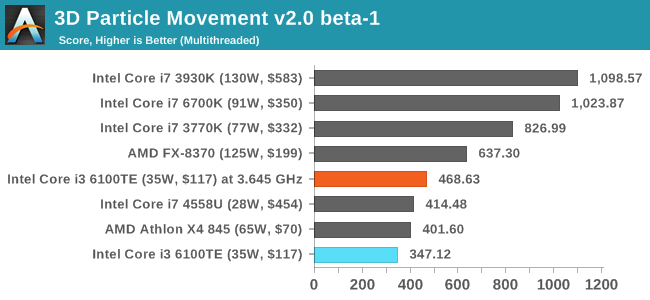 For an upcoming review with AMD Carrizo, we see some interesting results with this new version of 3DPM.
Web Benchmarks
On the lower end processors, general usability is a big factor of experience, especially as we move into the HTML5 era of web browsing. For our web benchmarks, we take four well known tests with Chrome 35 as a consistent browser.