Professional Performance: Windows
Agisoft Photoscan – 2D to 3D Image Manipulation: link
Agisoft Photoscan creates 3D models from 2D images, a process which is very computationally expensive. The algorithm is split into four distinct phases, and different phases of the model reconstruction require either fast memory, fast IPC, more cores, or even OpenCL compute devices to hand. Agisoft supplied us with a special version of the software to script the process, where we take 50 images of a stately home and convert it into a medium quality model. This benchmark typically takes around 15-20 minutes on a high end PC on the CPU alone, with GPUs reducing the time.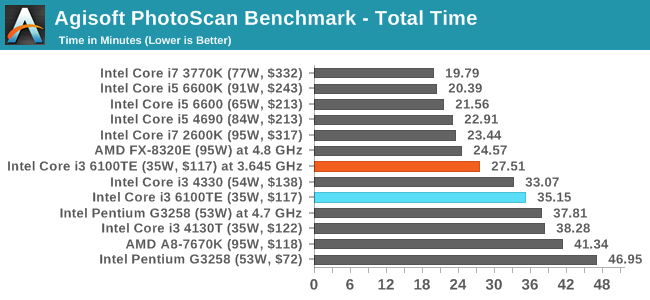 The variable workload of Agisoft means there are parts where the code path is single threaded and others where multithreading is near perfect. As a result we see the overclocked i3 march past almost all the AMD parts but not up to the Core i5s.
Cinebench R15
Cinebench is a benchmark based around Cinema 4D, and is fairly well known among enthusiasts for stressing the CPU for a provided workload. Results are given as a score, where higher is better.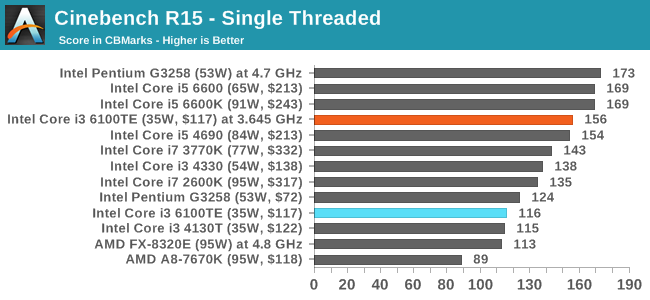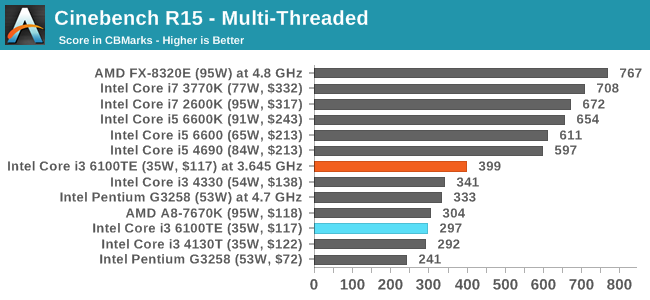 HandBrake v0.9.9: link
For HandBrake, we take two videos (a 2h20 640x266 DVD rip and a 10min double UHD 3840x4320 animation short) and convert them to x264 format in an MP4 container. Results are given in terms of the frames per second processed, and HandBrake uses as many threads as possible.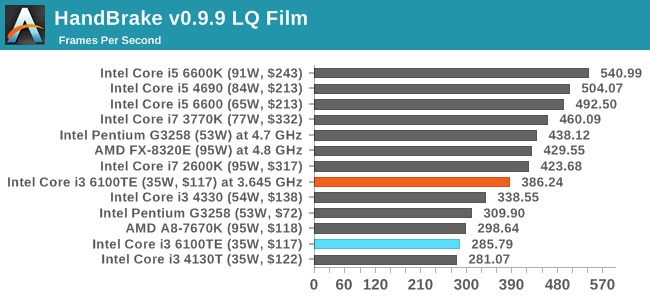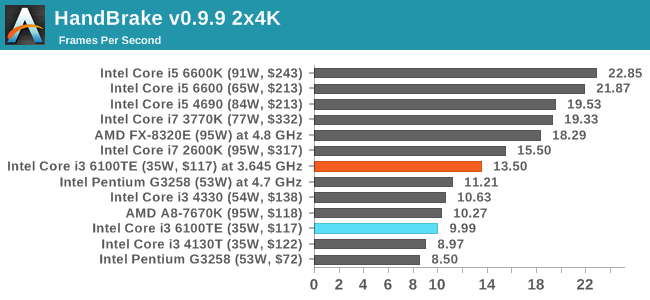 At double 4K, Handbrake requires enough cache and buffers to keep supplying frames. The Core i3 line has a reduced L3 compared to the Core i5s, but also has to share it between threads (1.5MB/thread compared to 2MB per core) which can cause bottlenecks.