CPU Performance
Netbooks have a rather poor reputation when it comes to performance. The original Atom processor was very slow, and of course it was mated to the slowest (cheapest) storage that could be found. The overall impression was never very favorable. Luckily, Intel's Bay Trail architecture has helped tremendously for newer devices such as the Stream 11. Performance is good and power consumption is low, allowing devices such as this to offer good battery life and fanless designs.
To evaluate the performance, we ran through some web based tests as well as our traditional Windows benchmarks. We have not evaluated any other Windows laptops with Bay Trail, so I've included some of the results from the ASUS T100 review as well since it uses Bay Trail (although it is a quad-core tablet version Bay Trail-T) just to compare the dual-core Bay Trail-M version against something other than Haswell.
We do not have a huge selection of appropriate machines to compare against so I've included more devices than I normally would have just to get a feel where this Bay Trail-M fits in compared to AMD and Core based CPUs. If you would like to compare the HP Stream 11 against anything we have tested before that I did not include, please visit our online results database, Bench.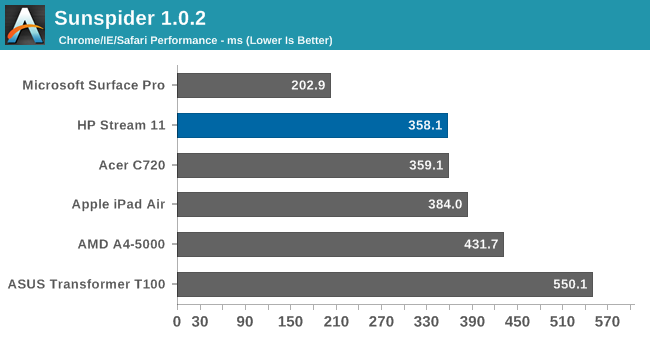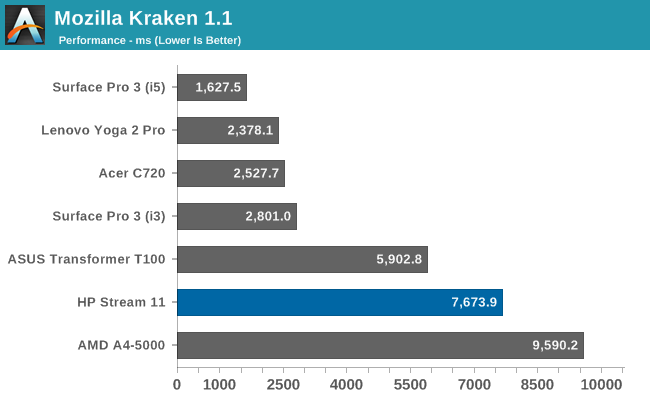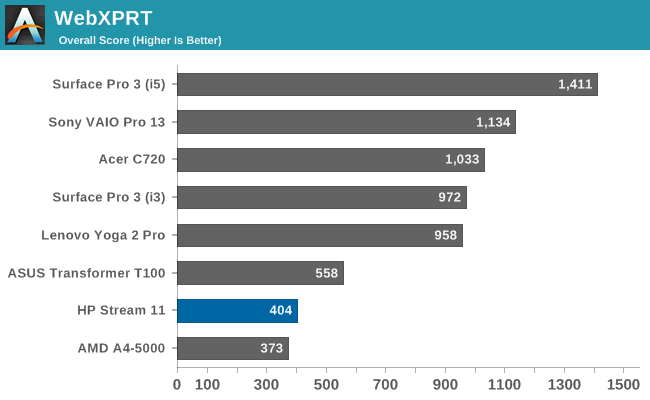 The web based benchmarks allow us to compare across different platforms. The HP Stream 11 performs much closer to a tablet than a typical Haswell based notebook, which is no surprise. It's not the snappiest device on the block, but it doesn't need to be. Let's move on to some PC-centric workloads.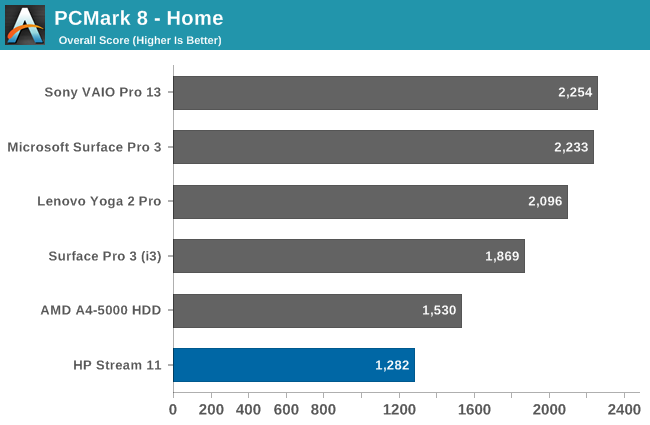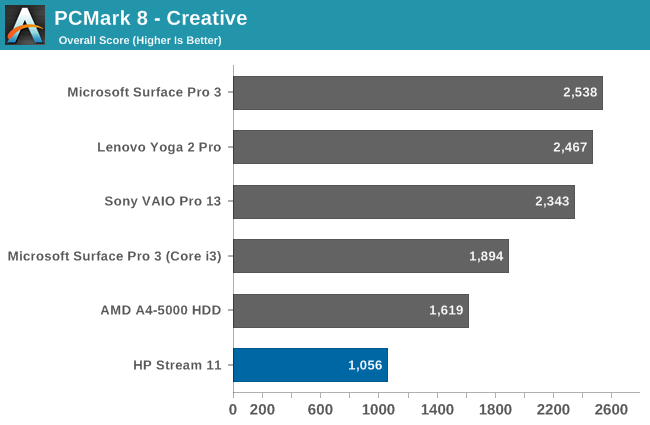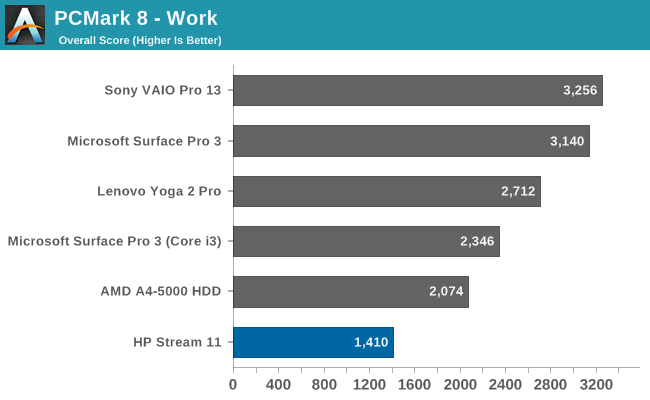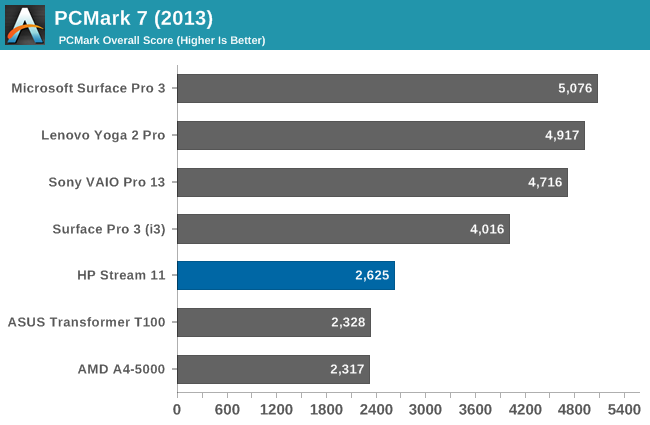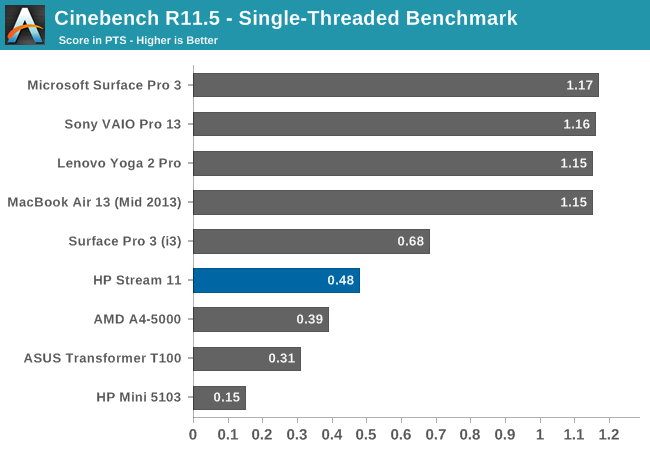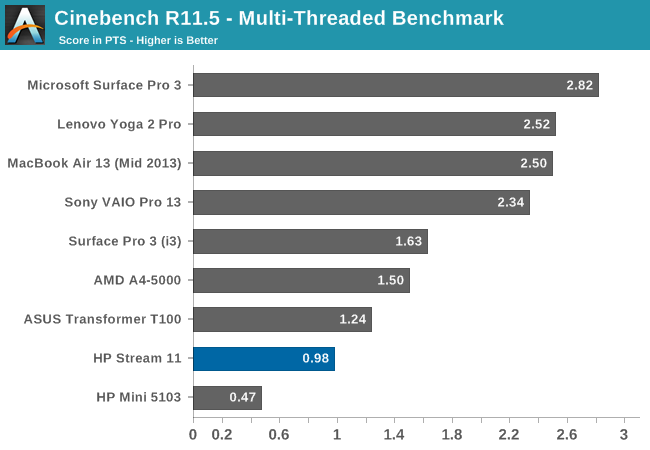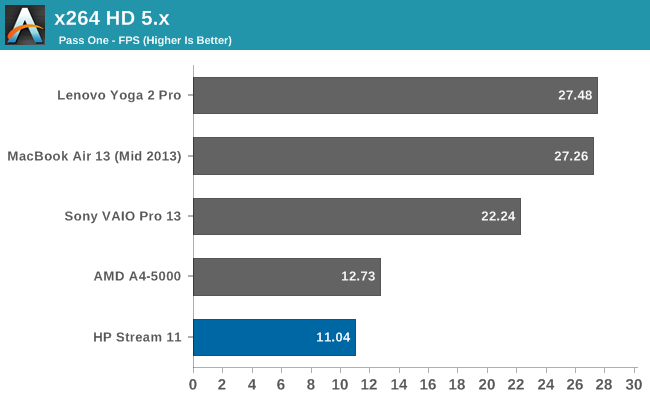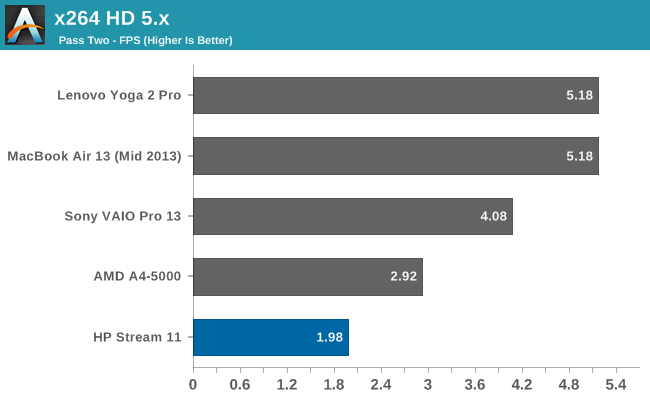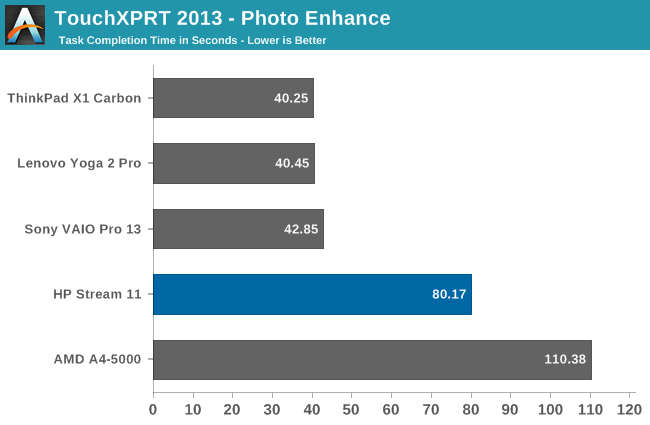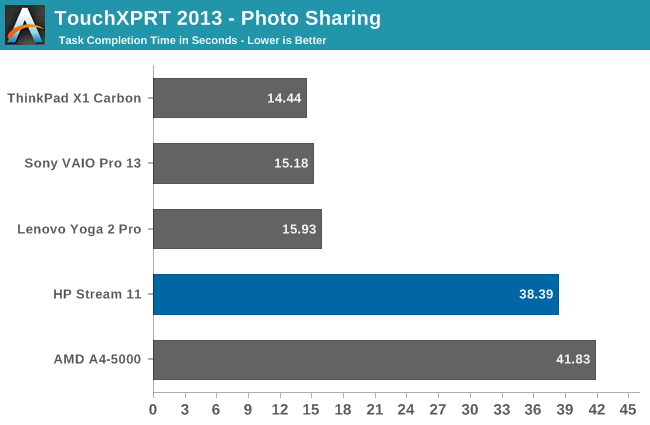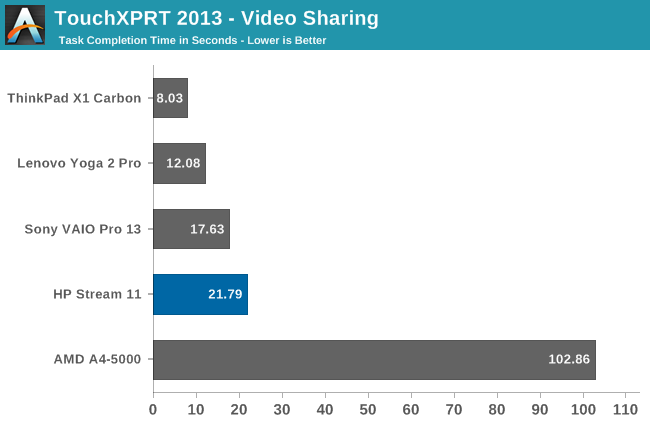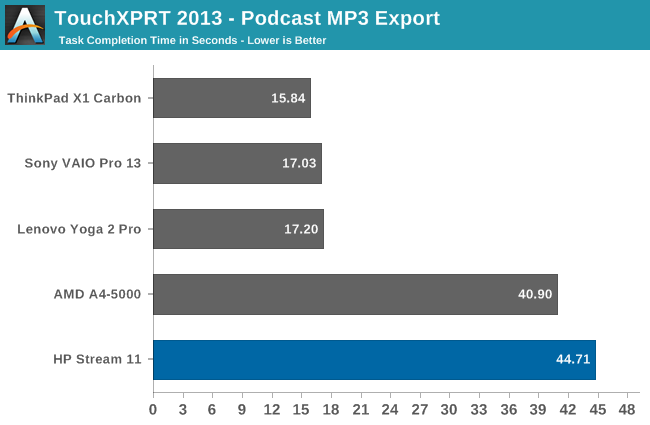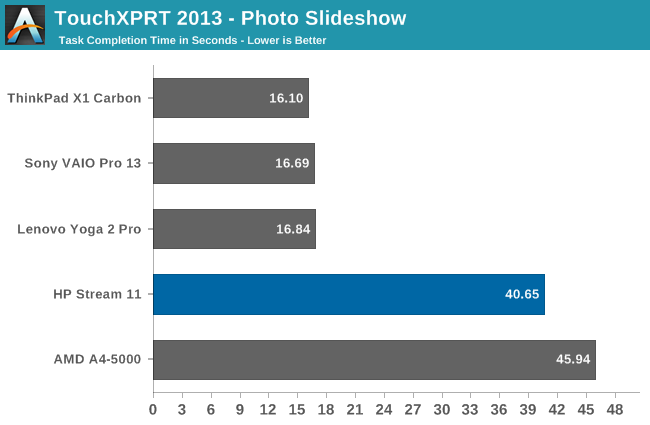 With only two cores and no hyperthreading, the Bay Trail-M cannot keep up with the bigger Core series. It does have better performance than the Bay Trail-T though even though there are only half the cores, but the clockspeed is much higher. There are a couple of benchmarks (Cinebench R11.5) where we have data from the old N550 Pineview core Atom with the HP Mini 5103, which shows that even though Bay Trail is slow compared to Core, it is still much faster than netbooks of old.
While the benchmarks would have you believe that the system is slow and sluggish, unless you are doing something that is very hard on the processor it never felt that way. Yes, things are not as quick as an Ultrabook but tablets make due with less processing power than this. With the lack of a touch screen, it is difficult to compare the Stream 11 to a tablet, but the workload that it will handle is similar.
GPU Performance
The Celeron N2840 carries Intel's HD Graphics, but with far fewer cores at lower clocks than the Core parts. There are only four execution units, so graphics performance will not be even close to Ultrabooks.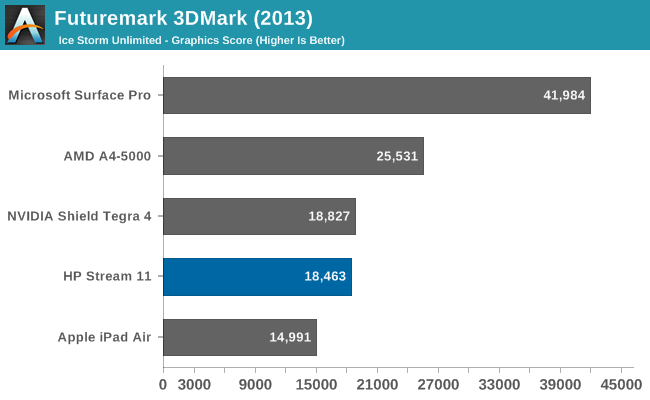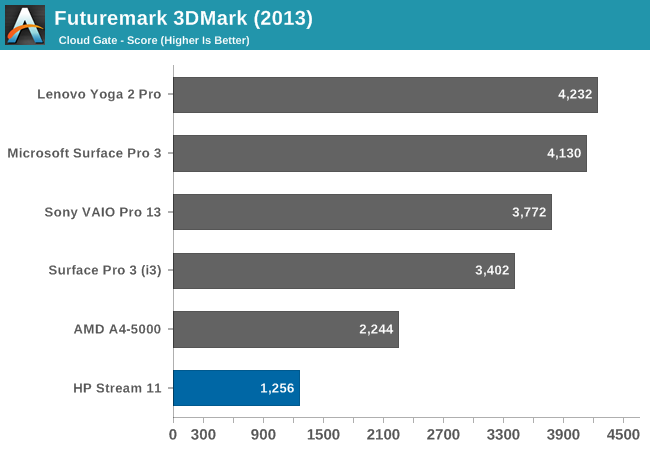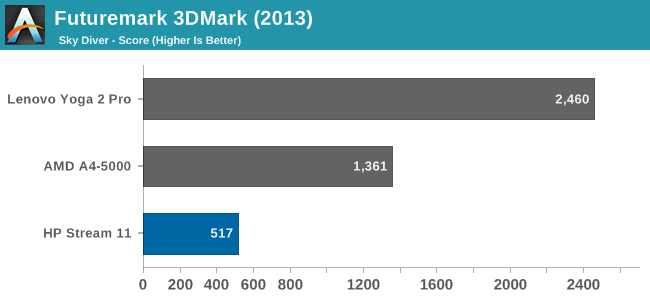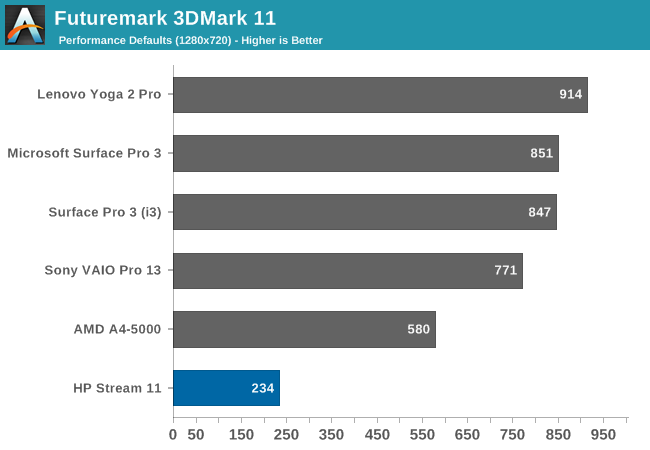 This is far from a gaming system. It is possible to game on it if you keep the workload down. Light gaming, such as games in the Windows Store, had no issues running. I played through a bit of Asphalt 8 and performance was excellent.
Our normal laptop workload for gaming consists of rather demanding titles such as Bioshock Infinite and Tomb Raider, but those would not even crack 30 FPS on the Haswell based Yoga 2 Pro. To get a feeling for a lighter game, I installed League of Legends.
The game was very playable, although settings must be turned down. The default medium settings would give around 30 FPS (measured with FRAPS) and very low produced 60 FPS with V-Sync disabled. Light games such as these can be played assuming you are OK with the graphics being set lower.
Overall performance is very low for a laptop, with the capabilities coming in closer to that of a tablet. Light workloads are the name of the game for a $199 laptop. If you need more processing power, you will likely need to spend a bit extra.