Storage Performance
The HP Stream 11 has 32GB of eMMC based flash storage, which shows as Hynix HBG4e. It is also the first device I have seen which leverages WIMBoot, which arrived at Microsoft's Build conference as part of Windows 8.1 Update to lower the storage requirements for Windows PCs. Traditionally, PCs come with Windows installed on the C: drive, and include a recovery partition to allow people to reset or refresh their computers back to factory specifications. WIMBoot saves quite a bit of space by not actually installing all of the Windows files, but rather keeps them compressed in the WIM image on the recovery partition. This allows the actual Windows Install to only be around 4GB.
However it is not all good news. Performance will be lower, because the files will need to be uncompressed when accessed. Also, the recovery partition cannot be removed like on a normal install, so while you do save space on the actual C: drive, if the recovery partition is on the same disk, then it may take up quite a bit of room, especially if the OEM has installed a lot of software into the WIM, which they are known to do from time to time. In the case of the HP Stream 11, the amount of storage taken up by Windows and the recovery partition is about 11GB, with the recovery partition itself at 7.2GB. Out of the box, of the 32GB of eMMC available, only 17.5GB is free, and it is quickly filled to the point where you need to manage the storage. Multiple user profiles can quickly fill several GB each.
My biggest complaint about the HP Stream is the lack of storage. Doing the review, it was something that I bumped into constantly as many of the benchmarks are quite large. It does include a SD Card slot, so an extra 32GB or so there is almost a necessity, but of course having your files stored on a removable drive comes with its own risks and complications. Be sure to back them up no matter where they are.
Normally to evaluate Storage performance on laptops, we turn to Futuremark's PCMark 8 test suite. However this requires 30GB of storage free to run the storage tests, so we can't compare the eMMC in this device to other notebooks with SSDs using that graph.
I turned to a couple of other benchmarks to get a feel for the storage performance. Windows has some build in sequential and random read/write storage benchmarks, which resulted in these numbers: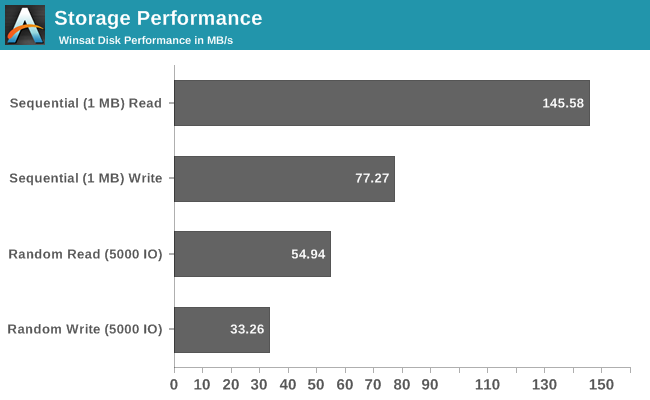 I also used the ATTO Disk Benchmark to get a result across 1GB of storage. eMMC is not as fast as SSD, especially with small file performance. With a transfer size of 512 bytes, it would only achieve 0.32 MB/s write and 3.0 MB/s read performance, but as the transfer size increased the performance was quite good, with a maximum write of 70.3 MB/s and a maximum read of 166.7 MB/s.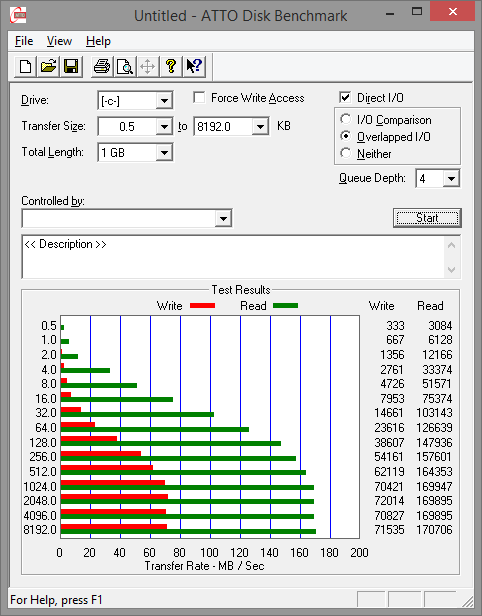 Boot times are also very good, with a time from off to lock screen of around 10 seconds. The HP Stream 11's 64-bit version of Windows also supports Connected Standby, so wake from sleep is pretty much instant. The storage performance is certainly acceptable, and I would personally take NAND over a spinning disk every time.
Wi-Fi Performance
Wireless networking is one of the first things to be cut when looking at building a budget device. Consumers may not realize that 802.11n support does not always mean the same thing, but the tick box is still checked on the specification sheet. The HP Stream 11 has taken the wireless performance to the ultimate low, implementing a Realtek RTL8923BE wireless card with Bluetooth 4.0 support. The adapter is 802.11n compatible, but with some big caveats.
Unsurprisingly, there is no 5 GHz support, but even the 2.4 GHz range only has a single stream, and only 20 MHz channel support. This gives a maximum connection speed of only 72 Mbps. Generally this is fine for web browsing, but any sort of large file transfers will be extremely painful. For testing, I keep several large files on my server that I normally just copy over the network, but with this device I found myself using a flash drive and copying them over that way.
As reviewers and consumers, we always expect the best, but with a budget this tight HP obviously found it easiest to save a few dollars on the network card. It is pretty disappointing to see this kind of performance in 2014.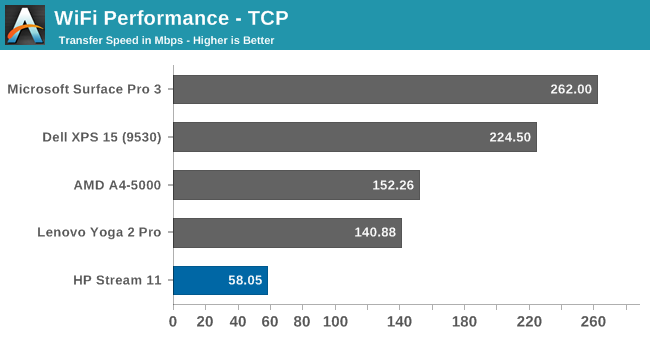 Our standard Wi-Fi test only produced a result of 58.05 Mbps, which is a pretty awful result. I can excuse the lack of 5 GHz on this card, but to opt for a single channel only and on that stream to only support 20 MHz channels rather than the optional 40 MHz channels means you will be hard pressed to find worse Wi-Fi performance that still bears the 802.11n name. The standard supports up to four streams at 150 Mbps each, so one single 72 Mbps stream is not very good.