The Dell U3014 is rated for 350 cd/m2 on the spec sheet, but I found the most I could get it to produce was 315 cd/m2. It would likely produce more if you were to push the contrast all the way to the maximum, but doing so clips the top whites, so all your highlights suddenly become a single shade instead of distinct. It might make the numbers look worse, but not allowing clipping makes for an honest number, and 315 cd/m2 is what the U3014 can do. With the backlight at the minimum, it drops down to only 45 cd/m2 of light, which is good. That gives you lots of room to work with, and most users will be fine with these levels.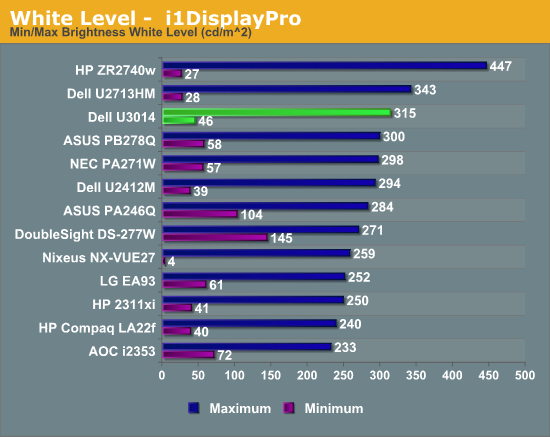 Black levels with the backlight at maximum are 0.357 cd/m2, and that drops down to 0.052 cd/m2 at minimum backlight. Dell offers a dynamic backlight on their displays where a pure black screen totally disables the backlights, giving you "infinite" contrast, but that option is disabled in the most color-accurate modes. It also seems be an all-or-nothing approach, and not one where you can selectively enable and disable part of the edge lighting. I'm not a fan of dynamic backlighting unless you have a full backlit LED array, where you can enable and disable it for parts of the screen at once, and find they are usually just tricks to make their contrast numbers seem better than they are. Dell is honest and gives you real and dynamic numbers in their specs, though.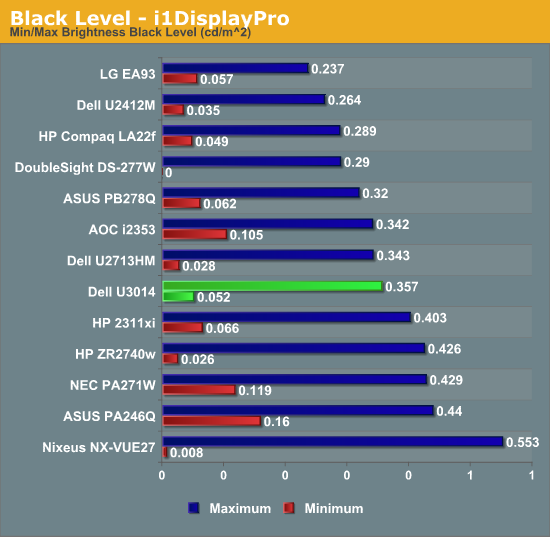 These numbers wind up giving us a contrast ratio in the area of around 900:1. This is maintained from 0-100 percent on the backlight intensity, so it's an honest 900:1 contrast ratio from the Dell U3014. There are some recent displays that have hit closer to 1,100:1 but these numbers are still quite good overall, and maintaining it across the whole range of brightness is ideal.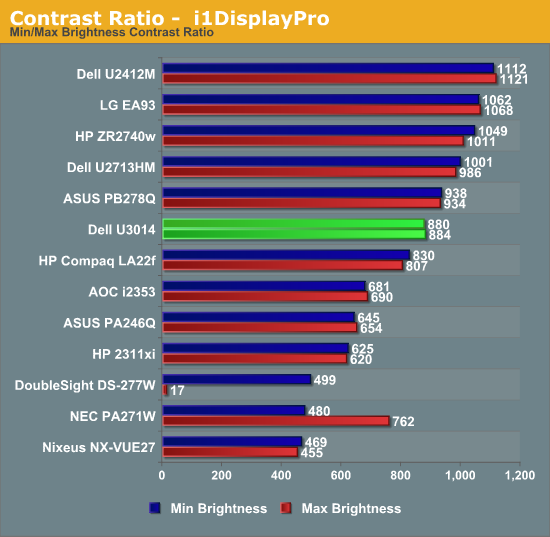 This is a decent start for the U3014, but the real question for me is if they can keep the colors accurate in all color spaces with that new G-B LED backlight system.