Rendering: Blender 2.6.0
Blender is a very popular open source renderer with a large and active community. We tested the 64-bit Windows edition, using version 2.6.0a. If you like, you can perform this benchmark very easily too. We used the metallic robot, a scene with rather complex lighting (reflections) and raytracing. Furthermore to make the benchmark more repetitive, we changed the following parameters:
The resolution was set to 2560x1600
Antialiasing was set to 16
We disabled compositing in post processing
Tiles were set to 16x16 (X=16, Y=16)
Threads was set to auto (one thread per CPU is set).
As we have explained, the current 24 and 32 core CPUs benefit from using a much larger number of tiles than we have previously used (64, 8x8). That is why we raised the number of tiles to 256 (16x16), though all CPUs perform better at this setting.
To make the results easier to read, we again converted the reported render time into images rendered per hour, so higher is better.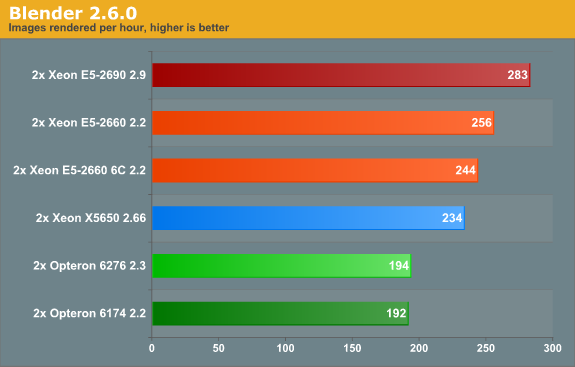 Blender is Xeon territory for sure, as Blender mostly runs in the L1 and L2 cache. Therefore a E5-2630 (2.3 GHz, 15 MB L3, $612) will probably perform about 4% faster than the six-core Xeon E5-2660 in this test. Our six-core Xeon E5-2660 is about 26% faster than the best Opteron. We estimate that the Xeon E5-2630 will offer more or less the same performance at an almost 30% lower pricepoint than the Opteron 6276. Whether you have a lot or little to spend, the Xeon E5 is your best bet for Blender.
Rendering Performance: 3DSMax 2012
As requested, we're reintroducing our 3DS Max benchmark. We used the "architecture" scene which is included in the SPEC APC 3DS Max test. As the Scanline renderer is limited to 16 threads, we're using the iray render engine, which is basically an self-configuring Mental Ray render engine.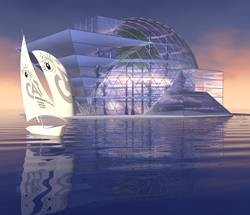 We rendered at 720p (1280x720) resolution. We measured the time it takes to render 10 frames (from 20 to 29) with SSE enabled. We recorded the time and then calculated (3600 seconds * 10 frames / time recorded) how many frames a certain CPU configuration could render in one hour. All results are reported as rendered images per hour; higher is thus better. We used the 64-bit version of 3ds Max 2008 on 64-bit Windows 2008 R2 SP1.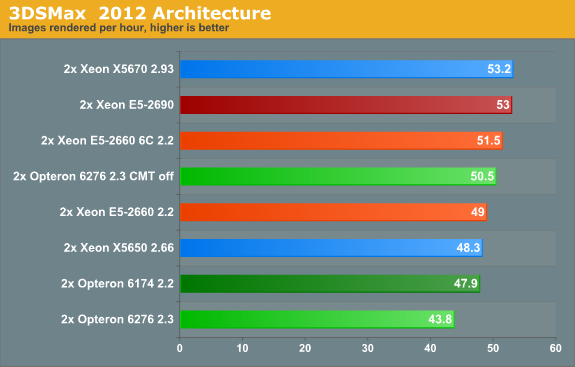 Even with the advanced iray renderer, 3DS Max rendering reaches our scaling limits. The 32-thread Xeons do not come close to 100% CPU load (more like 90%) and in between the frames there are small periods of single threaded processing. Amdahl's law is most likely reason here. We suspect that highly clocked lower core count models can pass the 53 fps barrier we're seeing here.