Rendering Performance: Cinebench
Cinebench, based on MAXON's CINEMA 4D software, is probably one of the most popular benchmarks around as it is pretty easy to perform this benchmark on your own home machine. The benchmark supports 64 threads, more than enough for our 24- and 32-thread test servers. First we tested single-threaded performance, to evaluate the performance of each core.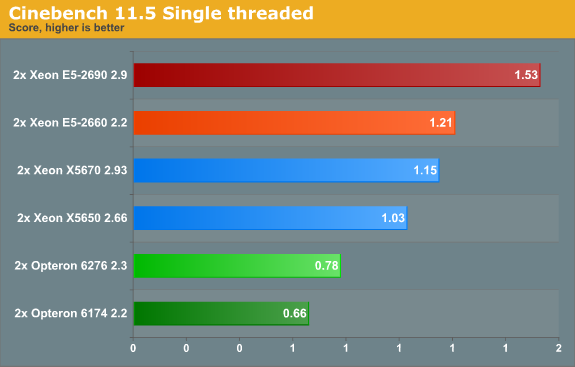 Cinebench achieves an IPC between 1.4 and 1.8 and is mostly dominated by SSE2 code. The Sandy Bridge core offers about 33% better single-threaded SSE performance. We checked: the 33% can be split up into 21% gains from architectural improvements and 12% from the improved Turbo capabilities.
Let's check out the multi-threaded score.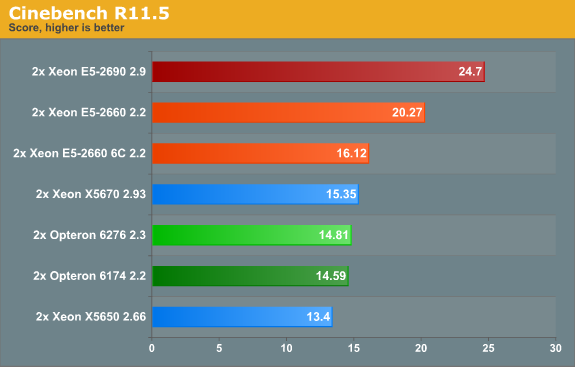 Prior to the launch of the Xeon E5 series, the Opteron 6276 offered a better performance per dollar ratio than comparable Xeon 5600s due to their similar performance at a much lower pricepoint. Now that the Xeon E5 has arrived, the tables have turned. If Xeon E5 servers are in the same price range as Xeon 5600 servers, the Xeon E5-2630 will offer the best performance/price ratio.
And if you want top performance, Intel is the only option. Case in point: a dual Xeon E5-2690 comes close to what a Quad Opteron 6276 can deliver, with the dual Xeon scoring 24.7 while the quad Opteron scores 26.4.