Battery Life: Minor and Major Improvements

As mentioned earlier, ASUS finally moved to something slightly higher capacity than the 48Wh batteries we've seen in so many entry-level notebooks. The result is better battery life, but compared to Arrandale it's not a huge change in two of our tests. The third test is H.264 playback, and that shows a large increase in battery life. We've got the same laptops that we used in our application tests for these charts, but if you want more comparison points we suggest checking out Mobile Bench, where we have results for every laptop we've tested in the past year. For example, here's how the K53E stacks up to one of the few Arrandale-only laptops we've tested, the Dell Latitude E6410.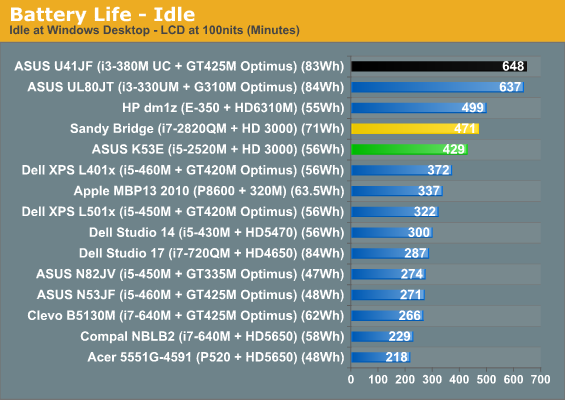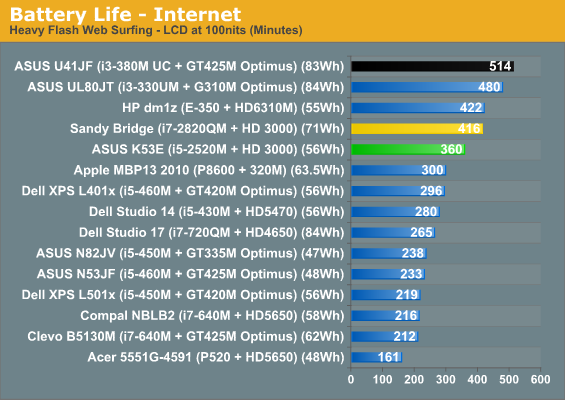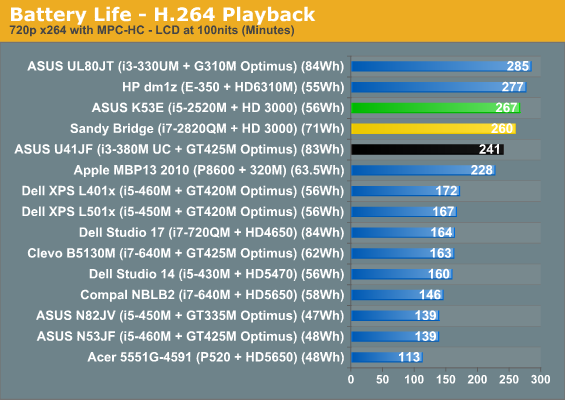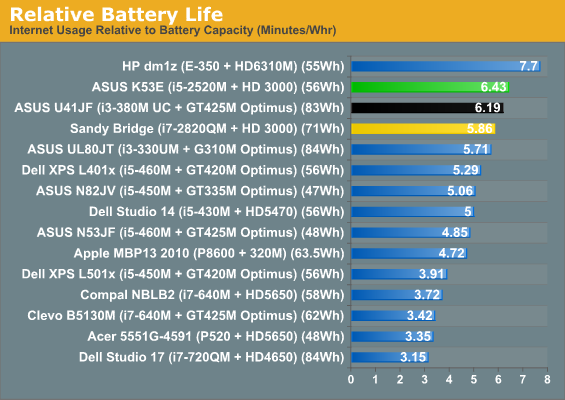 The ASUS K53E places near the top of our battery life charts, with over seven hours of idle battery life, six hours of Internet surfing, and almost 4.5 hours of H.264 video playback. There's still a sizeable gap between the K53E and laptops like the U41JF, but that's more a case of battery capacity than efficiency. With a similar size battery capacity (and a much smaller LCD), HP's dm1z does last over an hour more in the idle and Internet tests. H.264 content is a place where Sandy Bridge excels, however, and with only a 10 minute difference between the 11.6"-screen HP dm1z and the 15.6"-screen ASUS K53E it's pretty clear that's one metric where SNB is more efficient. Looking at relative battery life (i.e. true power efficiency), the K53E is only bested by Brazos (and Atom and CULV) in the Internet test. Even the U41JF can't match the K53E for efficiency, despite underclocking the i3-380M to 700-900MHz (instead of the normal 933-1200MHz) and having a smaller 14" LCD.
For other battery life tests, the K53E lasted just 73 to 83 minutes in simulated gaming (looping 3DMark06/03, respectively), so at heavy loads SNB clearly isn't a panacea. Setting the LCD to 100% brightness (instead of 50%, which corresponds with 100nits), idle battery life drops 10%. Put another way, the LCD uses an extra 0.87W at 205nits. That's a very low figure for a 15.6" LCD, but then the maximum brightness isn't very impressive and as we'll see shortly, the LCD is otherwise a complete disappointment. Calculated power draw at idle running on battery power is just 7.91W, which used to be Atom territory (though the ASUS Eee PC 1001P drops that figure to just 4.4W). Internet surfing bumps the average power use to 9.33W, which is still extremely good, and H.264 playback requires 12.58W. We're basically looking at 6-15 times the performance of Atom (Pineview), all while requiring just 40-80% more power at low loads. Connecting the AC adapter, we saw slightly higher power draw at the outlet, but mostly that comes from the AC adapter efficiency.
There are a couple final points before we leave power and battery life discussions. First, all of this testing was done with a stock Windows 7 installation, so we didn't use ASUS' Power4Gear utility to further optimize power requirements (e.g. by shutting off the DVDRW on battery power). In the past, that has usually added at least a few percent to the battery life, which is one of the reasons ASUS' current laptops often beat their competitors.
The other interesting piece of information is that with Core 2 and Core 2010, we always achieved maximum battery life by setting the CPU to run at 0% minimum and 0% maximum in the advanced power settings (as opposed to 0% min/100% max). With Sandy Bridge, idle battery life still benefits slightly, but it's within the margin of error (425 vs. 429 minutes); H.264 playback is also within the margin of error (261 vs. 267 minutes), but this time setting the CPU to 0% min/100% max results in the higher battery life. The real kicker is the Internet test: set to 0/0%, the K53E lasted 311 minutes compared to 360 minutes at 0/100%. In other words, with Sandy Bridge it looks like the "hurry up and go to sleep" principle is finally working as intended. This is a pattern we've noticed on other SNB laptops, so you can now get the benefits of faster instantaneous performance and better efficiency, at least when you're running light loads.