Sandy Bridge Gaming Performance, One More Time
After the 3DMark results, and considering our previous look at SNB's GPU performance, there's not much new to say here. We're still working on a full roundup of gaming performance and compatibility testing with Sandy Bridge, similar to what we did with the AMD E-350. Our standard suite of laptop gaming tests all ran without any apparent compatibility problems, but given this list hasn't changed much Intel has had ample time to make sure these titles work. We've run the Low and Medium performance tests, with a selection of competing laptops in the charts below.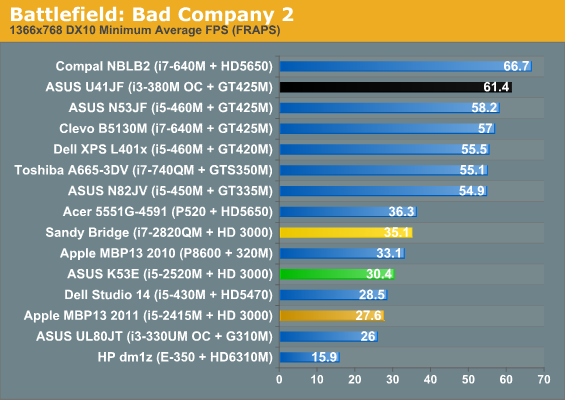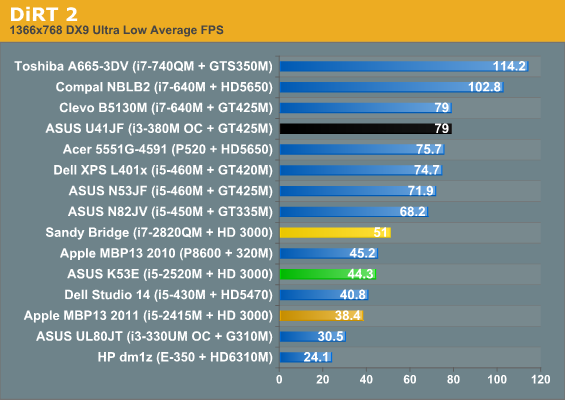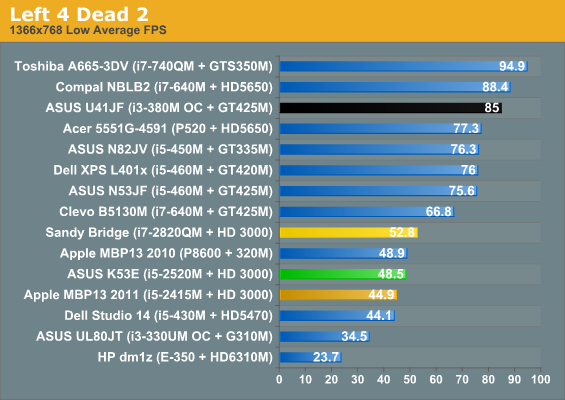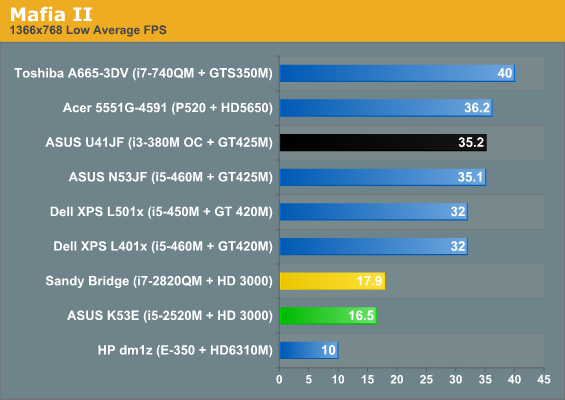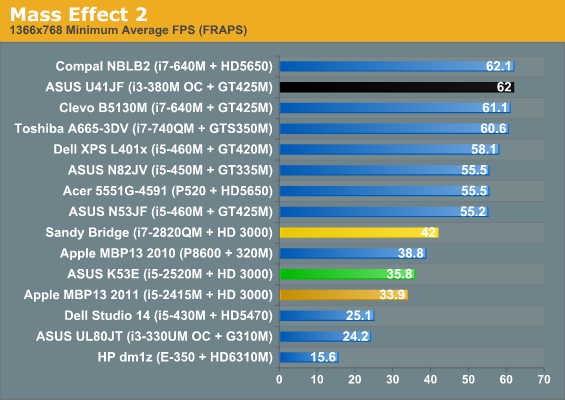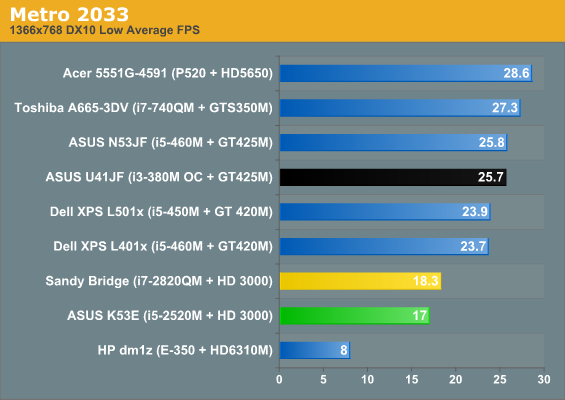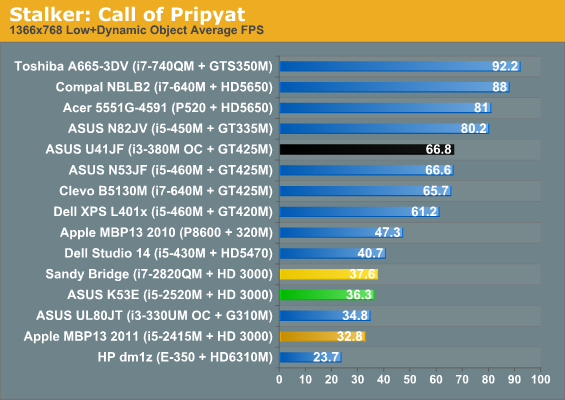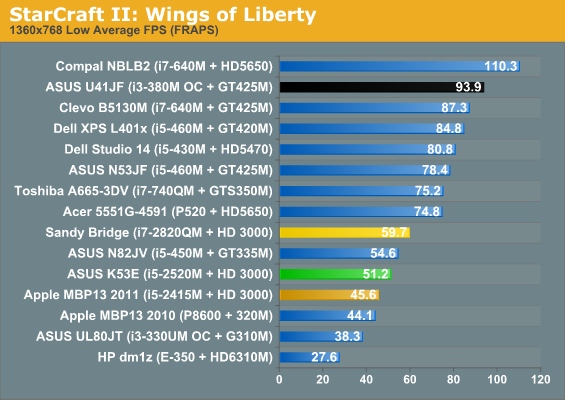 As we noted in the ASUS U41JF review, Intel's relative standings in graphics are better with 3DMark than with actual games, particularly when we look at midrange GPUs like the GT 425M and HD 5650. Where the U41JF leads the K53E by 53% in the four 3DMark tests, in our eight actual games at low detail that increases to an 82% advantage. The K53E still leads the MBP13 2011 by 10%, and the i7-2820QM in turn leads the K53E by 12%—those results are the same as 3DMark, but then we're dealing with the same IGP in all those cases. In terms of actual performance, the K53E breaks the 30FPS mark in six of the eight titles—Mafia II and Metro 2033 being the standard exceptions, but then those often fail to break 30FPS even on discrete GPUs.
What about the AMD E-350 comparison? As we just finished discussing, 3DMark shows the K53E coming in 125% faster than the E-350, though as we've noted in the past 3DMark can either skew things too much or too little towards CPU performance. Move over to our suite of games and the K53E still posts much higher scores than the E-350, but now the margin of victory is 88%. That's still nearly twice the performance, and for a complete laptop you're looking at around $725 versus $500 for similar components elsewhere. 45% more money for 88% faster graphics and 300% faster CPU performance isn't a bad deal; what you don't get with Sandy Bridge at that price is 8+ hours of battery life in an 11.6"-screen chassis.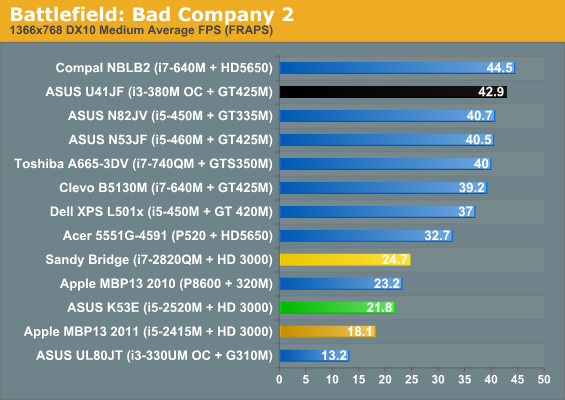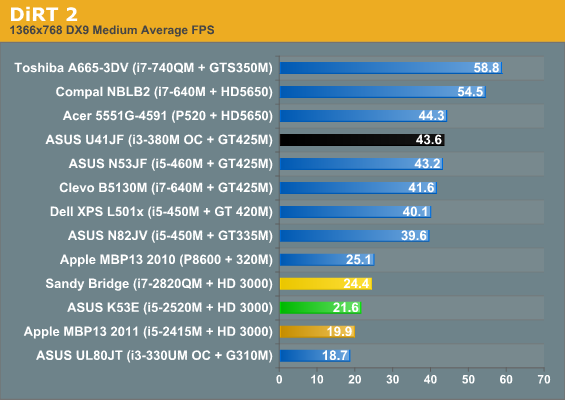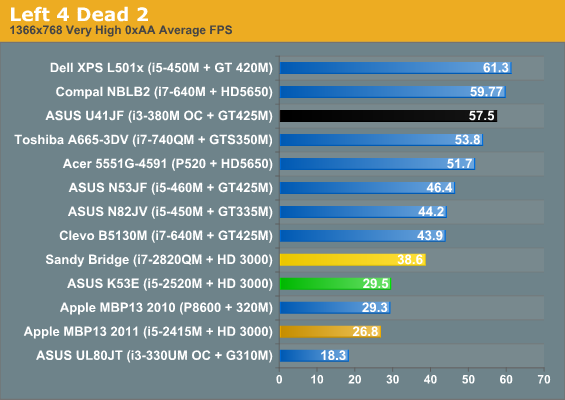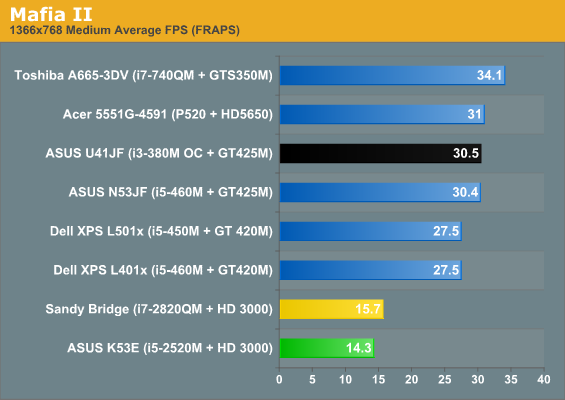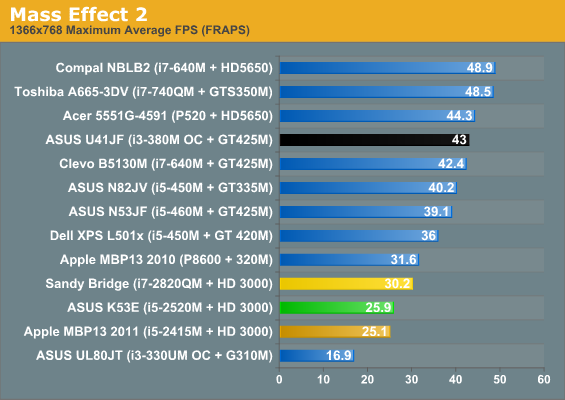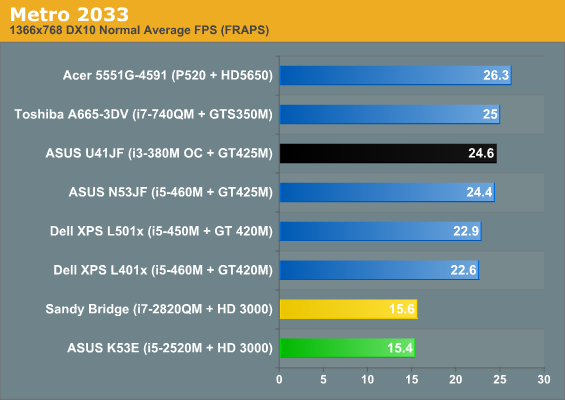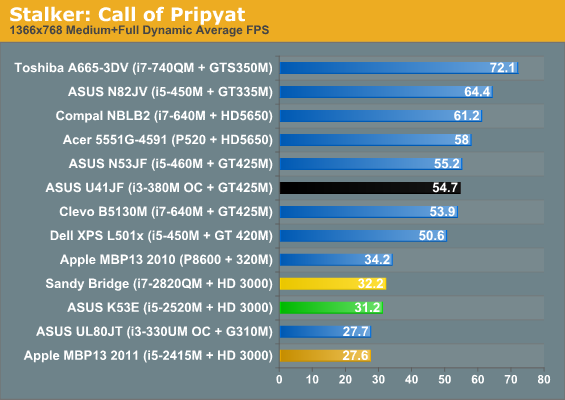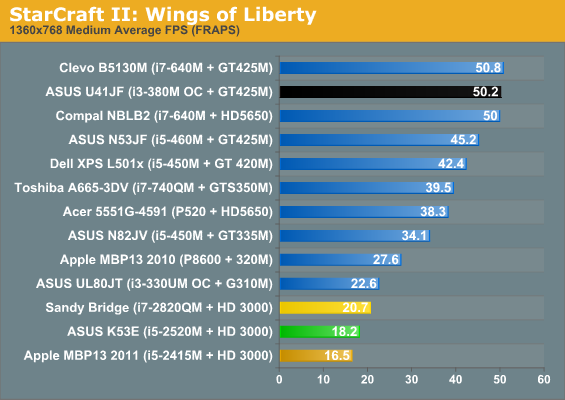 At medium detail settings, HD 3000 performance drops relative to the discrete GPUs. The K53E manages to hit 30FPS or higher in exactly one game this time: STALKER. It's still 11% faster than the MBP13 2011, and the 2820QM is 14% faster than the K53E. Interesting to note is that the MBP13 2010 is also 15% faster than the K53, putting the GeForce 320M on the same level as the HD 3000 with quad-core CPU. By far the more pertinent piece of information is just how badly the U41JF trounces the K53E: Arrandale with a midrange dGPU comes out nearly 100% faster on average at our "Medium" settings, and it breaks 30FPS in every game in the list except Metro 2033.
For people looking to get an all-around laptop that can play games and provide adequate performance for general use, discrete GPUs are still required. Even then, midrange mobile GPUs are going to struggle with a lot of titles unless you turn down the detail settings and run at moderate (e.g. 720p) resolutions. On the other hand, if you're not serious about gaming and graphics, Sandy Bridge's IGP is very likely to satisfy the vast majority of users. Thankfully, it also manages to raise the bar relative to previous IGPs, with roughly double the performance of Arrandale's HD Graphics and AMD's HD 4250.
Rounding out the graphics discussion, other areas where the GPU helps also performed well. Viewing HD 1080p YouTube videos worked without any issues I could detect, thanks at least in part to the latest release of Adobe's Flash player. Casual browser games like Bejeweled Blitz also worked fine, which isn't something I could say on Arrandale where there was always a slightly perceptible delay—and that's also a complaint I had with Brazos, which didn't do well with Bejeweled Blitz. One interesting piece of information, however, is that the K53E really did poorly in Civilization V testing (not shown here, but you can see the scores in Mobile Bench), but whether that's a driver problem or something else I can't say.
Overall, gaming and graphics isn't an absolute victory for Intel's latest IGP, but it's good enough for a large percentage of users. In the next month or so, we'll see AMD's counter to SNB with their second Fusion APU, Llano. That should provide at least double the GPU performance of Brazos, and even the aging K10.5 CPU core is a huge step up in performance from Bobcat. The combination should put Llano well ahead of HD 3000 in gaming, but whether it will be 50% faster or 100% faster we can't say for certain.
With a 32nm process technology and better use of power gating, Llano is going to be an interesting alternative, especially if the total system cost is similar to the $500 to $650 we're seeing on current AMD notebooks. Sandy Bridge is unlikely to be touched for CPU computations by any of AMD's mobile CPUs for the remainder of 2011, but with up to 400 Stream Processors Llano should come relatively close to the HD 6500 (HD 5600) series GPU performance. Put another way, while Intel's HD 3000 is about twice the performance of Brazos' IGP, Llano could easily double HD 3000. It's a welcome change from the 15 to 25% improvements in IGP performance we often saw in previous platforms.