Raja's Midrange Overclocking Systems
What about building a bang-for-the-buck overclocking experience, you ask? As our resident overclocking guru and motherboard reviewer, Raja has more experience with this area than the rest of us so we turned this section over to him. In order to keep things simple, we kept nearly all of the components in Vivek's midrange build but switched out the motherboard, processor, RAM and PSU. We also added an aftermarket cooler to allow the CPUs to reach their full potential. Here's what Raja put together. [Ed: Text by Jarred, most of the picks by Raja.]
For AMD overclocking, I chose one of the hex-core Thuban CPUs, just so you can get every last ounce of performance out of AMD's architecture. The ASUS motherboard ended up being our top AM3 overclocking selection--at least when keeping prices in check--and is good for up to a 50% overclock by raising the base clock. Thuban will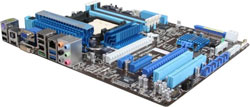 generally top out in the 4.0-4.2GHz range, making this board a perfect fit. The Noctua cooler will help keep things cool without making a ton of noise, and the Seasonic S12II 620W power supply should deliver clean, stable current to the system.
Alternately, if you want to spin the wheel, you can also try your hand at core unlocking and save some money. $100 will buy you the Phenom II X2 560 Black Edition, which has two disabled cores. The ASUS board allows core unlocking, provided your CPU can handle it. Many users have had success with core unlocking, but there's no guarantee, and you'll never get the six cores that Thuban processors offer.
Our memory kit may not look like much, with its DDR3-1600 speed and CAS 9 timings. In reality, it shouldn't limit you but it's getting tricky to determine which memory to buy for overclocking. Vendors are now covering up their IC choices so much it's difficult to know what's inside; what we're looking for is an Elpida BBSE type variant or a similar IC from PSC. The G.Skill kit should work, but YMMV.
Okay, first let's get this out of the way: Sandy Bridge is right around the corner. Think your hopped up i5-760 overclock is impressive? Imagine an unlocked Sandy Bridge chip running at 4.3-4.5GHz on air cooling. If you're into Intel overclocking, we'd really consider just waiting a bit longer right now. But, if you must buy a P55 system right now and you want a good overclock....
For the CPU, the i5-760 remains the most sensible choice. Priced at $200, you still get four cores with great overclocking potential--hitting 4.0-4.2GHz is generally common with an appropriate motherboard and cooling. The jump to i7-870 is $80 and all you really get is Hyper-Threading, since maximum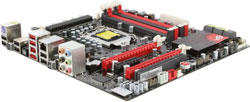 overclocking means you'll want to disable the Turbo Boost feature and most of the Lynnfield CPUs are going to top out around the same 4.2GHz. We might be swayed to make an investment in Core i7 if it weren't for Sandy Bridge; then again, there's an upside: motherboards that used to push nearly $200 have come down quite a bit and there are plenty of rebates going around right now.
The motherboard is always a critical component for overclocking, and even though there are plenty of options that can do well, we wanted something more than just a decent overclock. The ASUS Maximus III GENE can easily hit BLCKs far beyond what you'll need for an i5-760, but even better is the excellent voltage regulation that will allow you to push 4GHz and higher without pumping a ton of current through your CPU. ASUS also makes overclocking very easy on the less experienced, with only minor tweaks necessary to get your system running at top speed.
Cooling for both systems comes courtesy of the Noctua NH-U12P SE2, a high quality push-pull cooler capable of keeping your CPU temperatures down without raising noise levels.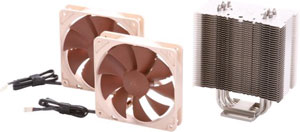 While there are decent coolers for a bit less money, we've never been disappointed by the Noctua; it works well even with hex-core processors if you move to X58, so the Lynnfield CPUs aren't going to be a problem.
You'll notice that the power supply isn't the OCZ model Vivek used; instead the PSU is a higher quality Seasonic S12II capable of delivering the clean, stable power you'd want in an overclocked system. If you want to move to dual graphics cards and a heavily overclocked CPU, the 620W power supply should still keep up with everything short of the fastest GPUs. If that's what you'd like, I suggest looking at Ryan's X58 high-end SLI build.