When Jarred pitched his idea of a midrange gamer build, I liked the general idea except for one thing—the AMD processor. I'm more of an Intel guy at heart, so I tried to envision a similar midrange system built around an Intel platform. I built a very parallel system for personal use around this time last year, so I'll toss in a few anecdotes from my experience.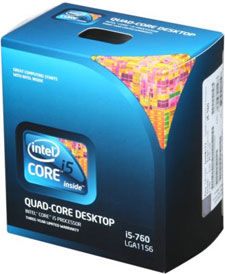 The processor was by far the easiest choice to make. At the price point we're looking at, the Core i5-760 makes the most sense. It's a quad-core Lynnfield running at 2.8GHz, with the only difference between it and the $280, 2.93GHz i7-860 being the clock speed bump and the lack of Hyper-Threading in the i5. Given that you've got four cores to work with, you won't miss the extra threading capabilities unless you're running some really highly threaded workloads. The 2.66GHz i5-750 is still kicking around at $199 (I can't believe that Intel has kept it at exactly the same price it was a year ago when I bought one!), but you can find the 760 for the same price. I figure it's not worth the $80 bump to the i7 line, as that money is better spent elsewhere.
For the motherboard, I went with the Gigabyte GA-P55-USB3. It's a rock solid board with USB 3.0 and a second PCI-E slot for CrossFireX support. In a mid-priced motherboard, there's not too much else you can ask for (except for maybe IEEE 1394). The Gigabyte P55 line has been popular since the launch of Lynnfield, and based on my experience I have no problems recommending it. As with Jarred's build, if you're serious about CrossFire you'll probably want to go with a different board that can do x8/x8 to the GPUs; as luck would have it, Biostar's T5 XE CFX-SLI has dual x8 slots and tosses in SLI support (via a PLX chip), and depending on the vendor it's even cheaper than the Gigabyte offering. Is it as reliable and does it have great support should something go wrong? We haven't had any serious issues with Biostar, but they can be a bit hit-or-miss.
RAM is kind of dependant on how much you need—I went with 4GB in my build last year and haven't felt short of memory, but I'm adding more this Black Friday just in case. For this build, I went with a Corsair XMS3 4GB (2x2GB) kit of DDR3-1600. Corsair's XMS3 was one of the more reasonably priced RAM kits on Newegg, but you can really go for whatever you feel comfortable with. I know a lot of people who like the G-Skill Ripjaws line, but they're rather pricey especially if you go for the 7-8-7-24 timings ($88 versus $75 for the 9-9-9-24 Ripjaws, and $65 for the XMS3s that also run at 9-9-9-24). Unless you have a specific preference for brand, you're probably better off going for whoever has the best sale.
Hard drives are another place where once you determine the capacity and speed, you're not going to get a whole lot of performance variation between different brands. I know people that swear by Seagate, I know some that swear by Western Digital, I know a lot that swear they hate either (or both), and there's Anand, who swears against hard drives on principle. In all honesty, I don't care either way, so I specced this system with the WD Caviar Blue 1TB 7200RPM drive, which at $69 is not a bad buy. There are 1TB drives from Seagate, Samsung, and Hitachi at the same price, so you're not at a loss for choice.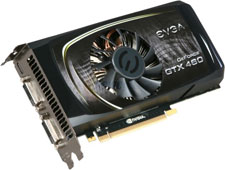 The graphics card is where things get interesting. If you're a serious gamer, I figure the lowest you want to go is the NVIDIA GTX 460 768MB. Most of those are going for $169, but the bog-standard EVGA GTX 460 listed above has a $30 rebate on top of that, and the more customized (and mildly factory-overclocked) ASUS ENGTX 460 comes with a $20 MIR. So if you don't mind the MIR, you can get away with a "low-end" GTX 460 for $140-150. Given the overclocking potential inherent to the GTX 460, that's a pretty good price.
But what if you want something faster? The best place to look is the HD 6850 (the 6870, at $240-300, is a bit too expensive for a midrange build). Ryan really liked the ASUS EAH6850 when he looked at the XFX, MSI, and ASUS retail HD 6850 cards earlier this month, and so it makes another appearance here. At $200, it's competitively priced against the rest of the HD 6850 partner cards, and it makes a good tradeoff between temperatures and noise. Like the ASUS ENGTX 460, it comes with a token overclock and ASUS' highly effective Direct CU cooler. It's faster than the comparably priced 1GB GTX 460 cards, so it's a worthwhile upgrade to make if you'll make use of the extra graphics horsepower on hand.
Of course, now you have to decide if you're at all interested in adding a second GPU in the future; if so, you should note that most budget P55 boards only support CrossFireX. For those going the AMD route, the specced Gigabyte board will be fine, but if you're after SLI support, the Biostar T5 XE CFX-SLI has what you need for $15 more than the GA-P55, with an epic, highlighter-esque colour scheme thrown in just for kicks.
For the power supply, I went with the OCZ ModXStream 700W. This is what I ended up buying for my build last year, and I've had no problems with it. There's usually a good sale on it somewhere; I picked it up for $49 last year (after a $35 rebate) and it's currently going for $55 after a $25 rebate. I know that the Corsair line of PSUs is very popular, but they're significantly pricier than the OCZ, as are the Antec PSUs (unless you get a combo deal on one with a case like in Jarred's build). Generally speaking, most of the 80 Plus certified PSUs will work well; some are still better than others, but the difference between 82% and 87% efficiency isn't all that great and the price often climbs rapidly once you move beyond the Bronze level. The OCZ is a standard 80 Plus model at a good price, but if you're looking for other options the Seasonic S12II 520W is Bronze certified, well reviewed, and costs just $10 more than the OCZ.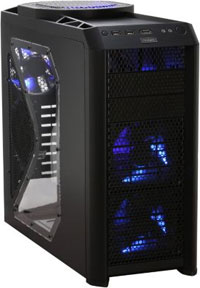 Case choices are very personal; I prefer flowing and elegant cases, like the old Cooler Master WaveMaster and the Thermaltake Tsunami, which is what I got for my own system. I abhor the design of the wildly popular Antec Nine Hundred—something about the weirdly pentagonal side just doesn't sit right with me, though I must admit that it is a very high quality case. The Nine Hundred Two on the other hand has a more rectangular design that suits my taste much better, but at $90 it's not the cheapest case on the block. Jarred specced his build with the Antec Three Hundred, which is a bit smaller and a bit cheaper, but get what you like.
So how does this stack up against Jarred's build? It has a more expensive case, PSU, motherboard, and processor with a slightly slower GPU (assuming you get the standard GTX 460 768MB), but then the i5-760 will generally outperform Phenom II 965. As configured and with the mail-in rebate for the GTX 460 and PSU, the net difference is only around $30, but if we just look at the motherboard and processor the "Intel tax" is about $50 (or about 7% looking at the entire system). Whichever GPU and system you choose, both of our midrange builds will handle just about any task you might throw their way—including gaming.