Holiday 2010
Since there are so many smartphones on the market, we figured that the holiday season was a great time to write our first smartphone buyer's guide. And so we continue our 2010 Holiday Buyer's Guides with the handset sector. This year was the first year that we got some real, honest competition in the smartphone sector. Google's 2.0 version of Android released late last year to great success, and versions 2.1 and 2.2 only continued that trend. Apple, always good for some drama, kept it up this year with the iPhone 4 and the ensuing Antennagate scandal. Microsoft finally made a serious play for the handheld sector with the brand new, Zune-based Windows Phone 7. Palm got bought out by HP, BlackBerry finally got...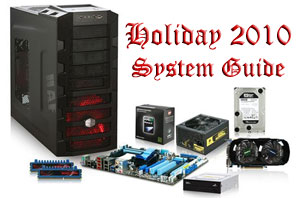 We haven't updated our various system buyers' guides for a while, and what better time to rectify that oversight than the holiday shopping season? We're going to take a...
112
by AnandTech Staff, edited by Jarred Walton on 11/19/2010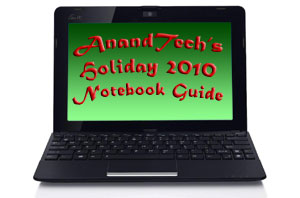 Yes folks, it's that time again: time to open your wallets and let a ravenous technology industry take its cut so you can have the shiniest, latest gadgets on...
50
by Dustin Sklavos on 11/15/2010