We've got a lot of great builds this year--some great options below $1000 and some great ones much higher than that. I wanted to offer something a little different for the mix.
Unfortunately, as Jarred mentioned in the introduction, building a new system today is pretty ill advised. Intel is set to release Sandy Bridge in another two months and with it we'll see a big reset in the components we recommend. Within six or so months of the Sandy Bridge arrival, AMD is expected to release its first new high end server/desktop architecture, codenamed Bulldozer. Thus my ideal build would limit spending on the CPU and motherboard, and move those dollars toward the rest of the components in the system. The idea is that you spend enough on a CPU/motherboard today to get good performance, but minimize the expense to enable upgrading in the not too distant future. You can then take your "old" CPU and motherboard and turn it into an awesome secondary system for a family member or even yourself (hello HTPC!).
Below $100, you can't beat AMD on the CPU. Personally I like having more than two cores on a system, which is why I went for the Athlon II X3 450. It gives you a great balance of price/performance without even breaking $80. The MSI 880GM is a good motherboard from an upgrade standpoint. You can always reuse the Athlon II X3 + 880G setup later on as an HTPC as long as you don't mind not having TrueHD/DTS-HD MA bitstreaming support. The rest of the system is well configured, with 8GB of memory that will be re-usable in whatever DDR3 platform you have next year.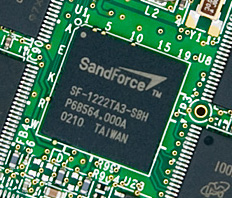 People are always asking me what my ideal storage setup would be given my affinity for SSDs these days. The configuration above almost exactly mimics the setup I have at home. I've put a 128GB Corsair Force F120 based on the SandForce SF-1200 controller as the OS drive; you may want to upgrade your SSD in another 12 months or so which is the only reason I'd shy away from the F240. If you can get away with less space, then by all means go for it but I personally like having all of my applications and at least one frequently used game reside on my SSD to maximize the low-latency goodness.
If you don't have a NAS or some form of massive file storage at home, I highly recommend the SSD + two HDDs in RAID-1 approach. I grabbed a pair of 2TB Seagate Barracuda LPs for mass storage, although you could use smaller drives if you don't have a lot to store. These drives would be for other game installs, pictures, movies, music. The RAID-1 is just to protect things in case of a single drive failure, although you still want to have some sort of a backup plan external to your PC.
A good GPU is important if you're going to be gaming at all. I picked the Radeon HD 6850 because it is a good balance of price and performance and sufficient for most of my gaming needs at this point. While personally I'd probably opt for something faster, that's only because I tend to use relatively high resolution displays - no need in penalizing the system because of it.
The case selection is an interesting one. Typically I don't spend much money on a case in my builds, my focus is always on the internal hardware. Gary Key, our old Senior Motherboard Editor likes to view cases as an investment - something that'll last you several builds. I figured I'd give Gary's approach on this build and go overboard with the case. Corsair's Obsidian 800D is super easy to work inside, looks very sleek on the outside and seems like the type of case you could keep around for several builds. If you want to save a bit of money there are always cheaper alternatives from Antec.
Closing out the list is the power supply. We don't need to go overkill on power supply since we're not running a ton of hard drives or have a multi-GPU setup. The 550W Antec works well and is a decent choice to any midrange setup.
The end result is a system that's pretty quick today, and with a motherboard/CPU swap next year you've got a huge improvement in performance as well as leftover hardware to build a decent HTPC in the near future.