Putting Power in Perspective: Estimated Battery Life of a Moorestown Phone
I wanted to get Moorestown hardware in time for the launch but unfortunately nothing is quite ready yet, so we'll have to rely on Intel's data.
As I just mentioned, Intel expects a Moorestown phone to idle at 21 - 23mW. Paired with a 1500mAh battery that's 10 days of standby time. Intel claims that Snapdragon phones idle at 25mW. If that's true then Moorestown is competitive.
Audio playback is expected to consume around 120mW of power (for the entire platform, not just the silicon). Intel estimates that'll get you around 48 hours of continuous music playback. Intel was quick to add that this is better audio playback battery life than anyone else on the market today, although both TI and NVIDIA are promising better battery life than that with their next-generation SoCs (OMAP 4430 and Tegra 2).
Moorestown Battery Life (Figures by Intel)
Total Phone Power Consumption
Idle
21 - 23 mW
Audio Playback
120 mW
1080p Video Playback
1.1W+
Web Browsing (WiFi)
1.1W
2G Phone Call
550 mW
3G Phone Call
1.2W
Intel's video playback estimates are lower than the competition, Moorestown is expected to only provide 5 hours of continuous HD video playback compared to 10 hours on an iPhone 3GS. That comes from 1.1W+ platform power consumption during video playback.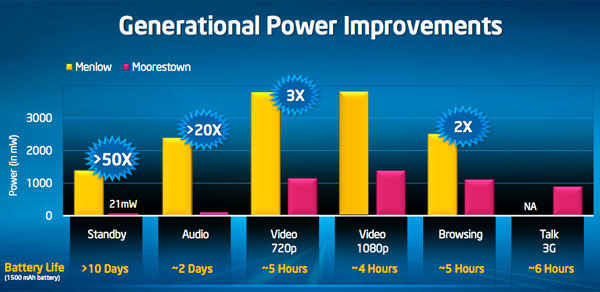 Intel estimates that Moorestown based devices will last about 5 hours when browsing the web on WiFi. Talk times are expected in the 4 - 5 hour range over 3G, and 8 - 10 hours on 2G.
If these numbers hold true in shipping Moorestown devices, I'd expect to see anywhere from iPhone to iPhone 3GS levels of battery life. Audio decoding seems good, while other aspects like video playback aren't so great. Web browsing power consumption really varies based on the test. I measured power consumption on my iPhone 3GS and saw 1.1 - 1.3W while loading the AnandTech front page. That would imply Moorestown platform battery life could be competitive.
As soon as I can get my hands on some actual hardware I plan on verifying all of this data myself. Intel claims that the top 5 handset manufacturers see power consumption in the 750mW - 1.5W range, so Moorestown should find itself right in the middle of all of them.