The Intel GMA 600 by Imagination Technologies
The iPhone 3GS, iPad, Motorola DROID and Palm Pre all use Imagination Technologies' PowerVR SGX mobile GPU. The SGX 535 running at 200MHz was used in Poulsbo, the North Bridge used in the very first Atom MID platform (Menlow). That was a 130nm chip. Intel called it the GMA 500.
Moving the GPU core on-die shrunk it considerably. At 45nm it should occupy roughly 1/8 - 1/10 the space of the GPU at 130nm). The PowerVR SGX 535 in Lincroft can also run at up to 400MHz, although it's up to the handset vendors themselves to pick the right balance of clock speed vs. power consumption. It's also possible that different versions of the Atom Z6xx line will have different GPU clocks. The new GPU is called the Intel GMA 600.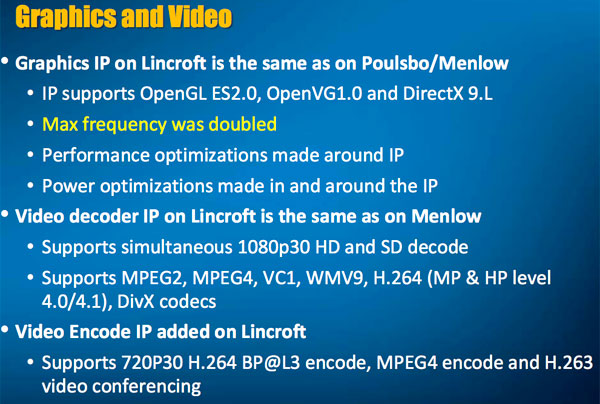 To the best of my knowledge all current smartphone implementations of the PowerVR SGX 535 run at 200MHz. This should give Intel the leg up in graphics performance should a vendor choose to run the GPU at such a high clock rate. It's difficult to tell what impact we'll see on battery life.
The Display
Lincroft only supports two display interfaces: 1024 x 600 over MIPI (lower power display interface) or 1366 x 768 over LVDS (for tablets/smartbooks/netbooks). 1080p HDMI out is supported Langwell.
Video Decoding Support: H.264 High Profile at up to 20Mbps
Imagination Technologies is also on tap to produce the video decoding hardware used in Lincroft. The PowerVR VXD is also used in the iPhone 3GS and the iPad, it's here in Moorestown as well.
The implementation in Moorestown, combined with Intel's caches and memory controller can apparently support 1080p H.264 base, main and high profile content at up to 20Mbps. At 1.1W platform power during video playback, that's pretty impressive.
Video encoding is supported for the first time, also using ImgTec IP (PowerVR VXE). You get up to 720p30 H.264 base profile L3 video encode with Moorestown. You won't see 1080p encode support until Medfield.