OS Driven Power Management
When Intel introduced Nehalem and the Core i7, we saw a new generation of power engineering in microprocessors. In the past, the OS would request a particular performance state from the CPU and the chip would respond by changing its clock speed. Nehalem's Power Control Unit (PCU) instead dedicated enough transistors to build a 486 to monitoring the power and performance demands on the chip. Based on those demands and what the OS was doing, the PCU would power up or down individual cores, as well as move clock speeds up or down. The PCU would guess at what the OS was trying to do and respond accordingly.
Nehalem and its successors were massive chips, eating up to 130W of power under load and idling down in the 6 - 10W range. Lincroft has to be sub-1W under load and 6mW at idle. With even more stringent power demands and a much smaller die, Intel couldn't blow a sizeable percentage of the Lincroft transistor budget on power management.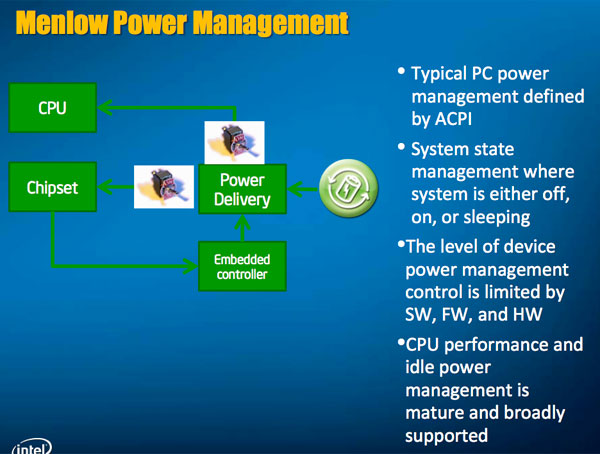 Instead of guessing at what the OS wants, the Moorestown platform uses OS Driven Power Management (OSPM) to tell Lincroft and Langwell what to do. OSPM is supported in Moblin and presumably the Wind River build of Android.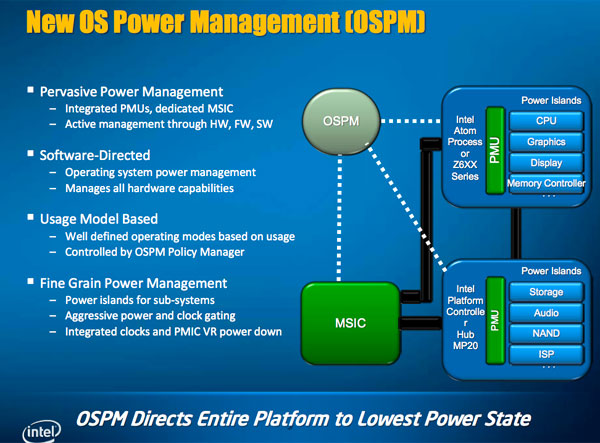 The OSPM process tells the hardware what apps it's running and to shut down what it doesn't need. There are well defined operating modes - standby, internet browsing, MP3 playback, video playback, voice call, video capture, etc... Based on the profile, the hardware doesn't have to guess at what it should turn off/on, it just does it right away.
The OSPM driver communicates directly with the two power management units in Moorestown - one in Lincroft and one in Langwell. It instructs those PMUs to shut off various blocks, and in turn they tell Briertown to gate and cut voltage to the parts of chip that aren't needed.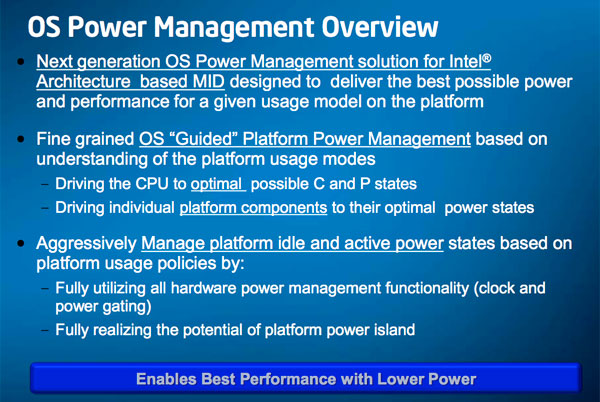 I wondered if this couldn't be done in hardware, but it seems that given current die constraints and the sort of accuracy of information it needs Intel must implement at least some of the power management control in software. Toolkits will be available for developers to control the OSPM.