Overclocking Lynnfield at Stock Voltage: We're PCIe Limited
Remember the on-die PCIe controller? Yep. It's to blame.
Lynnfield is Intel's first attempt at an on-die PCIe controller and it actually works surprisingly well. There are no performance or compatibility issues.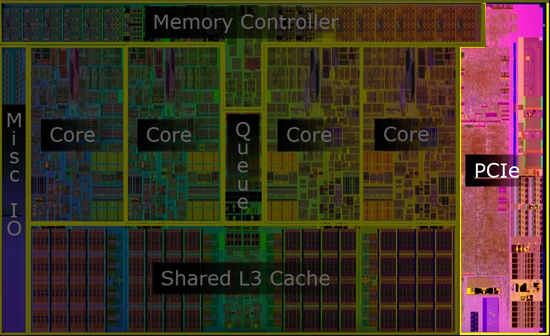 The on-die PCIe controller needs more voltage as you overclock Lynnfield, limiting Lynnfield's stock vt overclocking potential.
Unfortunately the PCIe controller on Lynnfield is tied to the BCLK. Increase the BCLK to overclock your CPU and you're also increasing the PCIe controller frequency. This doesn't play well with most PCIe cards, so the first rule of thumb is to try and stay at 133MHz multiples when increasing your BCLK.
The second issue is the bigger one. As you increase the BCLK you increase the frequency of the transistors that communicate to the GPU(s) on the PCIe bus. Those transistors have to send data very far (relatively speaking) and very quickly. When you overclock, you're asking even more of them.
We know that Bloomfield can easily hit higher frequencies without increasing the core voltage, so there's no reason to assume that Lynnfield's core cannot (in fact, we know it can). The issue is the PCIe controller; at higher frequencies those "outside facing" transistors need more juice to operate. Unfortunately on Lynnfield rev 1 there doesn't appear to be a way to selectively give the PCIe transistors more voltage, instead you have to up the voltage to the entire processor.
Intel knows the solution to Lynnfield's voltage requirement for overclocking, unfortunately it's not something that can be applied retroactively. Intel could decouple the PCIe controller from BCLK by introducing more PLLs into the chip or, alternatively, tweak the transistors used for the PCIe interface. Either way we can expect this to change in some later rev of the processor. Whether that means we'll see it in the 45nm generation or we'll have to wait until 32nm remains to be seen.
The good news is that Lynnfield can still overclock well. The bad news is that unlike Bloomfield (and Phenom II) you can't just leave the Vcore untouched to get serious increases in frequency.