Overclocking: Great When Overvolted, Otherwise...
Back when I asked Intel why anyone would opt for LGA-1366 over LGA-1156 one of the responses I got was: overclocking. The most overclockable CPUs will be LGA-1366 chips.
We tried overclocking three different CPUs: the Core i7 870, Core i7 860 and Core i5 750. We overclocked using two different coolers: the retail low profile HSF and a Thermalright MUX-120 (the heatsink Intel is sending around to reviewers for high performance testing). I'll get one thing out of the way: the retail heatsink pretty much sucks for overclocking:
| | |
| --- | --- |
| Intel Core i7 870 | Max Overclock (Turbo Disabled) |
| Intel Retail LGA-1156 Cooler | 3.52GHz (160MHz x 22.0) |
| Thermalright MUX-120 | 4.20GHz (200MHz x 21.0) |
The Thermalright enables higher overclocks by removing heat quickly enough allowing us to increase the voltage to the CPU. While roughly 1.35V is the limit for the retail cooler, The Thermalright MUX-120 let us go up to 1.40V. In both cases you need to have a well ventilated case.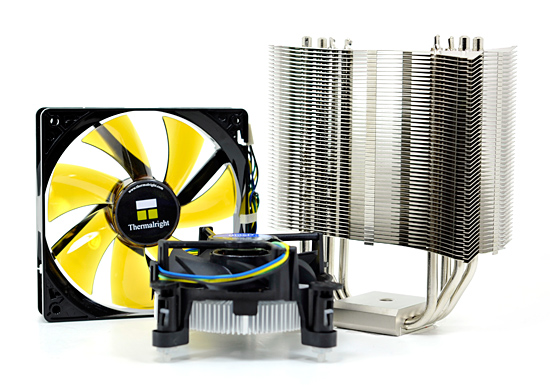 Um, yeah.
Now for the actual overclocking results. We overclocked in two ways: 1) with turbo mode enabled and ensuring stability at all turbo frequencies (both single and multiple cores active), and 2) with turbo mode disabled simply going for highest clock speed.
The results are in the table below:
CPU
Stock Clock Speed
Max Overclock (Turbo Enabled)
Max Overclock (Turbo Disabled)
Intel Core i7 870
2.93GHz

Default: 3.39GHz (154 x 22.0)

3C/4C Active: 3.70GHz
2C Active: 4.00GHz
1C Active: 4.16GHz

4.20GHz (200 x 21.0)
Intel Core i7 860
2.80GHz

3.23GHz (154 x 21.0)

3C/4C Active: 3.54GHz
2C Active: 3.85GHz
1C Active: 4.00GHz

3.99GHz (210 x 19.0)
Intel Core i5 750
2.66GHz

3.2GHz (160 x 20.0)

3C/4C Active: 3.96GHz
2C Active: 4.00GHz
1C Active: 4.16GHz

3.92GHz (206.5 x 19)
For best performance with all four cores active, disabling turbo mode is the way to go. Otherwise you have to reduce the BCLK in order to make sure your system is still stable when the one-active-core turbo mode kicks in. For example, with our Core i7 870 with turbo disabled we hit 4.2GHz using a 200MHz BCLK. If we used the same BCLK but left turbo enabled, when only one core was active we'd hit 5.4GHz - clearly not realistic with only air cooling.
The benefit of leaving turbo enabled is that you get a more balanced system that's not always using more power than it needs to.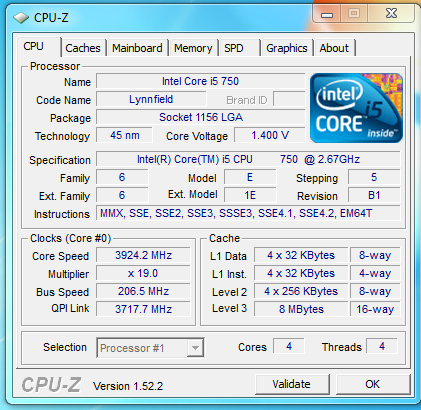 The Core i5 750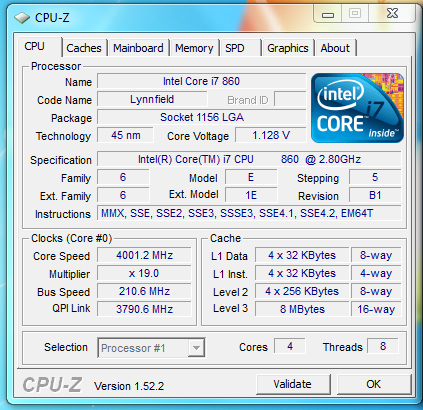 Our Core i7 860 sample wasn't that great of an overclocker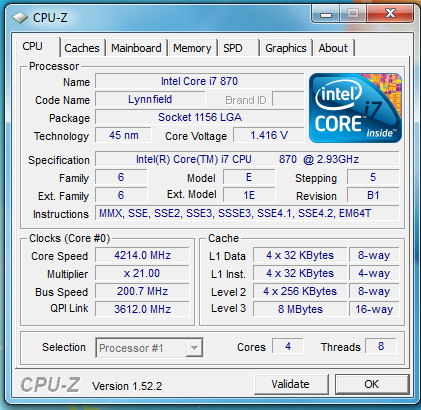 Breaking 4.2GHz with our Core i7 870
At roughly 4GHz overclocks for all of these CPUs, it's reasonable to say that they are good overclockers. But how about with no additional voltage and the retail heatsink?
| | | |
| --- | --- | --- |
| CPU | Stock Clock Speed | Max Overclock, Turbo Disabled (No Additional Voltage) |
| Intel Core i7 870 | 2.93GHz | 3.37GHz (22 x 153MHz) |
The stock overclocks just plain suck on Lynnfield, you need added voltage to overclock the chip. With more voltage it works just like a Bloomfield or Phenom II, but at stock voltages Lynnfield just doesn't clock very high. And it has nothing to do with yields.