Netbook Battery Life Comparison
We've expanded our battery life testing on netbooks to include many scenarios, at least for this initial look. Since most netbooks don't include optical drives, we ripped our standard test DVD to a hard drive and copied those files over. Obviously there's a benefit to not powering a spinning DVD, but even without that advantage the netbooks provide much better battery life than higher performance laptops. Note also that battery results from the GIGABYTE M1022 are missing in several of the charts; at five or more hours (plus recharge time) per test, we'll be working on getting the remaining results for a couple more days.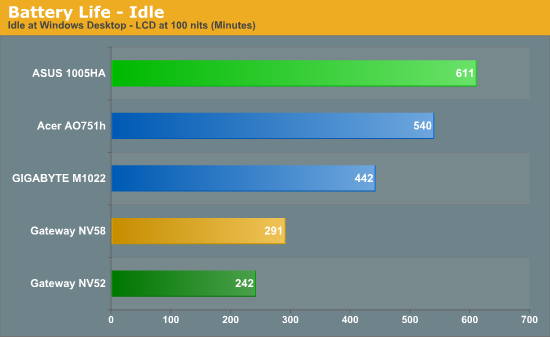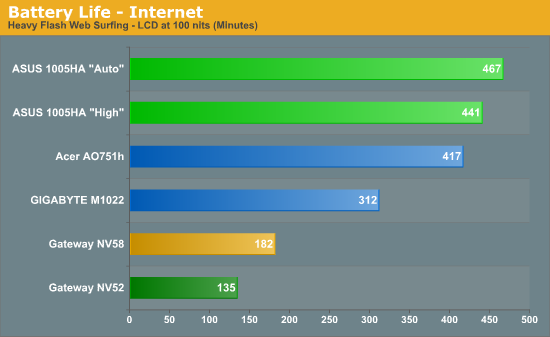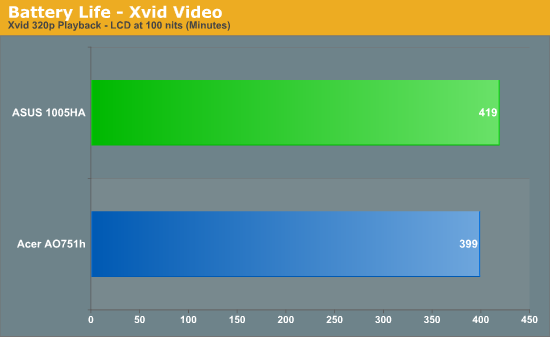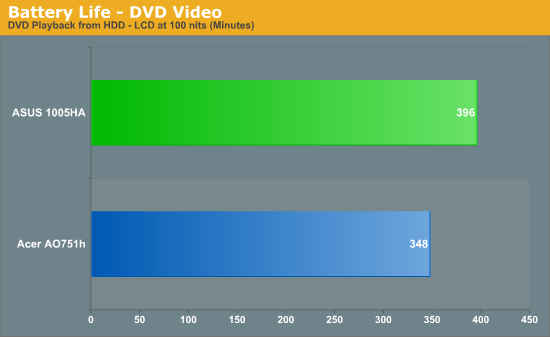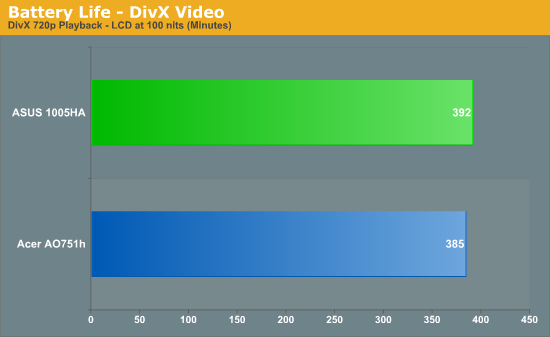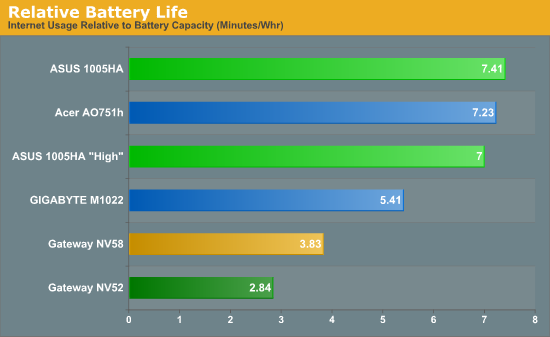 Few laptops are able to come anywhere close to the same battery life using a moderately sized battery, and the ASUS 1005HA in our worst-case test (720p DivX playback) still provides 35% more battery life than the Gateway NV58 at idle. Besides DVD playback from the hard drive, we included battery life testing using HD DivX and SD Xvid formats. It's interesting to note that the Acer 751h essentially ties the 1005HA in the DivX test, while it trails in most of the other battery life tests by over 10%. Xvid playback is also closer at only 5%, so the GMA 500 hardware looks like it handles certain video playback scenarios better than the GMA 950.
The ASUS 1005HA by default ships with their Super Hybrid Engine software enabled and set to "Auto" performance. This results in a 12% underclock on battery power, improving battery life in the Internet test by 5.6%. Considering most people buying netbooks aren't ultra concerned with raw performance in the first place, the boost in battery life is a nice extra. If you prefer to run the CPU at stock performance, selecting the "High Performance" setting within the Super Hybrid Engine utility will allow you to do so. You can see the difference between the two settings on the Internet and Relative Battery Life charts above. We ran the remaining tests using the "Auto" setting.
Note that we calibrated all of the test laptops to run at 100 nits brightness (give or take about 5% as many laptops don't provide fine enough control to hit 100 nits exactly). Considering the ASUS 1005HA and the Gigabyte M1022 have virtually identical hardware, we were a little surprised that the battery life relative to battery capacity favored the ASUS 1005HA by 37% (and we'll recheck that score before the final review). Either the battery in the M1022 is flaky or ASUS has done a lot more work in fine-tuning the power saving features on the 1005HA. However, even at idle we didn't reach the advertised 10.5 hours of battery life; we could likely do so if we reduce the LCD brightness to its minimum level, but that's not how most people will use their netbooks.
Overall, despite the 10.5 hour claim being somewhat exaggerated, the 1005HA routinely manages over 6.5 hours of battery life in situations that are known for taxing laptops. You'll have enough time to watch three or four full-length movies without recharging, if that's what you're after. If you stick to less strenuous usage like surfing the web or basic office tasks, getting eight hours or more out of the 1005HA between charges is possible. And you get all that in a package that only weighs 2.8 pounds; that's not something you'll get from a regular laptop.