Netbook LCD Quality
One of the things we immediately noticed with the 1005HA is that the LCD looked a lot better than other laptops we've tested recently. We ran our standard LCD quality tests using ColorEyes Display Pro to investigate further. It's not the best LCD we've ever seen in a laptop -- not by a long shot -- but compared to competing netbooks the LCD certainly has some strong points.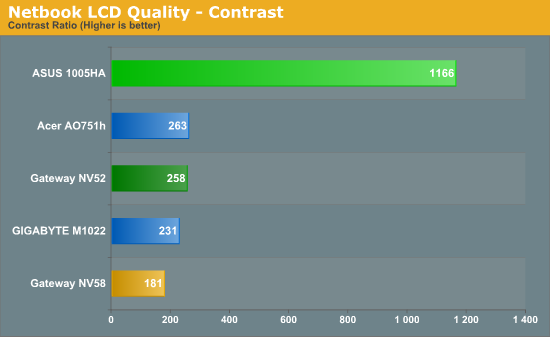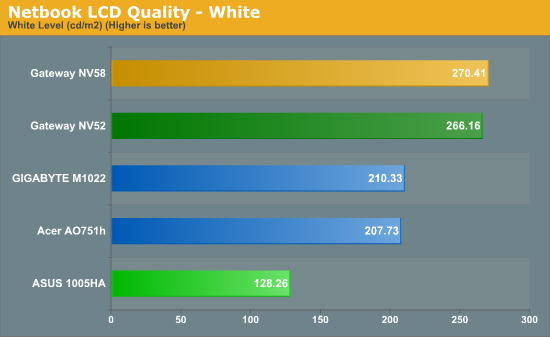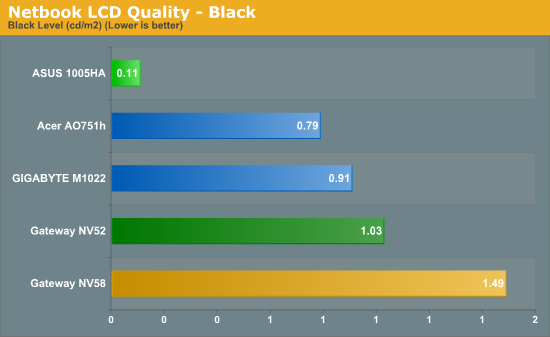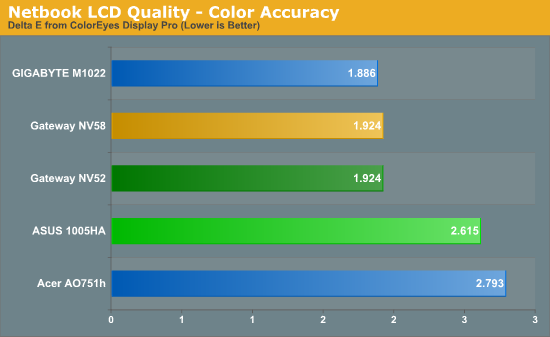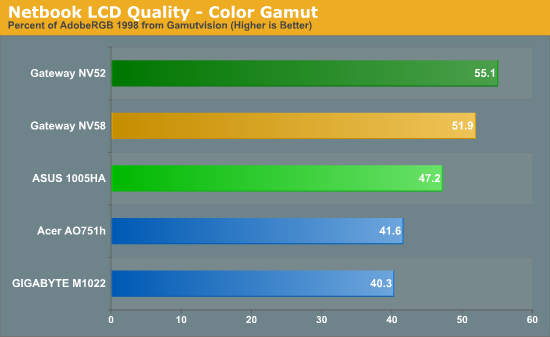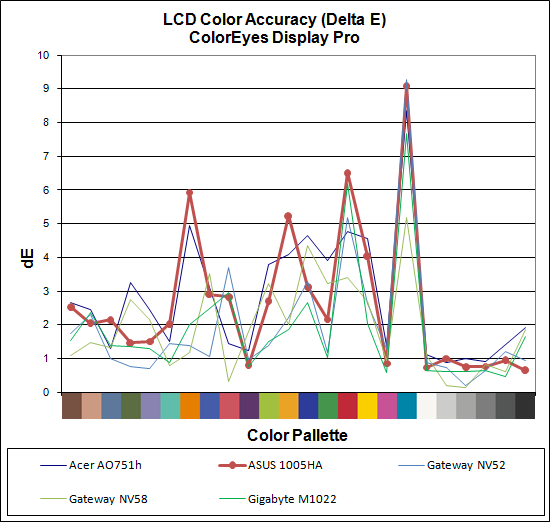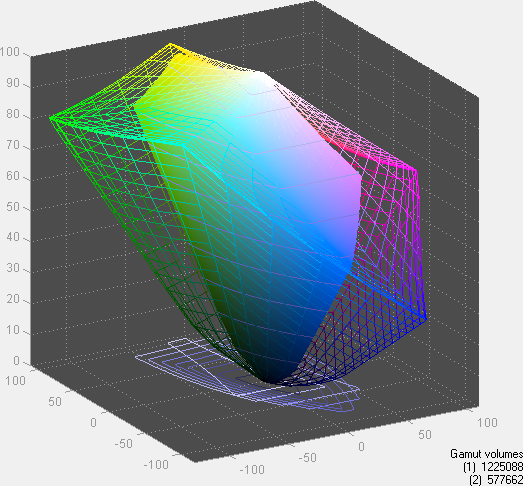 The reason this display stands out so much from the crowd becomes immediately obvious: the contrast ratio is significantly better than any of the other netbooks we've looked at (and better than any notebook we've looked at for that matter). Contrast ratio isn't everything, but a high contrast ratio helps to avoid the washed out look we've seen on a lot of laptop LCDs lately.
The other aspects of the LCD panel aren't quite as impressive. Color accuracy is typical of most laptops, as is the color gamut. Maximum brightness is also quite dim, at just 128 nits. Combined with a glossy LCD, the low maximum brightness is something that works well indoors but will definitely present problems outdoors. If you're hoping to carry this netbook around campus and work outdoors in the commons during nice weather, you'll probably be disappointed. We'd like ASUS to boost the LCD brightness 100% (~250 nits) while maintaining the high contrast ratio, but ASUS is at the mercy of the LCD panel manufacturers. Increasing the brightness could also reduce battery life if not done properly -- even at the same 100 nits we use during testing, it's clear that not all LCD panels are created equal.
Looking at two netbooks side-by-side, i.e. the 1005HA and the M1022, the high contrast ratio makes the 1005HA look brighter than it actually is. This is part of the problem with trying to match brightness levels without using a colorimeter, and it's why we use such tools to equalize our battery life tests. For indoor use like in a home, office, or classroom, the panel on the 1005HA is noticeably better than other laptops and netbooks. We just wish it had a brighter LED backlight.
Update: As one reader pointed out, the modding community has created a utility called "EeeCTL" that allows you to tweak the backlight brightness. Using the "Ultrabright" setting the LCD will run at ~250 nits while maintaining a 1000:1 contrast ratio. Power requirements will increase quite a bit at that brightness (over 2W, which is ~33% more at idle and ~25% more in Internet use), resulting in much lower battery life, but it is a nice option for when you're working in environments that benefit from brighter LCDs. You should still be able to get around 6 hours of battery life at 250 nits while surfing the web.