Netbook Performance Comparison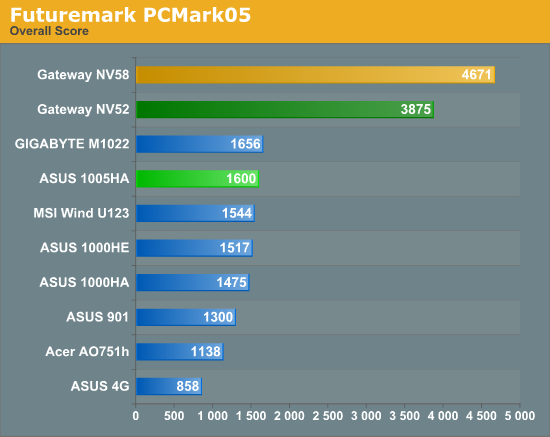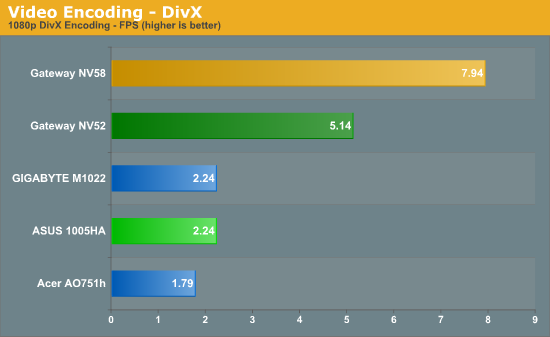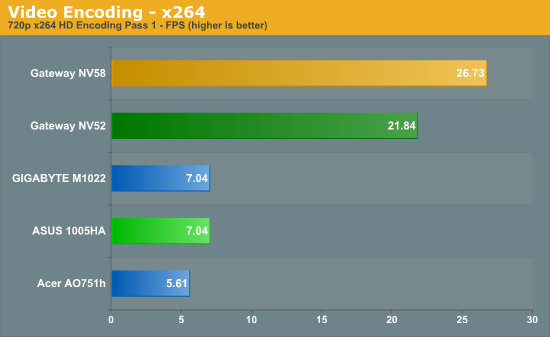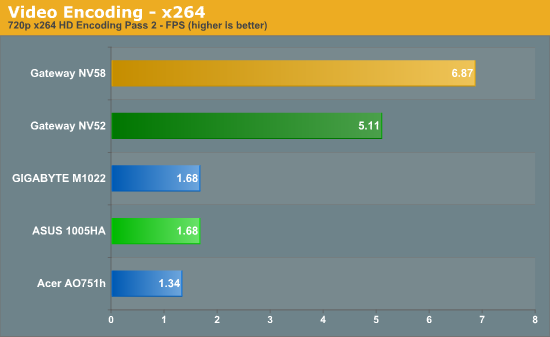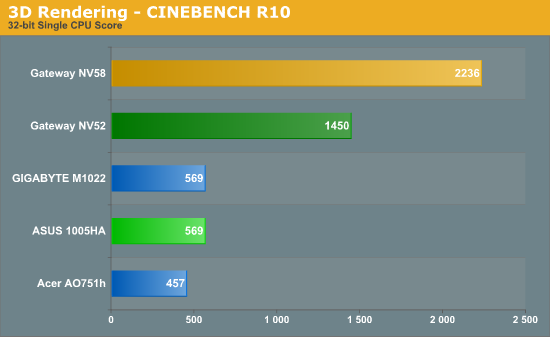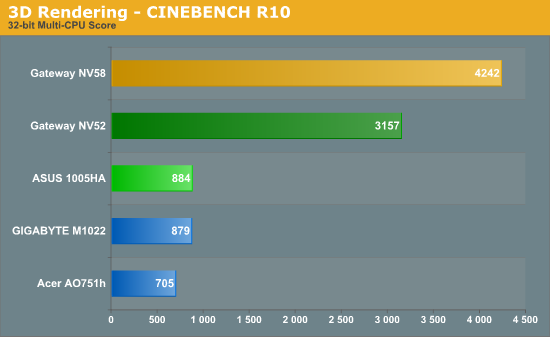 Starting with general application performance, the AMD-based NV52 is 142% faster than the 1005HA and the Intel-based NV58 is 192% faster in PCMark05. If we move to purely CPU limited tasks like 3D rendering and video encoding, the margin is often even greater: NV52 is 130% to 257% faster and the NV58 is 255% to 380% faster. Ouch! Do we even need to explain that the Intel Atom is anything but a high-performance CPU? It's worth noting that none of the netbooks we've tested so far can handle x264 720p (let alone 1080p) decoding; they drop frames like a bad habit. 720p DivX on the other hand works quite well, so we used that for one of our battery life tests on the next page. Update: As one of the readers pointed out, CoreAVC with Media Player Classic will handle x264 720p decode. If that's important to you, the $15 for CoreAVC is a worthy investment. We'll update with x264 battery life decoding results once the tests complete.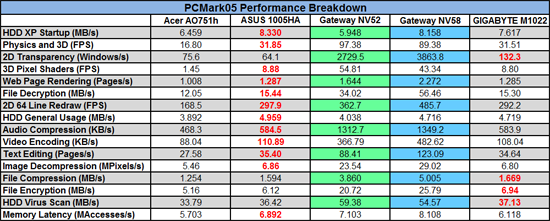 The detailed PCMark05 results tell a similar story, with the netbooks trailing entry-level notebooks in nearly every category, often by large margins. Graphics in particular show a huge discrepancy, with the NV52 coming in over 50X faster than the 1005HA in 2D Transparency and 40X faster in 3D Pixel Shaders. Part of the difference comes from OS - XP scores much lower on 2D Transparency than Vista; however, XP also scores higher on HDD tests, which accounts for the netbook scores being higher than the NV52. Testing all platforms with XP (not shown), only the HDD tests are close, which makes sense; the remaining tests favor the NV52 by 90% to 520% and the NV58 by 85% to 345%.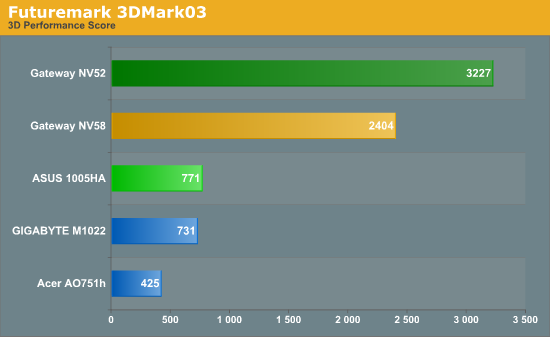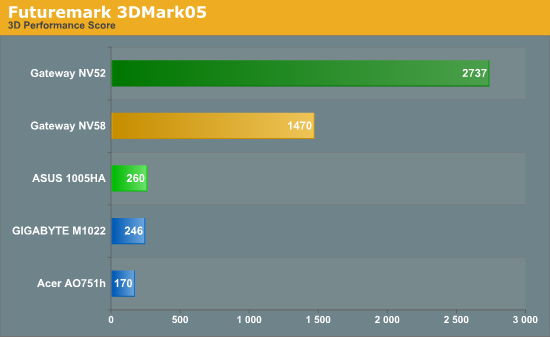 If general performance was bad, 3D performance is even worse. 3DMark03 -- a benchmark that focuses primarily on DirectX 8 performance -- has the GMA 4500MHD outperforming the outdated GMA 950 by 212%, and AMD's HD 3200 comes in 319% faster. Switching to a more modern DirectX 9 benchmark, 3DMark05 gives the 4500MHD a 465% advantage and the HD 3200 is nearly ten times as fast (953% faster). If you're planning to try to run any 3D games on these netbooks, you will definitely want to stick with older titles. The original Half-Life should work okay, for example, along with other games from 2000 and earlier. 2D titles should present fewer difficulties… Diablo 2 for example is a good option.
For those interested in other tasks, we were able to watch Hulu.com (360p) movies in fullscreen mode without difficulty. Standard YouTube videos also work fine -- in fact, here's one case where the low 1024x600 native resolution is actually a bonus. HD Hulu and YouTube videos are a different matter, with serious performance issues to the point where they are unwatchable. It's not clear if this is a limitation of the graphics chip, the Atom processor, or Adobe Flash -- or all of the above. As you can imagine, higher quality QuickTime videos (i.e. with H.264 encoding) are also a problem as there's simply not enough oomph to decode them properly. Stick with less complex codecs, however, and the 1005HA works well as a portable video device.
In contrast, the higher performance AMD and Intel laptops from Gateway have no problem with HD YouTube and other web content. H.264 playback is also possible, though the NV58 couldn't handle 1080p x264 content while the HD 3200 in the AMD system manages that task... and do we even need to mention how much better the NV52 is at gaming? Higher bitrate x264 videos aren't a serious need on netbooks, however, particularly those with 1024x600 LCD panels. Such videos may be nice to watch if you have them, but there's also the question of battery life when watching movies. As we'll see on the next page that's one area where the netbooks really trump regular laptops. Without further adieu, then, let's move on to battery life testing.