45nm Phenom? It's called the Phenom II and you Get It Next Year
Phenom II will be available in a couple of versions. The Phenom II X4 is a quad-core part initially released for the Socket-AM2+ platform, but eventually it will be a Socket-AM3 part with DDR3 support. The Deneb core is a Phenom II X4 with 8MB of L3 cache and the Propos version has a 2MB cache. Both of these cores have integrated DDR2 memory controllers, with a transition to DDR3 sometime in 2010.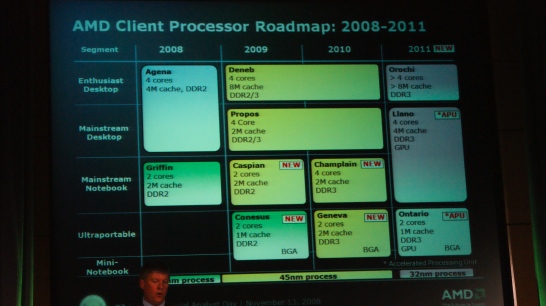 Caspian is a dual-core version of the 45nm Phenom II with a 2MB cache, Champlain hits in 2010 and is a quad-core Phenom II with DDR3 for the mainstream notebook market. Geneva is a lower powered 45nm dual-core product, presumably Phenom II as well, due out in 2010 for ultra portables.
AMD also revealed a bit of its 2011 roadmap; these products are based on the first new architecture since Phenom - called Bulldozer. I talked about Bulldozer a while ago but details have been scarce since then.
In 2011 AMD expects to be at 32nm with its Orochi, Llano, and Ontario cores. Orochi will be the new high-end enthusiast desktop product with more than four cores, more than 8MB of cache, and an integrated DDR3 memory controller. Remember from the server roadmap that in 2011 AMD will have four DDR3 memory channels on its server products so I'd expect at least a 3-channel DDR3 controller here.
Llano is the mainstream 32nm part with four cores, 4MB of cache, DDR3 memory controllers, and an on-die GPU. Note that this is a delayed introduction of the first CPU/GPU fusion product, originally scheduled for 2009. AMD stated that the plans for the first CPU/GPU products got pushed back simply because the 45nm designs weren't compelling enough. The dies get small enough at 32nm that you can actually offer tangible benefits. Note that this also means that the first single-package CPU/GPU will actually come from Intel in 2009 with a Nehalem derived part and not from AMD.
Finally we've got Ontario, which is a very low power core based on AMD's upcoming Bobcat core. It's a dual-core product with 1MB of cache, on-die GPU, and a DDR3 memory controller. We know even less about Bobcat, but I did write about it over a year ago.
The New Consumer Platforms
AMD outlined all of the new platforms we'd see in 2009 and they are as follows: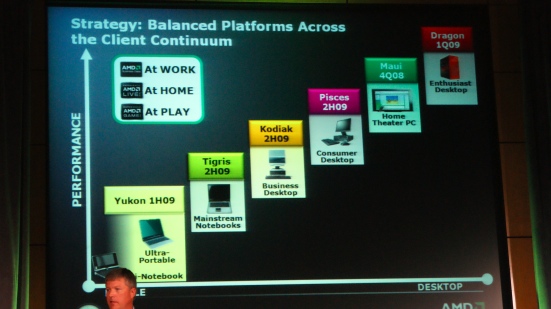 4Q 08 - Maui platform, HTPC with integrated 3.1 and 7.1 pre-amp or 5.1 amplified audio out.
1Q 09 - Dragon platform, 45nm Phenom II X4 processors
1H 2009 - Yukon platform, ultra portable and mini notebook space, sub-25W TDPs. These won't be Atom competitors, as they should be higher performance but also higher power consumption. These things will be targeted at netbooks and low-end notebooks.
2H 09 - Tigris platform, 45nm mainstream notebooks
2H 09 - Kodiak platform, 45nm business class notebooks
2H 09 - Pisces platform, 45nm quad and triple-core processors, consumer desktop