Today is AMD's Financial Analyst Day at AMD's campus in Sunnyvale, CA. I'm not a financial analyst but there are some useful tidbits that are coming out of the presentations today. Obviously the focus at AMD these days is returning to profitability and with the planned spinoff of its manufacturing business, this should be possible.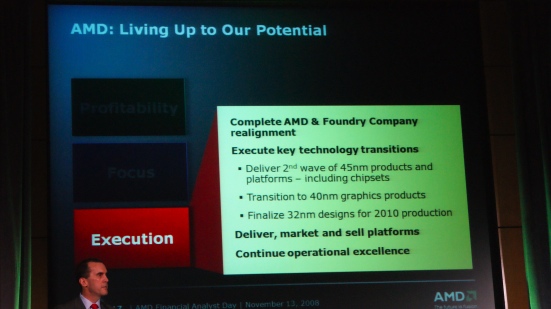 AMD was quick to point out that it only has one competitor in the CPU space and one competitor in the GPU space. There are very few markets where there are only two competitors, which led to the following statement: "We ought to be able to make money, and we can make money".
Manufacturing is going to be an important topic today and AMD plainly laid out its manufacturing transitions for next year: AMD is going to move chipsets to 45nm in 2009, graphics will be pushed down to 40nm, and we'll see 32nm designs completed for production in 2010.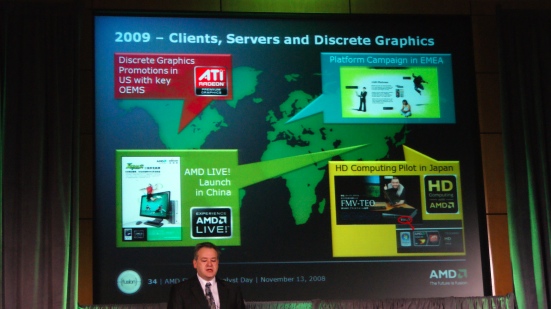 I'm not sure if I'm reading this correctly but it appears to say that AMD's marketing strategy for North America is graphics-exclusive, with no real Phenom focus. The important disclosures thus far have been in the roadmaps however.
The Server Roadmap
Today AMD launched its Shanghai processor, the 45nm follow-on to last year's Barcelona. We also got a brief update on its server roadmap: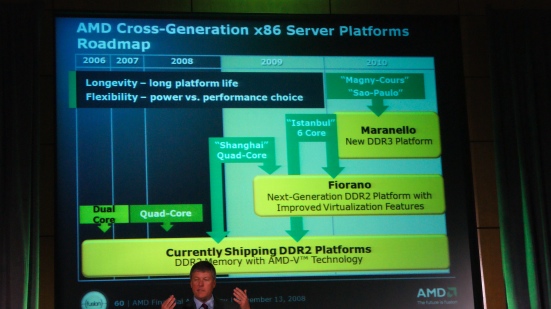 In the 2nd half of 2009 we'll see Istanbul, a 6-core 45nm product that will work in current sockets for Barcelona/Shanghai. In 2010 we'll see 8-core and 12-core solutions with up to four DDR3 memory channels and four Hyper Transport links.