Fan Speed, Acoustics, and Temperatures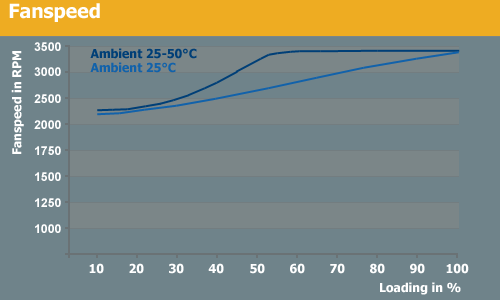 There are flaws visible with the 80mm fan design. As we have seen previously with the PC Power & Cooling Silencer, 80mm fans can often be quite loud even at lower loads. If the load increases the 80mm fans can kick into "hair-dryer mode", and while that may not be a major problem in a data center that's not generally something most people want sitting under their desk. Zippy appears to have taken their fan speed approach from their server designs, and it spins faster and increases RPMs much earlier than what we see in many other consumer PSUs. However, as we'll see on the temperature graphs, it is clearly necessary for them to increase fan speed as the temperature is rising steadily.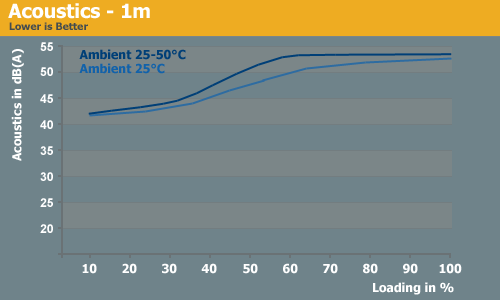 The fan starts at 2250 RPM which is already fast and loud. At 42dB(A) this power supply is far from being quiet and can easily be heard whenever it's in use. At 50% load under higher temperatures the fan is already at its maximum speed: around 3400 RPM and a noise from 54dB(A). Unfortunately, at lower room temperatures the noise levels aren't any better than at higher temperatures.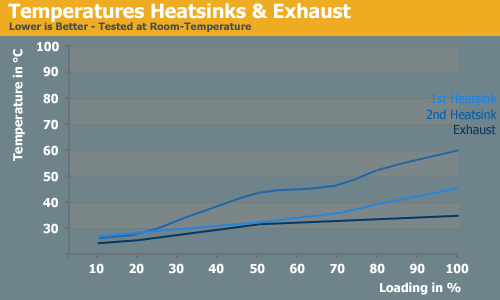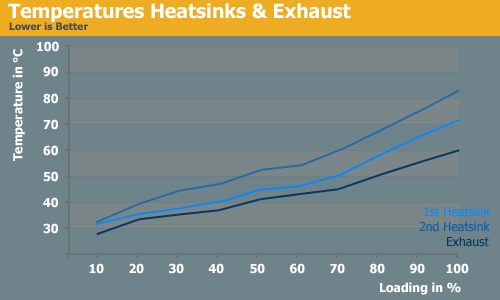 The heatsinks reach up to 60°C in a normal room temperature environment, and up to 83°C while running at 50°C ambient temperature. The design dissipates heat quite well but it's not good enough as temperatures increase steadily even with the high fan RPMs. It appears that the shape and size of the heatsinks is not sufficient to keep temperatures down, and the little noisy fan can't quite keep up.