Conclusion
With the results we've just presented, it's pretty easy to come to a conclusion. Zippy's origins of being a server and redundant power supply maker are clear in many aspects of the G1. Everything is built to survive even in difficult operating environments, but it needs to be cooled efficiently. To help cool it down, you need a lot of airflow, and if with an 80mm fan that means high RPMs to suck the air through the PSU as fast as possible. Many rack servers are built in this fashion, with numerous small, high-RPM fans. Needless to say, such servers are anything but quiet.
So what sort of people would buy this kind of power supply? It will surely not be the silence enthusiasts or those looking to build a decent HTPC, and neither will it be somebody building a PC for the living room that will run 24/7. Those who would be willing to buy this power supply and stomach the high buying price will need to be real performance enthusiasts that don't care about noise. If you want a stable and reliable power supply that will perform well under just about any circumstances, the Zippy G1 is worth a look. In most other areas, it unfortunately falls short.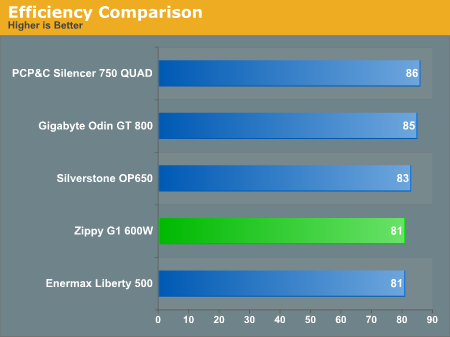 From the efficiency point of view, we the results aren't spectacular. With just 81% efficiency using 230VAC, the Zippy doesn't break any new ground in the high-end PSU market. The standby efficiency was quite low as well, generating results as low as 14% (albeit at loads that make such a result less critical).
Zippy is producing all of their power supplies in Taiwan, and this is clearly visible in the build quality. The 12V rail is the most stable we have seen so far. We would have liked to see more PEG connectors instead of only two 6-pin connections, particularly for a "gaming" PSU, but for upper midrange or lower high-end configurations this should still be sufficient. With this 600W power supply you can definitely run higher-end systems, but you might want to look elsewhere if you're interested in quad core processors, overclocking,
and
dual high-end GPUs.
(Ed: as in, all three at the same time - such configurations can pull over 750W at load!)
. If you're looking at running a setup with a lot of hard drives, however, you do get plenty of peripheral connectors, and lengths of up to 75cm are sufficient for use with most tower cases.
Availability in the market is not where we'd like it to be, and we hoped to see this PSU at more resellers by now. Unfortunately, we have been unable to find any major shops that stock this power supply at present. A quick search with Google did result in a couple hits, but with prices starting at $170 we have to say that there are certainly better options. The Zippy G1/GSM-6600P certainly performs well and we can recommend it to people looking to build a high-end system who don't care about the noise levels and the lack of PEG connectors. We're not sure many individuals actually fall into that category, however, and there are definitely other vendors with similar or better products.
With their gaming series Zippy has made a first attempt at catering to the retail market and created a hybrid power supply that sits somewhere between gaming and server needs. It ends up not quite satisfying either market, and it needs a lot of tweaking before it can become a true gaming power supply that we can fully recommend.