Standby Efficiency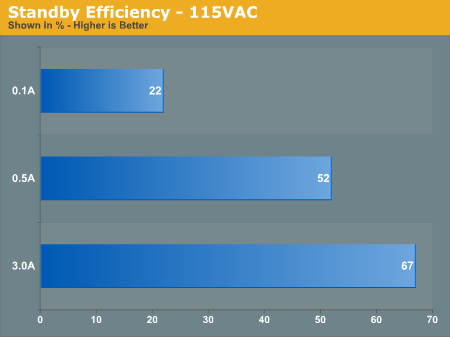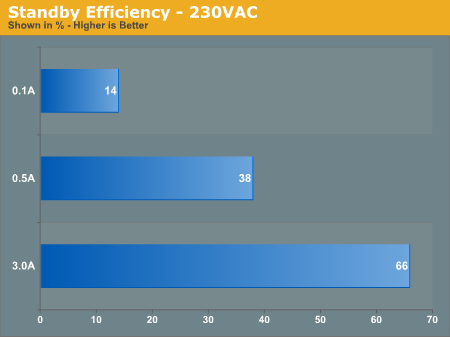 We do see minor flaws on the Zippy in terms of standby efficiency. With no load on any rail but 5Vsb we measured a power usage of 1.79W with 115VAC and a total of 3.5W at 230VAC. These amounts are quite high and this is an area that could definitely use more attention in the future. The standby efficiency itself could also use work; at just 14%-22% efficiency at low loads it is a very bad result indeed. If you leave your system on all the time, of course, this may not be much of a concern.
Efficiency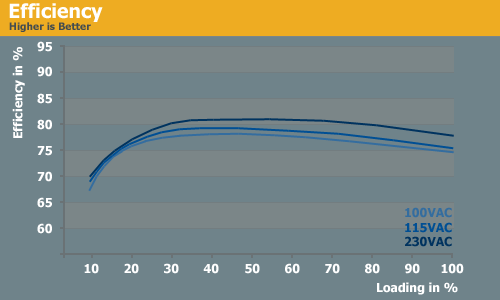 The overall efficiency is quite average and doesn't reach the level of any of our formerly tested units other than the Enermax Liberty, which it matches. This might come from the fact that for servers, high efficiency is often a secondary concern next to reliability. As we have seen already the standby efficiency is low (servers are almost never shut off) so we are not surprised to see these average results in overall efficiency.
PFC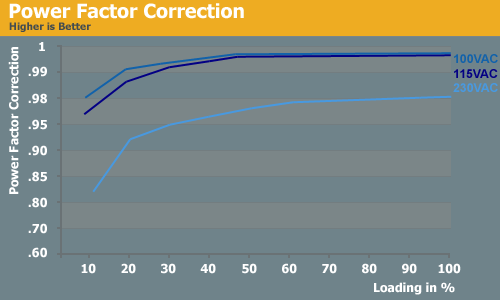 The power factor correction with lower input voltages is very good. We have seen a big difference between the 100-115VAC and 230VAC with all of the power supplies so far, and PFC could certainly be improved with higher input voltages.