GIGABYTE MZ31-AR0 Conclusion
The GIGABYTE MZ31-AR0 is an example of a high-end single-socket LGA 4094/SP3 motherboard. It is designed for use in server and workstation scenarios, with a rotated CPU socket with compatible with many U1 chassis. Decked out with a GIGABYTE blue PCB, it has some premium features with networking support among the talking points. The MZ31-AR0 is equipped with a Broadcom BCM 57810S 10 G Ethernet controller which provides two SFP+ 10 G ports on the rear panel, in addition to a single Gigabit port with its sole intended purpose for remote access via the Aspeed AST2500 BMC controller. The AST2500 also includes a D-sub video output for those looking to access the operating system without the use of a graphics card.
For professional users not in a position to utilize the increased bandwidth of PCIe 4.0, the GIGABYTE MZ31-AR0 has plenty to offer from a hardware perspective. There's a total of seven PCIe 3.0 slots which operate at x8/x16/x8/x16/x16/x8/x16. Breaking it down, there's four full-length PCIe 3.0 x16, one full-length PCIe 3.0 x8, and two half-length PCIe 3.0 x8 slots on board; that's a total of 88 PCIe 3.0 lanes worth of expansion support. It's worth noting that using a large graphics card will be an issue on the top five PCIe slots as it clashes with the memory slots, but HHHL form factor expansion cards will have no issues at all. Users looking to use a large graphics card with this model will need to install it into the bottom PCIe 3.0 x16 slot.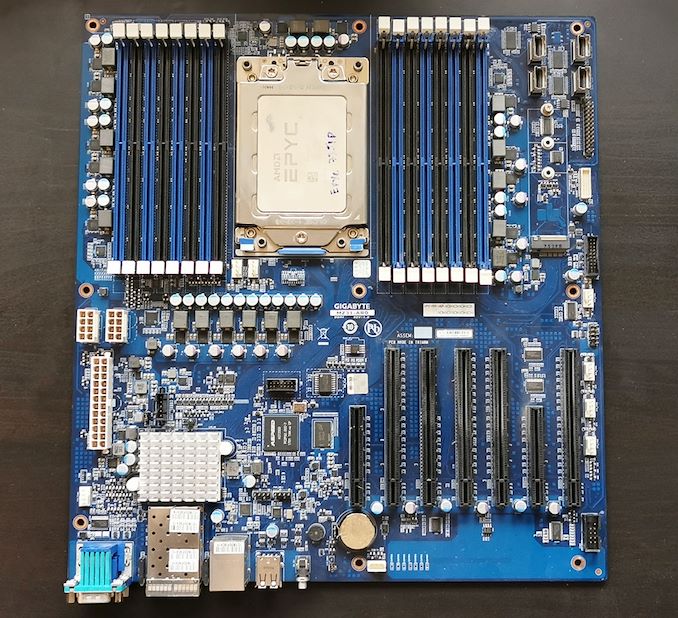 GIGABYTE MZ31-AR0 with an AMD EPYC 7351P
Touching more on memory support, the larger E-ATX form factor has allowed GIGABYTE to include sixteen memory slots which equate to a total memory capacity of 2 TB. This includes both RDIMM and LRDIMM DDR4 memory with a maximum support speed of up to DDR4-2666. The GIGABYTE MZ31-AR0 also has four SlimSAS slots which have support for up to sixteen SATA devices, which means four SATA slots from one SlimSAS with two SlimSAS cables included in the retail packaging. For users looking to used M.2 NVMe drives, the board only has one with support for up M.2 2280. While one could question GIGABYTE for not including more than one, the E-ATX PCB is quite well laid out with barely any room for more, and users could always use a PCIe M.2 adapter if they required more.
In our performance testing, we used the AMD EPYC 7351P and compared it to the ASRock EPYCD8-2T and X399 models tested with the AMD Ryzen Threadripper 1950X and one with a 2950X; all of these feature 16-cores and 32-threads. The performance of the MZ31-AR0 in our system tests showed the highest levels of power consumption in both long idle and idle power states, with a little more power used than the ASRock model at full load. This isn't too much of an issue, but due to a heavier controller set and with BMC initialization taking some time, we did get longer POST times as a result. We expect this from professional-grade server and workstation hardware, and it isn't a negative point. In computational tasks, the MZ31-AR0 is highly competitive against the ASRock model.
Looking at the direct competition in the single-socket LGA 4094 market, the ASRock EYPCD8-2T ($460) and the Supermicro MBD-H11SSL-NC ($470) have a more modest controller set, and both are ATX with twelve memory slots against the MZ31-AR0's E-ATX frame and sixteen memory slots. The GIGABYTE MZ31-AR0 currently retails for $565 at Amazon, which with its dual SPF+ 10 G Ethernet on the rear panel and seven PCIe expansion slots offer real value when paired up with AMD's EYPC 7001 Naples series of processors.
The prices on the 7001 series have dropped to even better levels since AMD introduced its EPYC 7002 Rome family with PCIe 4.0. Users not too fussed about PCIe Gen4 will find real value from the current market on Naples processors, and the GIGABYTE MZ31-AR0 is a very solid option for those considering the LGA 4094 platform.