Mixed Random Performance
Our test of mixed random reads and writes covers mixes varying from pure reads to pure writes at 10% increments. Each mix is tested for up to 1 minute or 32GB of data transferred. The test is conducted with a queue depth of 4, and is limited to a 64GB span of the drive. In between each mix, the drive is given idle time of up to one minute so that the overall duty cycle is 50%.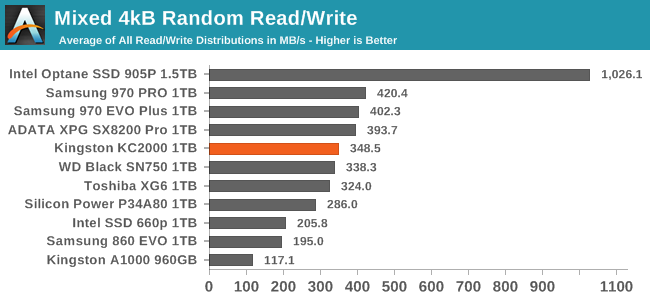 The Kingston KC2000 performs well on the mixed random IO test. It's a bit slower overall than the ADATA SX8200 Pro that uses the same controller, but still fast enough for this market segment.
The power efficiency of the KC2000 during the mixed random IO test is second-tier, falling behind the Toshiba and WD drives that also use BiCS TLC and the ADATA SX8200 Pro that uses Micron NAND with the same SM2262EN controller as the KC2000.
The ADATA SX8200 Pro with Micron NAND earns a higher overall score than the KC2000 largely due to better performance on the more read-heavy half of the test, while the KC2000 mostly catches up during the write-intensive portions. The Samsung 970 EVO Plus by contrast earns its advantage primarily from better performance during the write-heavy half of the test.
Mixed Sequential Performance
Our test of mixed sequential reads and writes differs from the mixed random I/O test by performing 128kB sequential accesses rather than 4kB accesses at random locations, and the sequential test is conducted at queue depth 1. The range of mixes tested is the same, and the timing and limits on data transfers are also the same as above.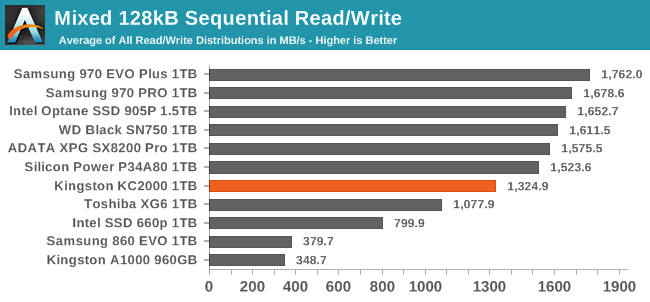 On the mixed sequential read/write test, the Kingston KC2000 is slower than most high-end NVMe SSDs, though it does significantly outperform the Toshiba XG6 that relies on the same 96L TLC NAND.
The subpar performance of the KC2000 on the mixed sequential test carries over to its efficiency score. The KC2000's power draw is about average, but it doesn't deliver quite as much performance within that power envelope.