GPU Performance
Intel's UHD 620 iGPU is pretty well known by now, offering 24 execution units and a great video decoder. Where Intel lacks the grunt for 3D gaming, they do make it up in battery life, especially on video playback. But there is no getting around the fact that it offers relatively little in the way of 3D performance.
With some extra competition here now in the guise of AMD's Ryzen platform with integrated Vega, hopefully we'll see some fresh ideas from Intel in the near future. A few players, such as Huawei, have skirted the issue by adding a NVIDIA GeForce MX class GPU, but the added cost and complexity of that is not something that many manufacturers have gone. Microsoft does offer some serious GPU performance in their Surface Book lineup, featuring either a GTX 1050 or GTX 1060, but in the Surface Laptop 2 it's just the UHD 620.
3DMark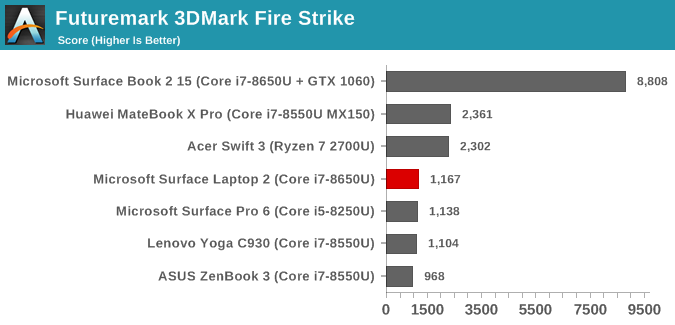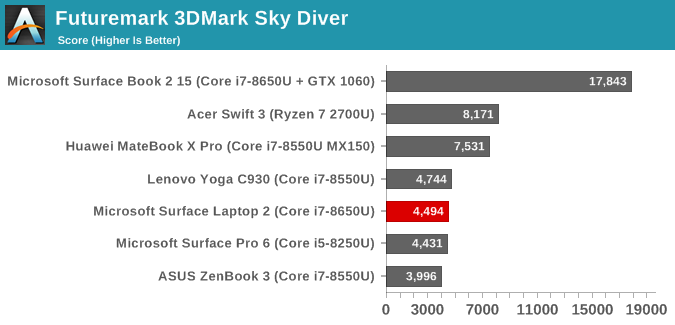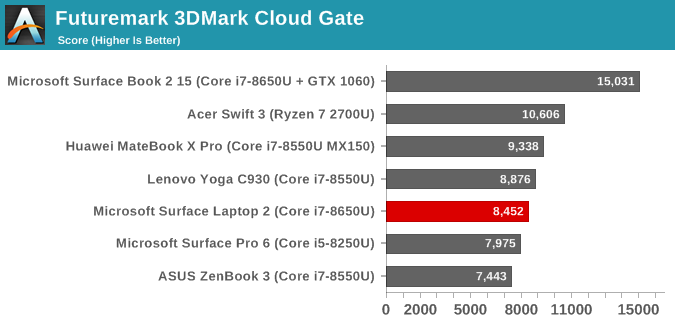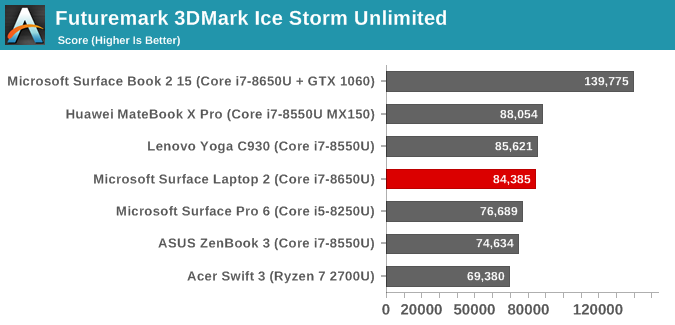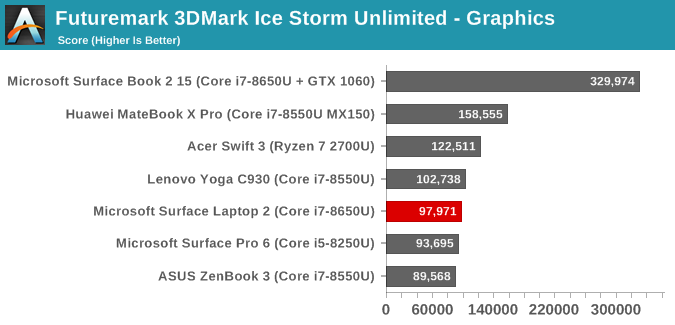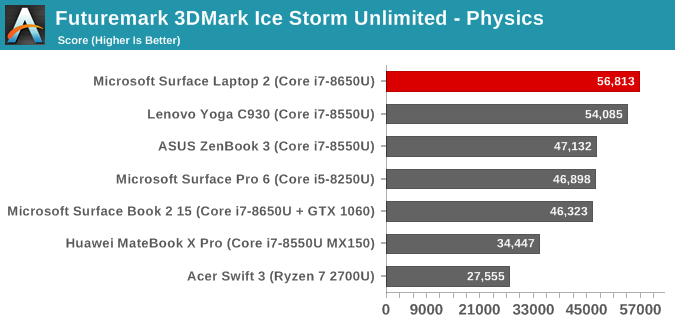 3DMark offers several scenes with increasing levels of complexity to test a wide range of GPUs. Fire Strike is the highest level we test on laptops, followed by Sky Diver, Cloud Gate, and Ice Storm Unlimited which is a test that can also be run on smartphones and tablets, although the results are not directly comparable. As the scene complexity goes down, CPU performance is more important.
On Fire Strike, Intel's UHD 620 is really unusable, scoring under half of an AMD Ryzen powered laptop, or the MX150 in the Huawei MateBook. Those results continue, but as noted above the devices get more CPU limited as the scenes get less complex, which is why you can see the UHD 620 outperforming Vega on Ice Storm Unlimited.
GFXBench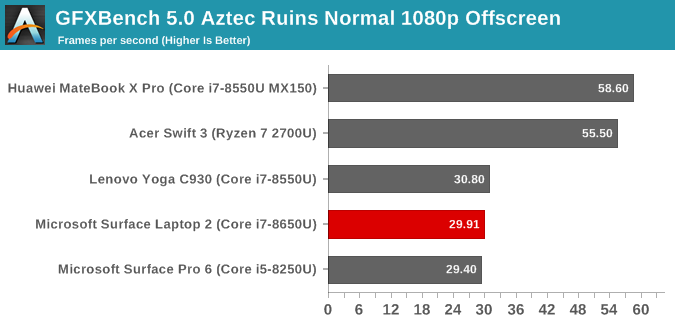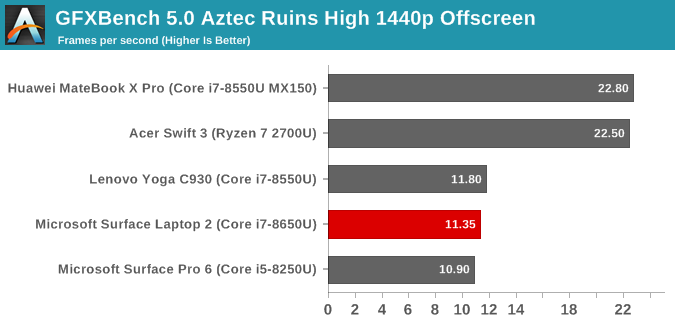 With version 5.0 of GFXBench, Kishonti now offers DX12 benchmarks, which is great to see. The previous version used OpenGL which is all but gone from the PC landscape, and not relevant. As expected though, UHD 620 is well behind AMD's Vega or the MX150.
Dota 2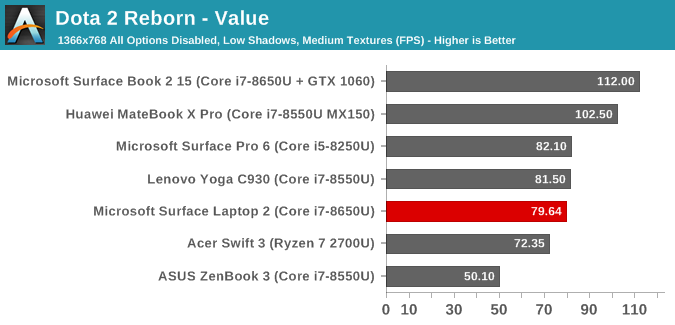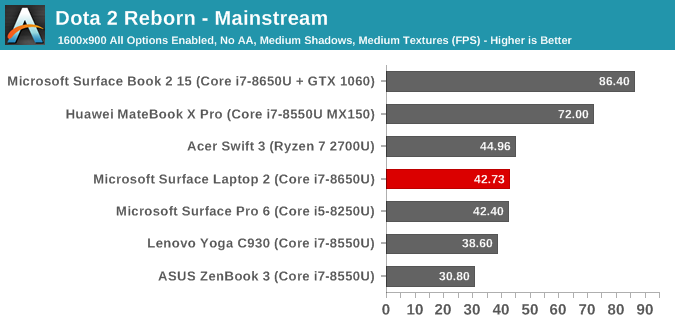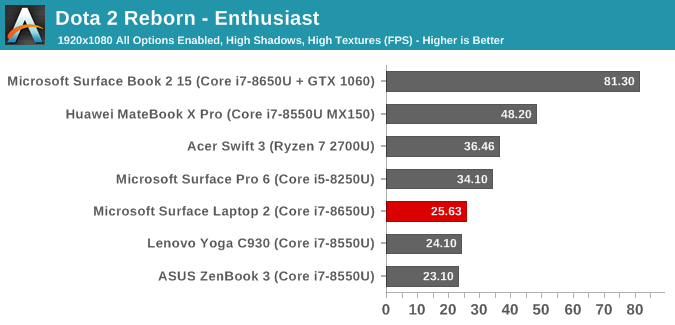 Valve's Dota 2 offers a wide range of performance options which allows it to run well enough on even integrated graphics, assuming you're OK turning the options down. The game tends to be CPU capped with any real GPU though, which is why a GTX 1060 compares to a MX150 on value settings. The Surface Laptop 2 doesn't offer any surprises here though. It's very playable on value, somewhat playable on mainstream, but unplayable on enthusiast.
GPU Conclusion
The Surface Laptop 2 isn't a gaming system by any means. The 3:2 aspect ratio can be funky on some games, and only offering Intel's UHD 620 holds it back quite a bit. It would have been nice to see Microsoft add something like the MX150 to this for a performance bump, but if you do need some GPU performance they'd likely rather sell you a Surface Book.
Storage Performance
Microsoft made the move to BGA SSDs a while back, and that continues with their Laptop 2. The review unit features a SK Hynix BC501. The advantage of a BGA SSD is size. The BGA drive is just 16 mm x 20 mm, compared to a typical M.2 2280 which is 22 mm x 80 mm. The BGA model is much thinner as well, so it makes for easier packaging, at the cost of not being able to replace or upgrade the drive later. If you are looking for any Surface device, be aware that you need to purchase your storage up-front.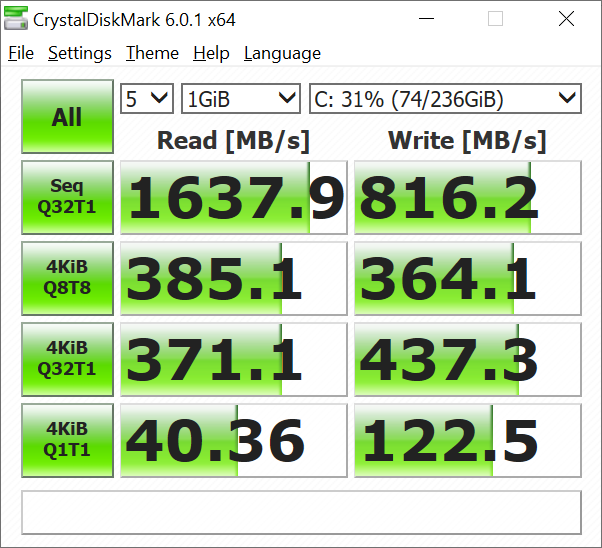 The other disadvantage is that the BGA models only offer a PCIe x2 link, rather than the typical x4 link you'd see on a mid-to-high-end M.2 drive, which limits the maximum bandwidth to half of what we might see elsewhere. In real-world use, that's not too limiting, since random reads and writes never max out the interface anyway, but it does mean that sequential speeds are capped. Even so, it's still an order of magnitude faster than any spinning drive.