System Performance
Due to Microsoft's longer support windows, the original Surface Laptop's dual-core Kaby Lake-U series processors were quickly surpassed when Intel updated to Kaby Lake Refresh, which offers twice the cores and twice the threads. The Surface Laptop 2 was announced in October 2018, and Microsoft solved the problem with a spec bump to KBL-R on both the Core i5 and Core i7 models.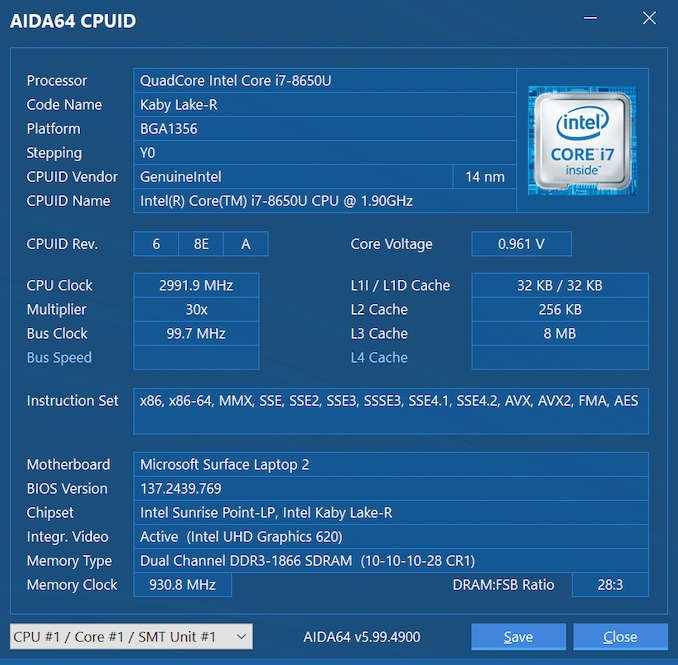 The Core i5-8250U is a four-core, eight-thread CPU with a 1.6-3.4 GHz frequency range. There's 6 MB of SmartCache, and a nominal 15-Watt TDP. The Core i7-8650U offers the same cores and threads, but bumps the cache up to 8 MB and CPU frequency to 1.9-4.2 GHz, which is a significant jump from the i5. The downside of Microsoft's release cadence though is that Intel has since released their Whiskey Lake U series processors, which aren't available in the Surface lineup yet, and Microsoft tends to refresh in October, but not always, so there's no timeline for when they will be added.
The extra cores are nice, but Microsoft dropping the 4 GB model from the lineup is nicer, since 4 GB is really the low-end for RAM in a non-upgradable device. Offering just 8 or 16 GB of LPDDR3 is the correct choice, so it's great to see that as the only two options on this model.
To test the performance of the Surface Laptop 2, the laptop was set to Best Performance and run through our standard laptop suite of tests. Comparisons are against other similar Ultrabooks. If you'd like to see how the Surface Laptop 2 compares to any other device we've tested, please check out our online Bench.
PCMark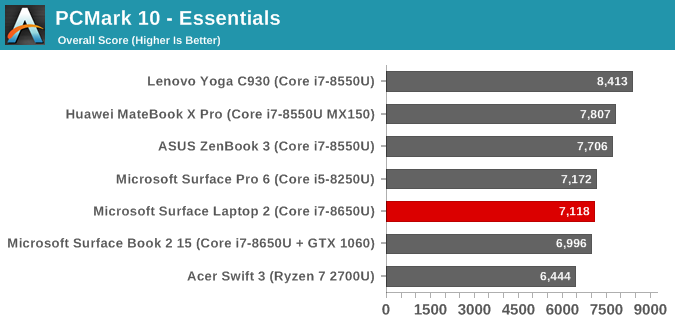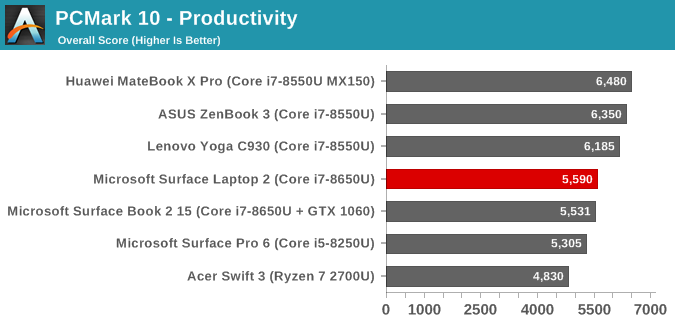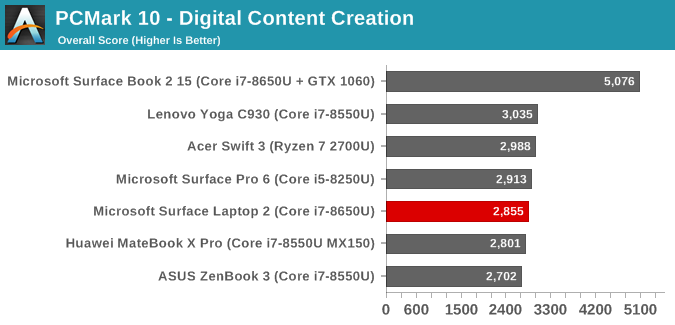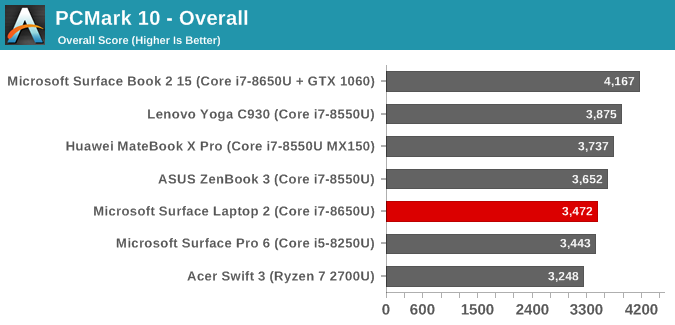 PCMark tests all aspects of a system's performance level, from graphics to storage. The Surface Laptop 2 is mid-pack with the Core i7-8650U inside. The integrated GPU holds it back in the digital content creation score a bit, but overall it does about what you'd expect from an Ultrabook.
Cinebench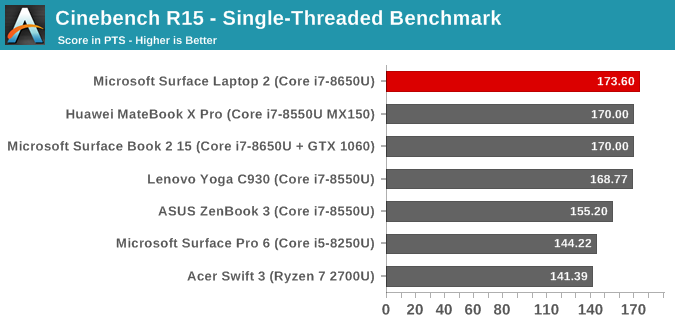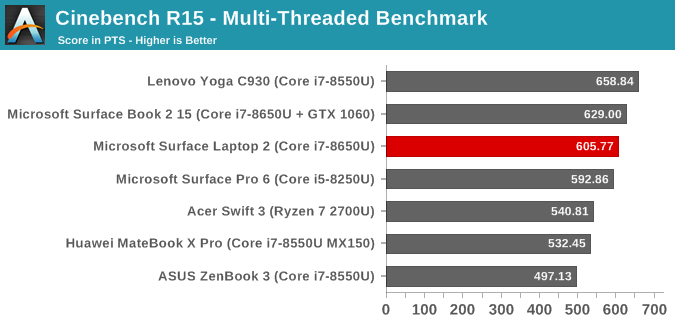 We've just got word that Maxon has updated this tried and true benchmark to R20 so we'll be slowly moving to that updated version in the near future, but since we have back-data from the previous version that's what we're using today. The Core i7-8650U tops out at 4.2 GHz which helps a lot in the single-threaded result, and the Surface Laptop 2 holds its own in the multi-threaded test as well, although the Lenovo Yoga C930 is well ahead thanks to Lenovo offering a higher PL2 than we've seen on any other laptop.
x264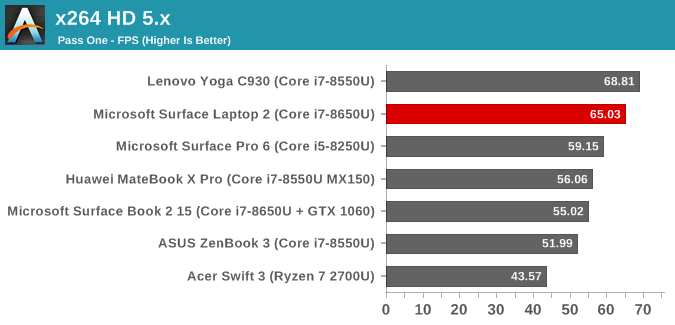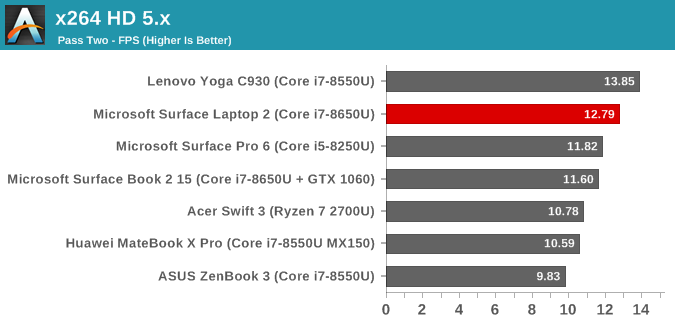 The x264 test is a very long benchmark running four times in a row and can easily take an hour to complete. As such it's a great test to see CPU performance on a heavy load which will max out the cooling. Microsoft's Surface Laptop 2 performs quite well here.
Web Results
Browser performance is a major factor in any web-based scripting, and we can see performance scores on the same device change dramatically over time as browsers are updated. Usually the performance trend is upwards, but not always. We standardize on Microsoft Edge for browsing tests.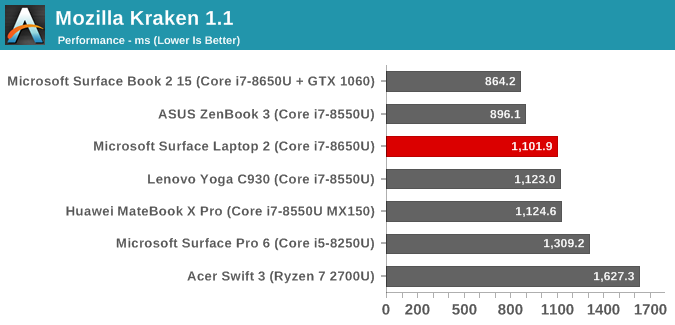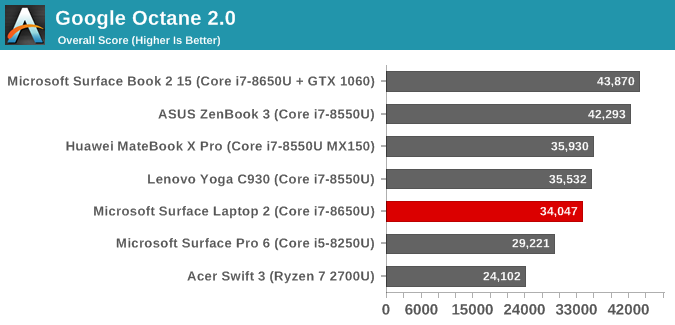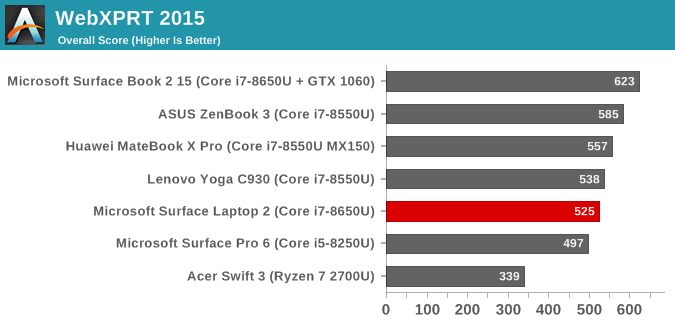 This is one area where Intel tends to hold a lead over AMD thanks to Intel's work on Speed Shift, which lets the CPU ramp up to maximum much quicker, and that's important in web results because web workloads are so short. The Surface Laptop 2 with its Core i7 is more or less in-line with the rest of the Core i7 models, where you'd expect it to be.
CPU Conclusion
The Surface Laptop 2 will offer significantly more performance than the original, thanks to the move to quad-core Kaby Lake Refresh. As you can see from the above results though, there's not a lot of performance difference between the devices which tend to share a common platform underneath. Manufactures just need to make sure they offer enough cooling, and the Core i7 does the rest.