G.Skill TridentZ RGB DC DDR4-3200
The new G.Skill TridentZ RGB DC DDR4 memory features double the number of memory chips of a conventional design, with doubled EPROM control and doubled power management. As mentioned in the introduction, this is essentially two modules on a single PCB. In order to make this system work, the 288-pin layout is slightly different from the regular DDR4 memory pin layout, which is why these modules require per-motherboard firmware updates and validation.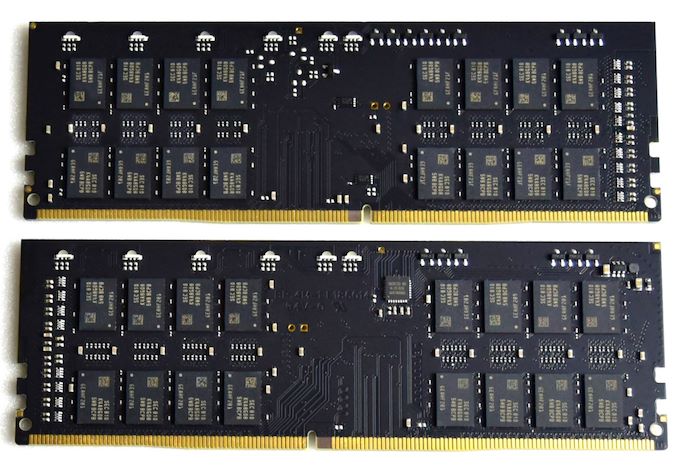 The G.Skill TridentZ RGB DC UDIMMS use Samsung B-Die ICs which are considered by many to be the best around, but not just in performance, but in offering overclocking headroom. Standard DDR4 UDIMMs comes in two main varieties, 1Rx8 (single sided) which means one row with eight chips, or 2Rx8 (double-sided) with two rows of eight chips. The new DC memory is, in essence, a 'fake' 4Rx8 which is four rows of eight chips. The way the DC memory is laid out within the ASUS UEFI BIOS is as if it's operating with two sticks of memory per one physical module.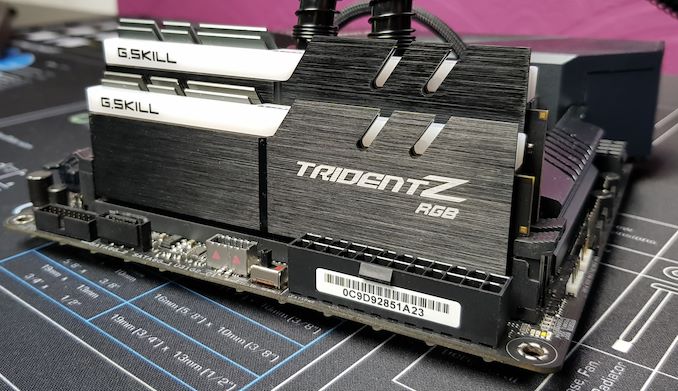 Comparing the smaller standard DDR4 to the newer DDR4 DC
The G.Skill TridentZ DC RGB memory doesn't differ stylistically from the 'standard' G.Skill TridentZ RGB memory. The main and only difference is in its height with the DC RAM measuring at a height of 60 mm, whereas the regular G.Skill TridentZ RGB sticks have a maximum height of 45 mm. This means the G.Skill DC modules are 33% bigger in size than the regular model. The heatsinks are made from aluminium and have a brushed finish, with one side grey and the other side black.

Along the top of the G.Skill TridentZ RGB DC memory is a plastic strip which diffuses the integrated addressable RGB LEDs. The RGB can be controlled by the ASUS AURA software or via G.Skill's own software.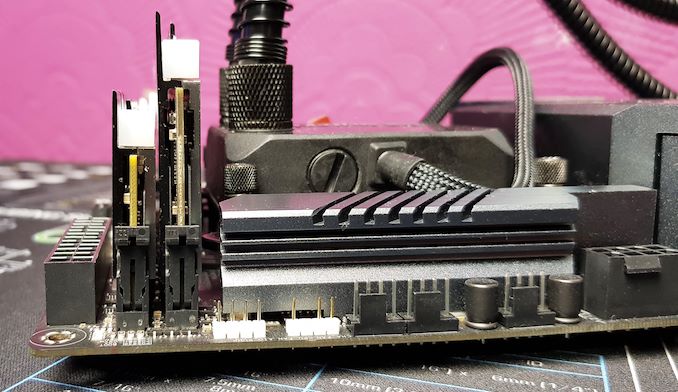 ASUS and G.Skill both recommend users use liquid cooling methods on the CPU when this new memory is used due to potential issues when installing tower style air coolers that won't likely fit. This is due to the height clearance and the obstruction between the memory and either the side fans on a tower or the tower itself. For users angling the airflow top-to-bottom, the new memory can get in the way of heatpipes that like to stick out.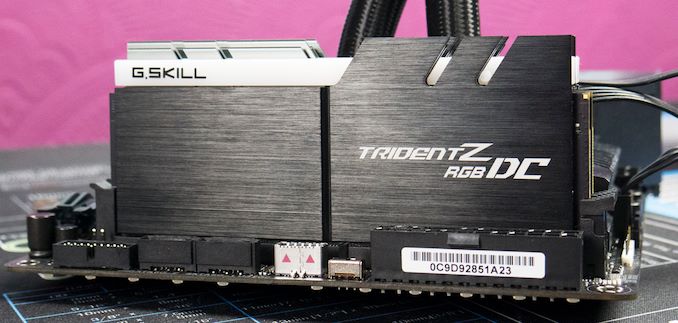 Although there is no information in regards to availability as of yet, the G.Skill TridentZ RGB DC memory is available in three different frequencies configurations. The first two are DDR4-3000 and DDR4-3200 kits with CL14-14-14-34 latency timings. The other kit is DDR4-3200 with slightly looser timings. All these kits have an operation voltage of 1.35 V and fully supports XMP 2.0 SPD. The kits are available in 64 GB kits (2x32 GB) only, are currently compatibility limited to three ASUS Z390 motherboards, and they operate in dual-channel.
G.Skill's Trident Z RGB DC Kits for ASUS Z390 Platform
Speed
CL Timing
Voltage
Kit
Config.
PN
DDR4-3000
CL14-14-14 34
1.35 V
2×32 GB
F4-3000C14D-64GTZDC
DDR4-3200
CL14-14-14 34
F4-3200C14D-64GTZDC
CL14-15-15 35
F4-3200C14D-64GTZDCB
No pricing information has been provided by G.Skill or ASUS, but we expect pricing to be at the high end of three figures.
Comparing 2x32GB DDR4-2400 to 2x16GB DDR4-2400


G.Skill TridentZ RGB DC (Left) and TridentZ RGB (Right) XMP 2.0 Latency Timings
When comparing the G.Skill DDR4-3200 14-14-14-34 TridentZ RGB DC UDIMMs (2x32 GB) to its DDR4-3200 14-14-14-34 TridentZ RGB UDIMMs (2x16GB), not much is different in terms of latencies. The only difference is that the DC TridentZ has a slightly higher tRRD_S which represents the number of clock cycles between activated commands from a different bank group.