ZADAK Shield RGB DC DDR4-3200 Overview
We first learned about the new ZADAK 32 GB modules back in September. Since then, ZADAK has announced a total of five different 2x32GB Shield RGB DC kits in four different clock speeds, from DDR4-2666 through to DDR4-3600. There are two kits available at DDR4-3200 with different latencies; at CL14-14-14-34 and with slightly looser secondary and tertiary timings of CL14-16-16-36. All of these kits are compatible with three specific ASUS ROG Z390 models: the STRIX Z390-I Gaming, MAXIMUS XI APEX and MAXIMUS XI Gene.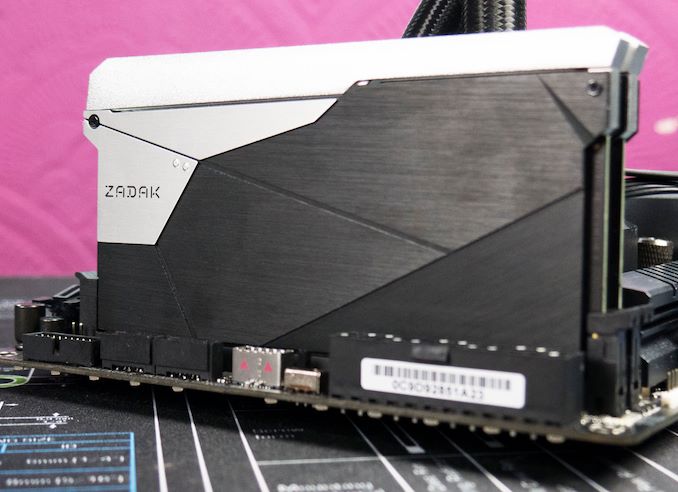 For this review, we received a kit of the DDR4-3200 CL14-16-16-36. This dual channel 64 GB (2x32 GB) kit has an operating voltage of 1.35 V and features Samsung B-Die ICs. By contrast to ZADAKs other kits on the market, this is quadruple the capacity of its 8 GB UDIMMS.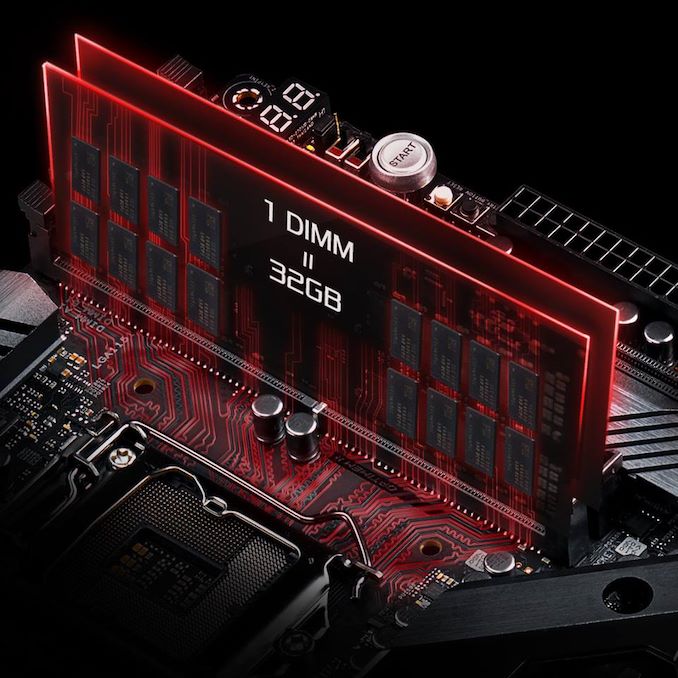 ZADAK Shield RGB DC Memory in an ASUS Z390 Motherboard
While we know the ZADAK Shield RGB DC memory has a total of 32 memory ICs on its PCB (16 on each side), and it uses a similar pin-out implementation to G.Skill, leading to the specialization that they only work on select ASUS motherboards that have been validated. Unfortunately the ZADAK headspreader is firmly bonded to the chips, meaning removing the headspreader has a chance that it could remove a chip; we were unable to secure any images from ZADAK for underneath the heatspreaders, so at this point we are assuming that they work similarly to the G.Skill modules with double EPROMs onboard and act as two DIMMs on one PCB.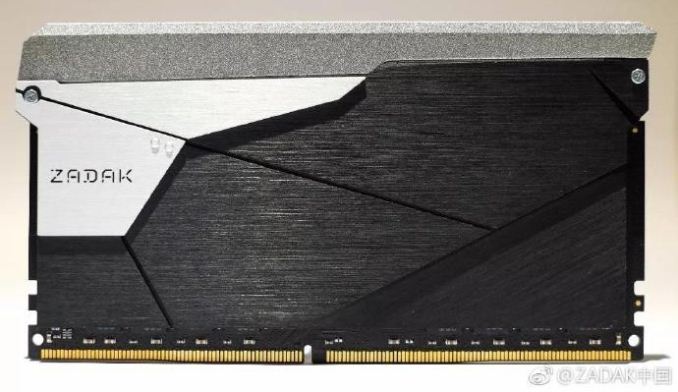 Analyzing at the mechanical design of the ZADAK Shield RGB DC DDR4-3200 memory, they are 73 mm in height which isn't much taller than ZADAKs own 8 GB Shield RGB memory which have a height of 60 mm. This means the heatsinks extend quite a bit further than the PCB with the majority of the height coming as a result of the integrated RGB LED lightbar. The heatsinks feature a three-tone design with black, grey and silver aluminium heat spreaders. The effect is not as pronounced as the G.Skill RGB light bar.

The RGB LEDs built-into the top of the heat spreader is addressable and can be customized with ASUS AURA software.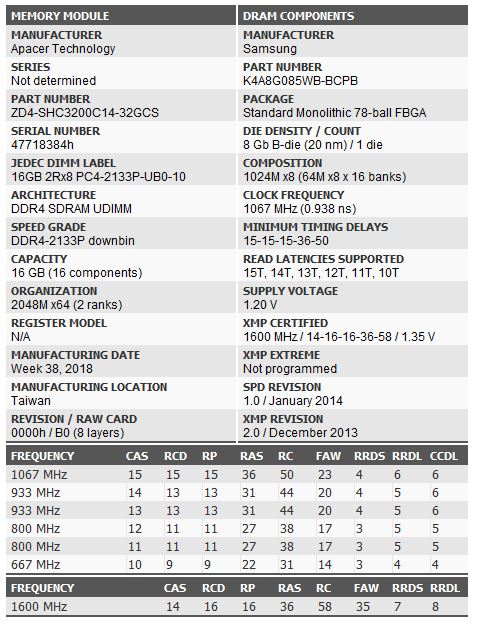 ZADAK in itself is an arm of Apacer Technology who formed back in 1997 as a DRAM supplier. ZADAK formed in 2015, and would prefer to be identified as a separate entity from Apacer, similar to how HyperX is to Kingston, or Crucial is to Micron.
Using the Taiphoon Burner DRAM software, we can see the JEDEC DIMM Label is listed as 16 GB of 2Rx8. This means the sensor is showing that each module is organised by the firmware into two lots of 16 GB and not one of 32 GB. The latency timings of the XMP 2.0 profile are 14-16-16-36.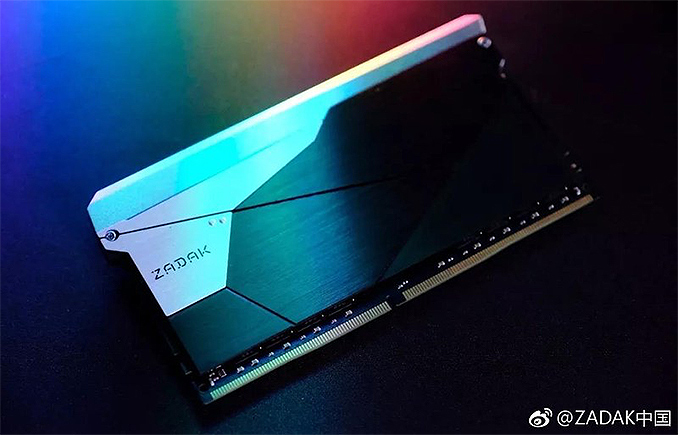 ZADAK has better market variation with a total of five different kits.
The baseline model is a DDR4-2666 kit which is the cheapest of the five models at $799 and has timings of 16-16-16-36. This is relatively slow in terms of latency timings for a kit of this speed overall, but so far its the only DC kit from any vendor to operate at just 1.2 V on its XMP 2.0 profile.
Stepping up to the next mark is a DDR4-3000 kit with slightly slower timings of 16-16-18-38 for $899 and operates at 1.35 V. There are two DDR4-3200 kits available with both kits having the tightest timings, and a final DDR4-3600 kit. This DDR4-36000 kit has an MSRP of $1299 USD which is $500 premium over the DDR4-2666 base model which is a considerable chunk of budget for a desktop platform.
ZADAK Shield RGB DC Kits for ASUS Z390 Platform
Speed
CL Timing
Voltage
Kit
Config.
PN
MSRP
(USD)
DDR4-2666
CL16 16-16-36
1.20 V
2×32 GB
-
$799
DDR4-3000
CL16 16-18-38
1.35 V
-
$899
DDR4-3200
CL14 14-14-34
-
$1199
CL14 16-16-36
ZD4-SHC3200C14-32GCS
$999
DDR4-3600
CL16 18-18-38
-
$1299
The DDR4-3200 kit which we received for testing has slightly looser timings of CL14 16-16-36 and has a price of $999.
The current availability in retail channels of the ZADAK Shield RGB DC 2x32 GB kits is limited to Japan, China and Australia. ZADAK has stated that its DC kits will be available in Vietnam and Thailand during January, while the kits are planned for launch in the US and EU during Q1 2019.