Battery Life and Charge Time
On most notebooks this section is one of the most important, but on a machine like this, portability takes a back seat to performance. There is still the expectation that you can have some battery life, but with the understanding that all of the components inside which make the Phobos 8716 so fast come at a cost of power consumption.
That is certainly the case if the machine is being stressed. With a CPU featuring a 91-Watt TDP, and a GPU which has an undisclosed (but under 180-Watt) TDP, the battery capacity of 82 Wh can be exhausted pretty quickly. But if you do need to use the notebook off the mains, having the ability to watch a movie, or surf the net a bit would be nice.
To test battery life, we have two main tests. Our older 2013 light battery life test loads four web pages every minute, and the test continues this until the laptop stops. The newer 2016 battery life test leverages the same test we use on mobile, which is much more stressful. There is no perfect way to measure battery life, since everyone's use case is different, but by providing consistent testing with the displays set to 200 nits, we can at least get a good comparison across devices on a common usage scenario.
One note about this laptop is that despite being set to not change the display brightness, when the battery hits 7%, the brightness drops to zero, meaning this laptop will score a few extra minutes than it should.
2013 Light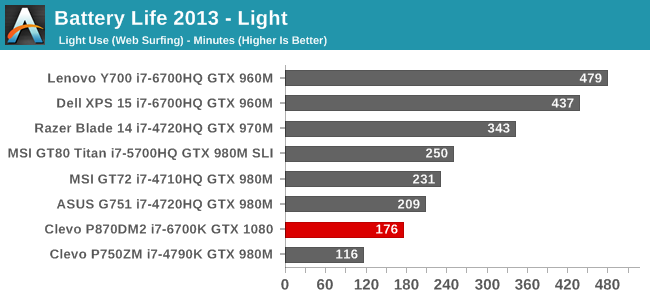 On our older battery life test, the P870DM2 / Phobos 8716 does surprisingly well. It achieves a result of just under three hours, which is terrible compared to an Ultrabook, but compared to the previous Clevo DTR, there is a pretty significant jump. Since the battery size is the same between the P750ZM, albeit the older model does have a UHD display which would certainly impact the result. Still, it's a reasonable result.
2016 Web

With the new web test, which is much more stressful to the CPU, the Phobos 8716 actually scores a few minutes higher than on the older test. The average power consumption doesn't change much despite the increased workload. That isn't a big surprise when you have high power components, since their baseline power usage will already be a lot higher than something meant for long battery life like a Cherry Trail Atom, where every milliwatt matters.
Normalized
To give an actual value to efficiency, the battery size is factored out of the battery life to provide a minutes / Wh result.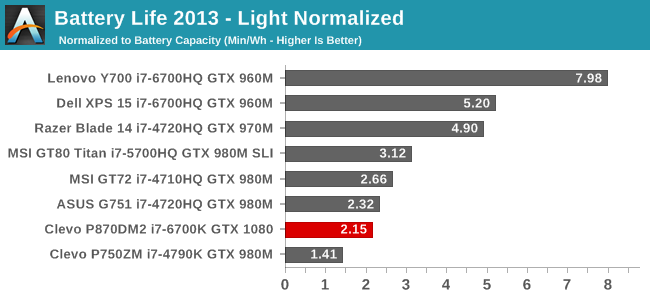 Unsurprisingly, with desktop components stuffed inside, the Clevo P870 DM2 is one of the least efficient notebooks tested, with only the Clevo P750ZM being worse. Better is better, but the target use case for this machine is not an all day battery powered notebook, so it's not as big of an issue as it would be on smaller laptops.
Additional Battery Life Testing
OK, so we've already determined that the Clevo P870DM2 is not the world's best notebook in terms of battery life, but there are a couple of other scenarios which warranted testing. Since it's a gaming notebook, just how long can you play while gaming? To test this, Tomb Raider was fired up, and it was configured to use the Battery Booster settings with NVIDIA's GeForce Experience (GFE) software.

The settings in GFE capped the frame rate to 60 frames per second, exactly. Minimum was 60.0 frames per second, average was 60.0 frames per second, and maximum was 60.0 frames per second. The result was being able to play Tomb Raider for just over an hour. With a bit more tweaking, and adjusting the GFE a bit, maybe a few more minutes could be eked out, but the runtime of one hour gaming is pretty decent. Plus, you get the added benefit of the fans barely spooling up since the notebook isn't even working hard.
The other potential reason to need battery life is when watching a movie. Perhaps you are on a road trip and you have your 12 lb laptop in your lap. Can you get through one movie? Two? Let's find out.

The result playing a movie is not that much better than surfing the web. On Ultrabooks, this task is offloaded to fixed function hardware, and it can increase the battery life significantly, but the idle power usage of the Clevo P870DM2 is just too high for this to make much of a difference.
To put this time into perspective, we've come up with a new movie battery life rating which we have deemed the Tesseract. Each Tesseract equals 143 minutes, or the length of The Avengers movie.

You can easily get through one run of The Avengers, but only through 40% of a second run, so unless you love cliff hangers, you may want to find somewhere to plug in.