Display
Not too many years ago, gaming laptops were still shipping with TN displays on the large screen laptops. Luckily that's no longer the case, and the Clevo P870DM2 / Mythlogic Phobos 8716 is available with two choices in display. The base model is a 1920x1080 IPS panel with a 120 Hz refresh rate. That's great to see in a gaming laptop, and looking at the gaming results in the last section, this laptop can easily hit 120+ frames per second to keep up with that refresh rate. Mythlogic also offers a a 3840x2160 (UHD) AHVA panel with the more common 60 Hz refresh rate, but also includes G-SYNC. For those that want to meet somewhere in the middle, there is now a 2560x1440 AHVA 120 Hz panel option as well with G-SYNC.
The review unit has the lowest resolution panel, which is going to be the highest frame rate at the native resolution. The GTX 1080 in this review unit could likley handle at least the 2560x1440 though, and even the UHD would still give reasonable performance especially with G-SYNC.
To measure a display's characteristics, we use an X-Rite i1Display Pro Colorimeter for brightness and contrast readings, and an X-Rite i1Pro2 Spectrophotometer for accuracy readings. SpectraCal CalMAN 5 Business with a custom workflow is the software used. Mythlogic shipped the device with an included ICC profile, but I found it actually was more accurate without the ICC profile, so the measurements below will be with it disabled.
Brightness and Contrast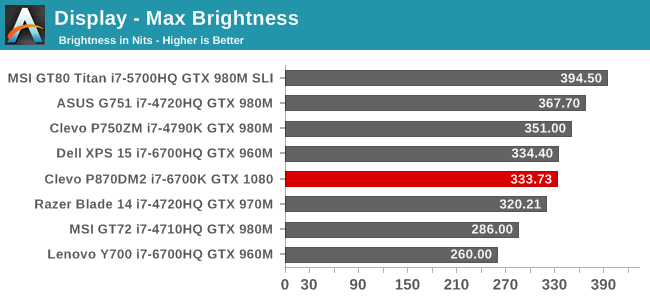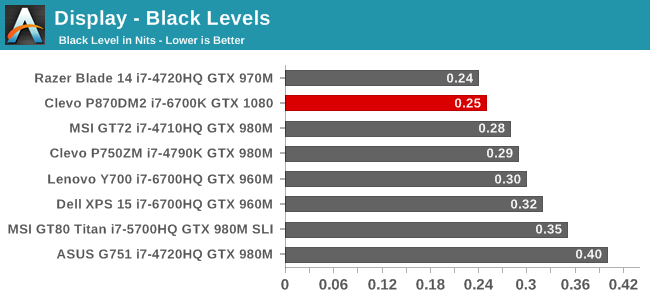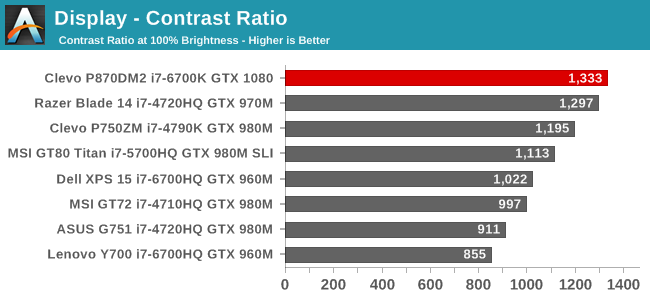 333 nits is a decent brightness for a laptop like this, which is unlikely to get used outdoors very much. What is more impressive though is the excellent black levels, which gives a great contrast ratio over 1300:1. For those that like to use their computer in the dark, the display goes down to 16 nits, which isn't the lowest measured, but should be adequate.
Grayscale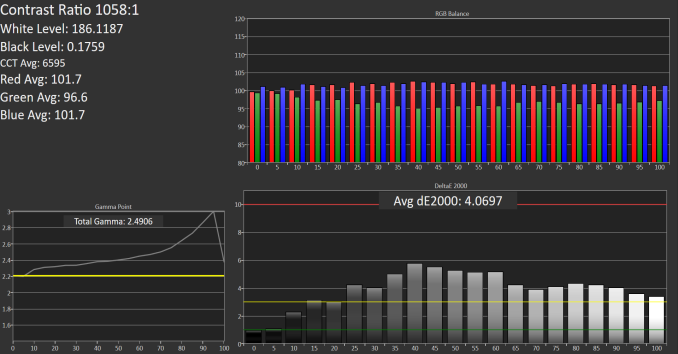 SpectraCal CalMAN 5 - Grayscale with included ICC Profile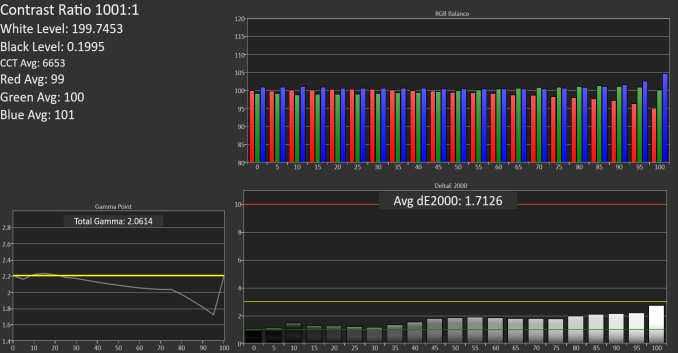 SpectraCal CalMAN 5 - Grayscale with no ICC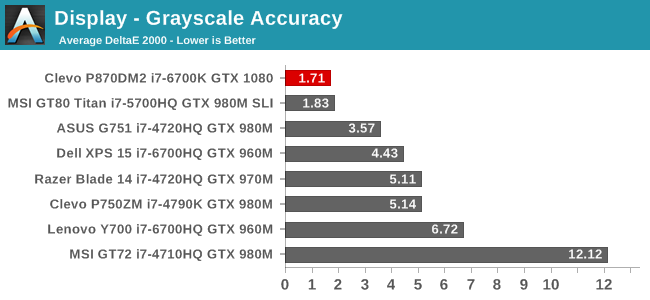 The top image is the laptop with the included ICC profile enabled. It's pretty clear how much it doesn't help, and makes the grayscale have much higher errors, and the gamma is way too high. With the ICC disabled, the grayscale is fantastic at an average dE2000 of just 1.7. Gamma still has some issues, but overall it's much better. I don't provide ICC profiles of laptops I've reviewed because there's no guarantee an ICC made on panel A will help panel B, and in this case, it makes it much worse. The white point is very good too, which is clear when you see how closely the red, green, and blue track at the different white levels. This is one of the best grayscales on any laptop tested.
Saturation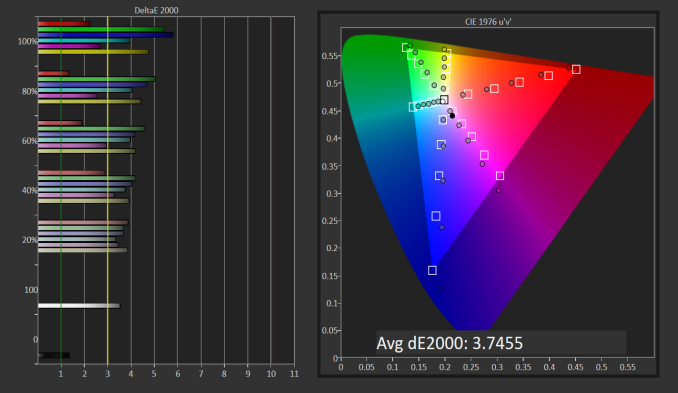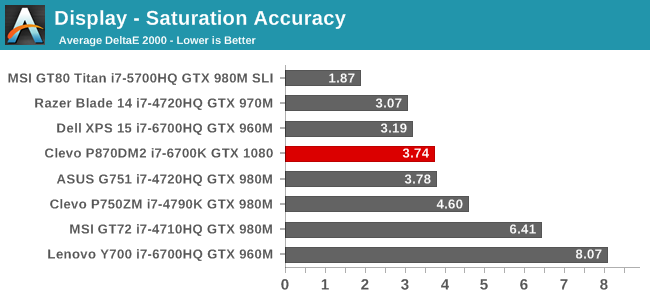 Unfortunately, the saturation results weren't quite as good as the grayscale, but with an average dE2000 of 3.75, it is pretty good in a notebook of this caliber. There isn't just a single color which is off pulling the scores up, with all of the colors having errors ever three at some point in the sweeps. Still, it's a decent result for this type of laptop.
Gretag MacBeth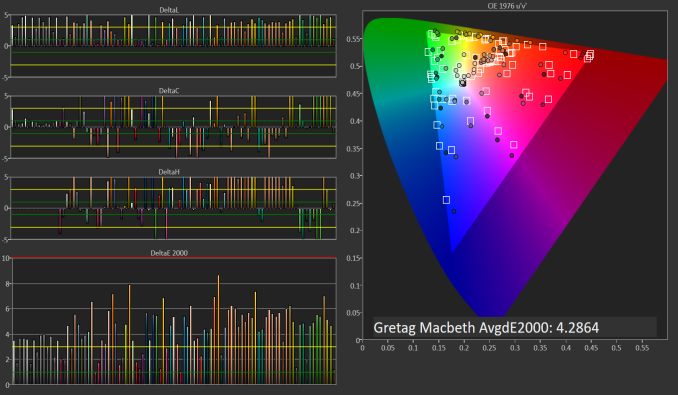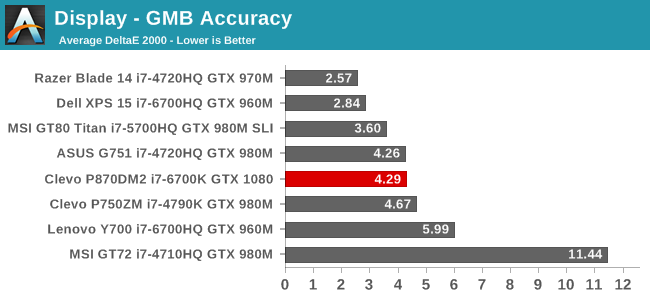 The GMB score is the worst of the bunch, but it's still not too bad. 4.3 is definitely above the error levels under 3.0 that would be best, but the overall average is decent. The worst scores are the skin tones, and individual one color even has an error level over 8. Although better is always better, Mythlogic isn't selling this notebook for color sensitive work, and if you are going to be doing that it would be best to get an external monitor. This is a pretty good result for a gaming notebook.
Overall, the 1920x1080 120 Hz display offers great out of the box white levels, with decent color accuracy. It could be better, but it's far from the very blue displays seen a few years ago, and the higher refresh rate is going to be a benefit for gaming where movement can be very quick. The gaming I did on this notebook felt very smooth, which was also likely helped by the massive GPU available.