Wireless
Mythlogic offers a couple of different network adapters for the Phobos 8716. You can get the Intel Dual Band Wireless-AC 8260, or the Killer Wireless-AC 1535. The laptop also features two Killer E2400 Gigabit network adapters. If you go with the Killer solution, like the review unit, you'll get access to the Killer software suite, as well as the DoubleShot Pro which allows some traffic to be done over wireless, while other traffic is done over the Ethernet. Killer, as a company, focuses on maintaining gaming performance regardless of the other networking activities are going on, and their software can help with gaming latency. It also features MU-MIMO, which is not a feature found on the Intel 8260, although it is supported in the newly announced 8265 model.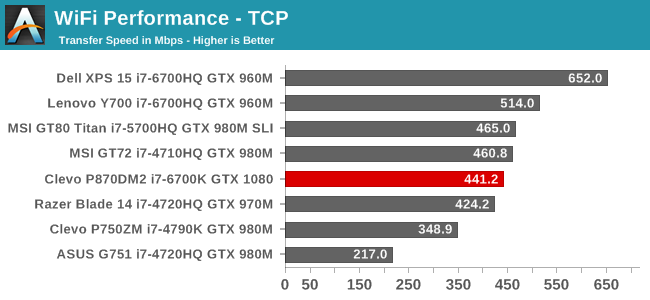 After some initial issues with the Killer card, some updated drivers really helped out. I was only averaging about 120 Mbps on our test download, but a new set of drivers from Killer brought the result up to 440 Mbps, which is much closer to what I was expecting, having tested other laptops with this same card before.
I also had a few network disconnections on the old driver, so if you do have this card make sure you update the drivers from the Rivet site, and not through Windows Update which doesn't have the latest version.
The same test was performed over Ethernet, and it downloaded at over 900 Mbps.
Audio
The Clevo P870DM2 / Mythlogic Phobos 8716 comes with the SoundBlaster X-FI MB5 onboard audio, and for a look at this solution check out Creative's page. The Creative software gives a bunch of gaming settings to play with, as well as different profiles to tune the audio to your liking. There's EAX settings, and even a Scout Mode where you can have the system increase the sound of enemy players so you can hear them from further away. I'm not sure if that's cheating, but it's interesting.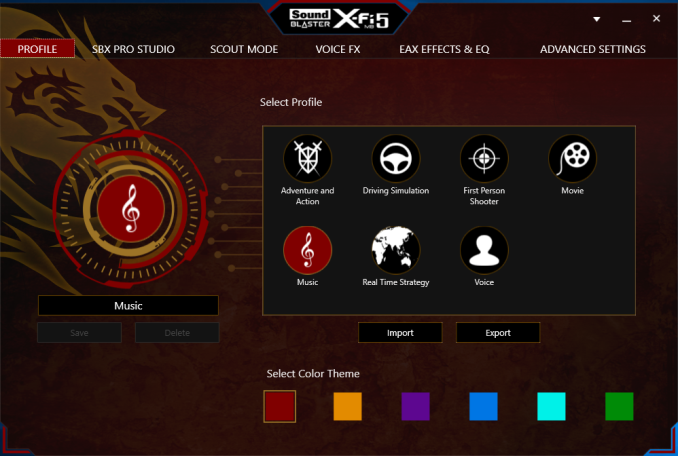 The speakers themselves are mounted beside the hinge, and fire upwards which is always a benefit. The sound quality is pretty decent for a notebook, and it is certainly loud enough, with a measured volume of 90 dB when playing back music, with the SPL meter 1-inch over the trackpad.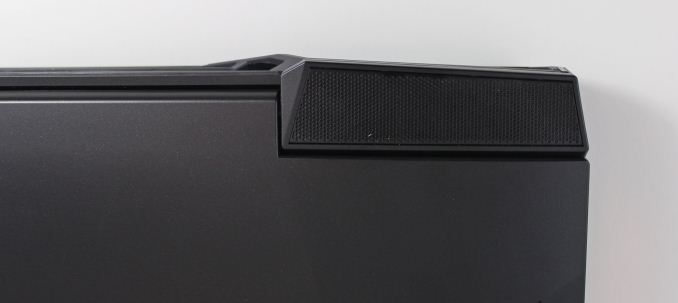 The Clevo also has a full assortment of audio jacks on the left side of the notebook, much like a desktop. Instead of a single headset jack, there is a headphone jack, a microphone jack, a line-in jack, a line-out jack, and also a S/PDIF output shared with the headphone. If you use the HDMI, you can also get 7.1 output. It would be nice to have these jacks color coded though to make it easier to determine which is which, when trying to plug in headphones in a dim room. There was no issues once plugged in though, and the headphones sounded great.
Thermals and Noise
All of this performance is not going to be very useful if the notebook can't keep the thermals in check. Luckily the Clevo / Mythlogic laptop is a bit of a beast, tipping the scales at over 12 lbs, so there is plenty of room for fans, and lots of room for heatsinks. To test the thermal capabilities, Rise of the Tomb Raider was played on Very High settings, for about an hour.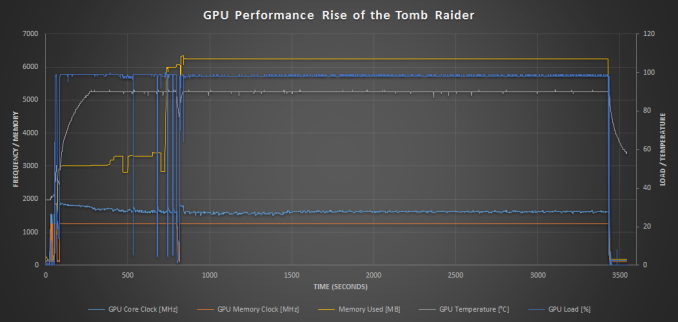 There's a few things to note in the data. First, the GPU temperature rises to the 90°C limit and never exceeds it. Second, the GPU core clock goes up to about 1900 MHz in boost, until it gets thermally limited and falls down to around 1600 MHz. It isn't throttling at this point, but moving into the steady state. It never falls below the base clock, but is instead likely hitting its TDP limit for the mobile variant of the GPU. Finally, Rise of the Tomb Raider can eat up huge amounts of RAM, so if you're going to play this game on Very High, be sure your GPU has more the 4 GB.
On the noise side, the fans are on continuously, but when working on the desktop, they never get too loud unless you are pushing the laptop. At idle, the sound level is 39.5 dB(A) with the SPL meter an inch over the trackpad. Some gaming laptops can be screaming jet engines when under load, but this one is not, and even after an hour of gaming the SPL level was only 49.5 dB(A). You would still likely want to wear headphones when gaming, but the laptop doesn't get hot and it never gets overly loud. This is with the fans at their default settings.
Software
Most gaming laptops come with a bit of software for things like macros, and the Mythlogic Phobos 8716 has a full compliment of utilities, but no extra things like you'd see on mainstream OEM laptops. It's refreshing to see a clean experience, and it's worth giving a shout out to the crew at Mythlogic for avoiding that trap. What they do include is all purposefully put there.
The basics are the utilities like the Killer networking, GeForce Experience (which I am not a fan of having to log into now in order to do anything – thanks NVIDIA), and the SoundBlaster software for configuration of the installed hardware. But Mythlogic also adds their own tools to do a couple of things.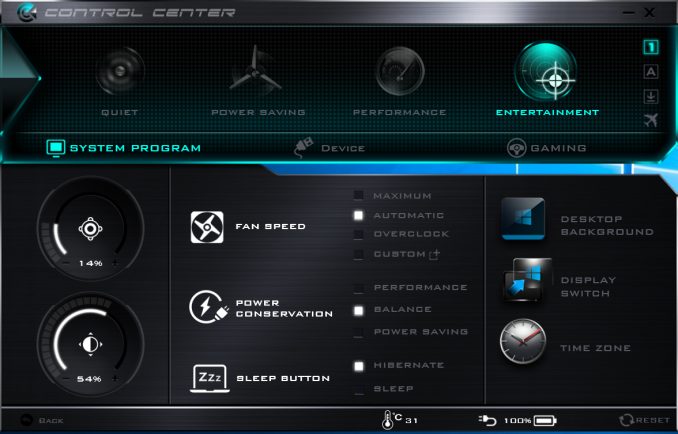 Mythlogic has a control center, which allows you to change the device profile quickly among quiet, power saving, performance, and entertainment modes, all which set the display and fan settings for those modes. You can also set the volume, and turn off the display. Fan speeds can be configured with some built-in profiles, or you can do a custom one, or just set them to maximum, which is going to give you some more headroom for the internal components, but at 65 dB(A), it's not very enjoyable for day to day use. The software works fine, although it's not the prettiest utility around.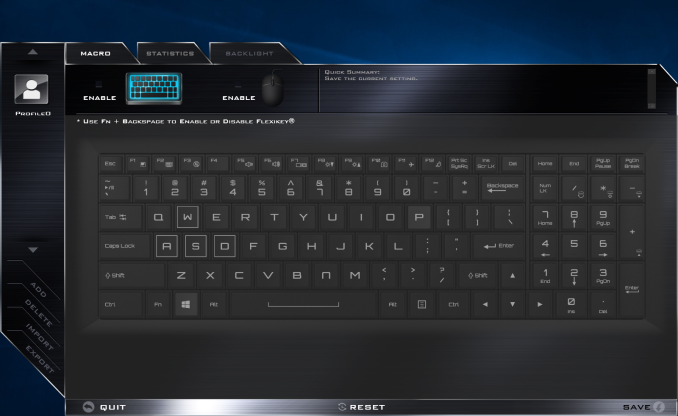 They also have their FlexKey software, which is used for a couple of purposes. First, you can use it to customize the keyboard and back panel lighting. Second, it can be used to track statistics of which keys you use, and you can set it to record and stop as needed. Finally, you can use it to record and use macros. There are no dedicated macro keys, so they will have to be bound to other keys on the keyboard, or mouse.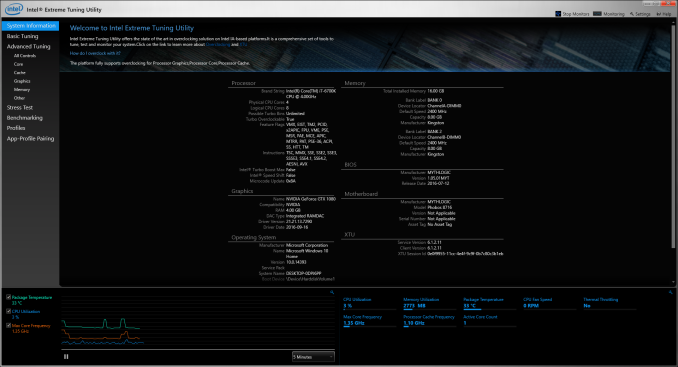 The last bit of software is for those who want to overclock. Since the review unit is an i7-6700K, the CPU is unlocked, and the laptop also supports GPU overclocking. To set up the CPU, they have included the Intel Extreme Tuning Utility, which allows you to do some very fine grained controls of the CPU and memory. On the GPU side, Mythlogic has a tool to change the core and memory clocks on that, as well as adjust the fan speed as needed. The overall fan speeds can also be set to the Overclock mode in their control center.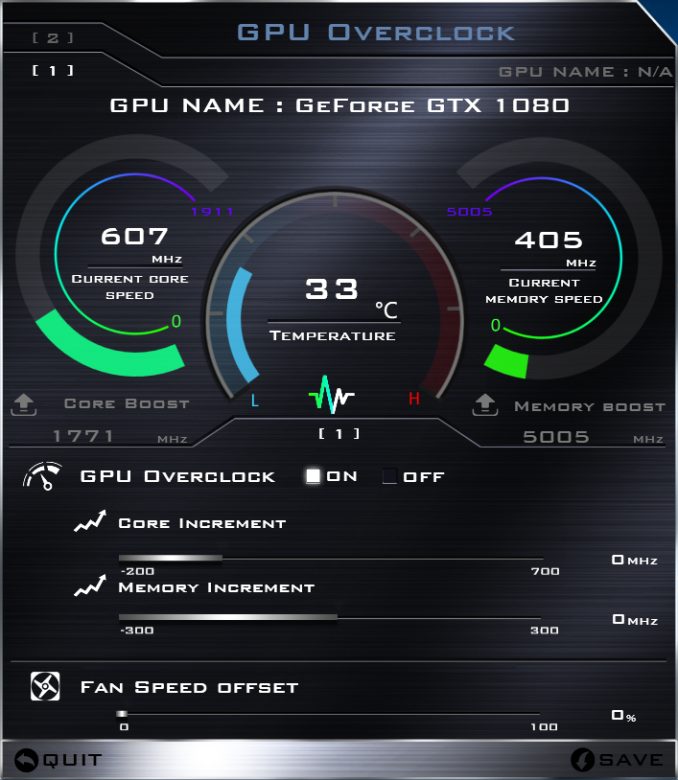 Since I am not into overclocking, I shied away from digging into this and possibly breaking something. Plus, it would be difficult for me to see needing more performance than this system already gives at stock levels. However there's a whole community who is into extracting the maximum performance, and Mythlogic has provided the tools for you to do this if you are into that.