Battlefield 4
Kicking off our benchmark suite is Battlefield 4, DICE's 2013 multiplayer military shooter. After a rocky start, Battlefield 4 has since become a challenging game in its own right and a showcase title for low-level graphics APIs. As these benchmarks are from single player mode, based on our experiences our rule of thumb here is that multiplayer framerates will dip to half our single player framerates, which means a card needs to be able to average at least 60fps if it's to be able to hold up in multiplayer.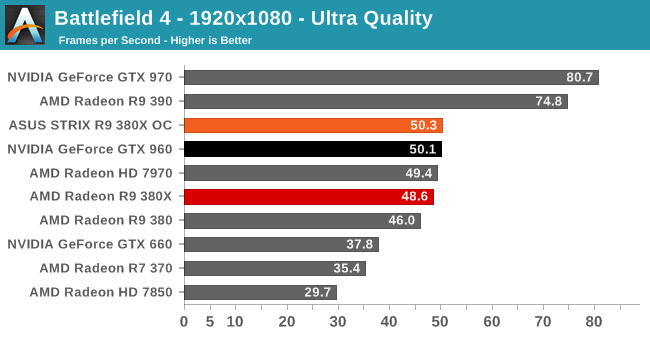 Though not doing poorly, Battlefield 4 has not been a game AMD's products have excelled at lately. Case in point, at 1080p even the referenced clocked R9 380X can't unseat the GeForce GTX 960; it takes the ASUS factory overclock to do that. Overall while the 380X is on average 10% faster than the GTX 960, as we'll see as we work through our games it will not take the top spot in every single game, so this will not be a clean sweep.
Meanwhile Battlefield 4 is a good example of why AMD wishes to focus on 1440p, despite the fact that Tonga is going to come up a bit short in overall performance. As we've seen time and time again, AMD's performance hit with resolution increases is less than NVIDIA's, so a loss for the R9 380X at 1080p is a win at 1440p. There are a few cases where the R9 380X is fast enough for 1440p, but by and large you'd have to take a quality hit to reach the necessary performance. So unfortunately for AMD this bulk of the focus on the R9 380X is going to be at 1080p.
As for comparisons with past cards, we've gone ahead and thrown in the Radeon HD 7850 and the GeForce GTX 660, 2GB cards that launched at $249 and $229 respectively in 2012. Part of AMD's marketing focus for the R9 380X will be as an upgrade for early 28nm cards, where the R9 380X is a significant step up. Between the greater shader/ROP throughput, greater memory bandwidth, and doubled memory, the R9 380X is around 82% faster than the 7850, which traditionally is around the area where a lot of gamers look for an upgrade.
Finally, at the other end of the spectrum, it's worth pointing out just how far ahead of the R9 380X the R9 390 and GTX 970 are. In the introduction we called them spoilers, and this is exactly why. They cost more, but the performance advantage of the next step up is quite significant.