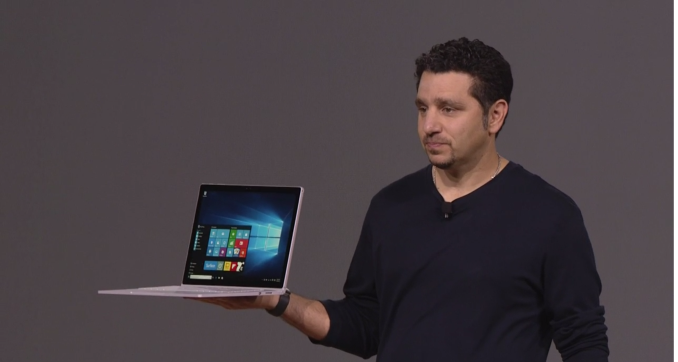 Pretty much since the original Surface was born, I, and many others, have wished that Microsoft would try their hands at a laptop computer. It's not even that the original Surface was a great device, but the whole idea was to kickstart some new device types, and now Surface has turned into a big business in its own right. The latest Surface Pro 4 looks to be the best iteration yet.
So today Microsoft is trying to redefine the laptop category with the Surface Book. With Surface Pro, it was the tablet that can replace your laptop, and with Surface Book, it is what Microsoft is calling "The Ultimate Laptop" and we shall see about that but it has a lot going for it. Compared to the Surface Pro 4, the display is larger at 13.5-inches but keeps the same 3:2 aspect ratio that has now defined the Surface lineup. People sick of 16:9 laptops should be happy to see this.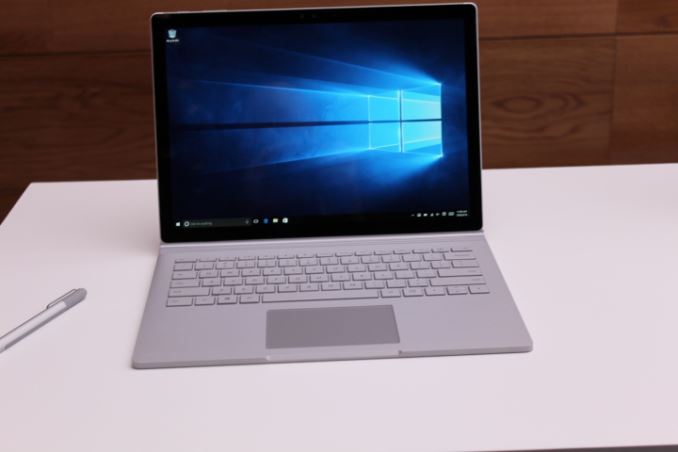 The display itself is 3000x2000 pixels, which works out to exactly 6,000,000 pixels and the same 267 pixels per inch of the Surface Pro 4. It has the same 0.4 mm thick Gorilla Glass covering as well, and contains the same PixelSense capabilities that mean it will also work with the pen and of course touch. Each panel is calibrated for sRGB out of the box.
This is not your ordinary laptop where the display is just the display and the key components of the notebook are under the keys. Instead, the screen is detachable like many two-in-one devices, but the base itself is connected and houses the NVIDIA GPU and some batteries, as well as USB ports and a SD card reader like you would expect on an Ultrabook.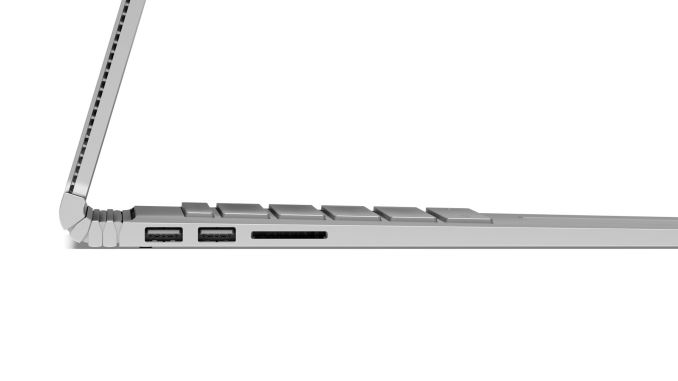 The hinge is certainly very interesting, and it kind of reminds me of a new take on the Yoga 3 Pro's keyboard hinge, although this one is much thicker. Microsoft calls it a Dynamic Fulcrum Hinge. One weird thing about the hinge is that when the device is closed, the top and bottom don't meet. It is weird to see but I would need some more time with it to see if it is an issue. A benefit of the slightly raised rear is when the display is connected flipped around for writing, the glass is slightly tilted towards you which is something I often find myself doing with the Surface lineup of tablets.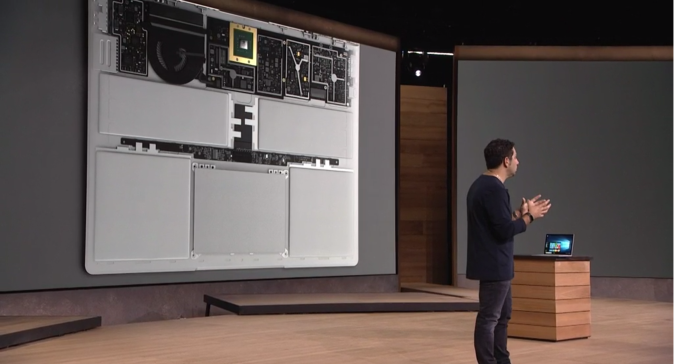 The latching system is ridiculously strong. Microsoft is using a wire that can change its length if a voltage is applied to it. You have to press and hold a button on the keyboard to invoke this charge so the actual separation is never going to be by accident, but it does take longer than some other detachable devices.
I am a bit of a keyboard nut myself, and I really like a proper keyboard, so it is great to see that the Surface Book will have 1.6 mm of key travel, and a nice layout. I am generally not a fan of light keys with backlighting so we will have to see how this holds up in the real world. The trackpad is a Microsoft Precision trackpad with a glass top and five points of touch.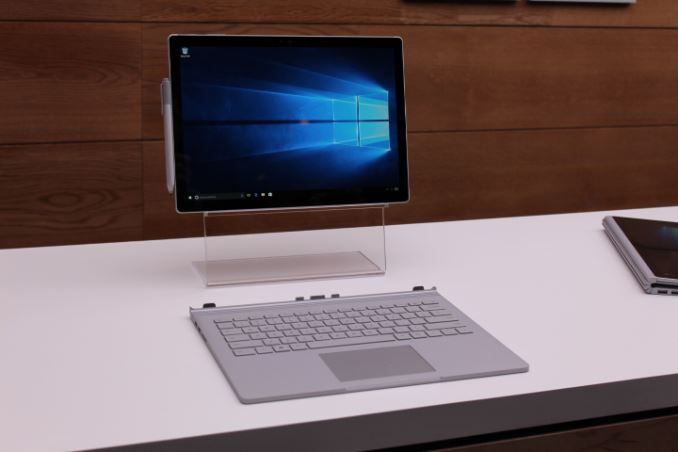 On the spec side, there will be Core i5 and i7 versions of this available, and the GPU is optional with the Core i5, but standard with the Core i7. Base configurations come with 8 GB of memory, but there is a 16 GB version as well, and storage is PCIe based SSDs from 128 GB to 1 TB.
Surface Book
Core i5
Core i5 w/GPU
Core i7 w/GPU
GPU
Intel HD 520
Intel + NVIDIA GeForce dGPU
(Maxwell w/GDDR5)
CPU
6th Generation Intel Core i5 (15w)
6th Generation Intel Core i5 (15w)
6th Generation Intel Core i7 (15w)
Memory
8-16GB RAM
Display
13.5" PixelSense 3000x2000 resolution
1800:1 Contrast Ratio
100% sRGB, individually calibrated
10 point touch and Pen support
Storage
PCIe 3.0 SSD 128 GB to 1 TB
I/O
USB 3.0 x 2 (In Base)
SD Card reader (In Base)
Surface Connector (In Tablet and Base)
Headset Jack
Mini DisplayPort
Dimensions
Laptop
(mm) : 232 x 312 x 13.0-22.8
(inches) : 9.14 x 12.3 x 0.51-0.90
Tablet Only
(mm) : 220.2 x 312.3 x 7.7
(inches) : 8.67 x 12.3 x 0.30
Weight
Laptop
1.515 kg / 3.34 lbs
Tablet Only
726 g / 1.6 lbs
Laptop
1.579 kg / 3.48 lbs
Tablet Only
726 g / 1.6 lbs
Camera
Windows Hello (Front)
8 MP Rear Facing
5 MP Front Facing
Price
$1499+
$1899+
$2099+
Size and weight are always a key with this class of device, and despite the 13.5-inch size, the tablet itself only comes in at 1.6 lbs or 726 grams. Adding the keyboard moves the Surface Book out past the incredible weight of some of the latest Ultrabooks, with the non-GPU version coming in at 3.34 lbs or 1.51 kg, and the GPU adds a bit more weight to come in at 3.48 lbs or 1.58 kg.
The Surface Book will go on pre-order tomorrow starting at $1499 up to $2699 for the Core i7 with 16 GB of RAM and the GPU. No 1 TB models are listed yet but they were announced. Microsoft is likely waiting on manufacturers to offer M.2 1 TB models.