ABIT IT7
Motherboard Specifications

CPU Interface

Socket-478

Chipset

Intel 82845E MCH
Intel 82801DB ICH4

Bus Speeds

100-250MHz (in 1MHz increments)

Core Voltages Supported

up to 1.7V (in 0.025 increments)

I/O Voltages Supported

N/A

DRAM Voltages Supported

up to 3.2V (in 0.1V increments)

Memory Slots

3 184-pin DDR DIMM Slots

Expansion Slots

1 AGP 4X Slot
4 PCI Slots

Onboard RAID

High Point HPT374 IDE Controller

Onboard USB 2.0/IEEE-1394

USB2 Supported through South Bridge
TI FireWire Controller

Onboard LAN

RealTek 8100B

Onboard Audio

Realtek ALC650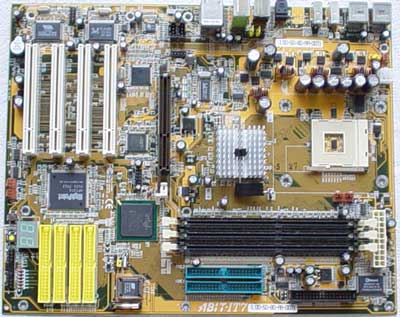 Click to Enlarge
What truly separates the ABIT IT7 from all the other Pentium 4 motherboards on the market today is its legacy free layout, dubbed the "MAX" series of motherboards. The ABIT IT7 does not have a single legacy port located anywhere onboard (its face plate design is obviously quite unique). The only thing that can be considered a "legacy" item is the floppy connector.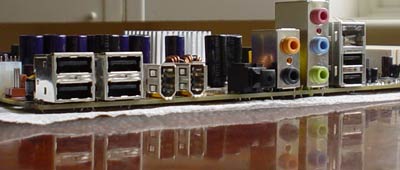 Legacy features have slowly but surely started to become less and less attractive to performance users, as faster USB and FireWire technologies have emerged. Therefore, it is quite understandable that ABIT has done away with legacy ports for the very high-end performance market. However, it is important to note that legacy ports are still an absolute must in the OEM market, where cost is the driving force behind most decisions (OEM's are very sensitive to price, whereas performance-driven users usually are not). It's clear the ABIT IT7 is aimed squarely at high-end performance users among other such markets.
ABIT was able to fit quite a bit extra on the PCB due to the IT7's legacy free nature. As a result, the IT7 is one of the most feature filled Pentium 4 motherboards on the market today.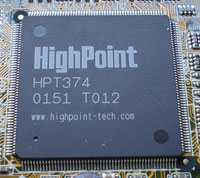 Like its BD7II brother, the IT7's High Point HPT374 Controller provides options for RAID 0, RAID 1, and RAID 0+1 arrays. The IT7 utilizes the ICH4's native support for LAN in the form of the Realtek 8100B. The IT7 also utilizes the Realtek ALC650, another feature native to the ICH4 South Bridge.
The IT7 also supports a hefty amount of IDE devices, with a total of 12; 8 are courtesy of the HPT374 chip. There's support for a staggering 10 USB 2.0 ports as well, 6 native USB 2.0 ports via the ICH4 South Bridge and an additional 4 via the onboard VT6202 USB2.0 chip. In addition, you have up to 3 IEEE 1394a FireWire ports at your disposal.
Stressing the IT7
The IT7 was able to make it through Prime95's torture tests for nearly 24 hours without a hiccup. We then decided to go into the BIOS and turn up the intensity a bit with Turbo mode. This didn't affect the IT7 at all. Finally, we decided to to populate all 3 DIMM slots with memory to see how it would hold. The IT7 handled it like a champ; yet again we saw no impact on the stability of the motherboard, even under these strict conditions.
All in all, we are pleased to see ABIT create such a solid piece of silicon. We eagerly anticipate future MAX motherboards, but would like to see a more mixed combination in the future, like a serial port or two. Even though this would take away from ABIT's "legacy free" campaign, we believe it would better serve consumers in current market conditions. Still, we will no doubt be keeping a close eye on how MAX progresses, and hope to see similar products from ABIT in the near future.