ABIT BD7II-RAID
Motherboard Specifications

CPU Interface

Socket-478

Chipset

Intel 82845E MCH
Intel 82801DB ICH4

Bus Speeds

100-250MHz (in 1MHz increments)

Core Voltages Supported

up to 1.725V

I/O Voltages Supported

N/A

DRAM Voltages Supported

2.5-2.7V

Memory Slots

3 184-pin DDR DIMM Slots

Expansion Slots

1 AGP 4X Slot
5 PCI Slots

Onboard RAID

High Point HPT372 Controller

Onboard USB 2.0/IEEE-1394

USB2 Supported through South Bridge

Onboard LAN

RealTek 8100B

Onboard Audio

Realtek ALC650

As with basically all of the 845E boards we tested, the ABIT BD7-II was a solid, well-performing motherboard. The BD7II's features are about the average find on the 845E boards tested here today.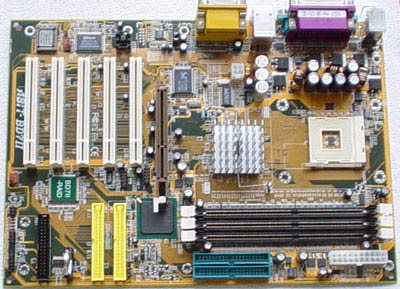 Click to Enlarge
The BD7II's HighPoint RAID chip provides options for RAID 0, RAID 1, and RAID 0+1. This board also comes with Realtek ALC650 sound and Realtek LAN via the ICH4 South Bridge.
The BD7-II RAID also supports up to 6 USB 2.0 ports (through the ICH4 South Bridge).
Stressing the BD7II-RAID

As will be our custom for motherboard reviews from now on, Prime 95 was the primary application of choice for stress testing the BD7II-RAID. For 24 hours straight the BD7II-RAID ran Prime95 torture tests without a hitch. Upon entering the BIOS we set memory to Turbo mode and other aggressive timings. Luckily enough everything ran smoothly, and we experienced zero stability difference between the more intensive settings and regular SPD settings. We also ran Prime95 torture tests with all 3 DIMM slots filled with memory. We're happy to report that everything ran seamlessly for hours, and we were able to complete our entire benchmark suite just as easily as we were able to with only one bank filled.
Overclocking
The BD7II-RAID comes with many exceptional overclocking features. In the BD7II's Soft Menu III BIOS you will find options for "fixing" AGP/PCI frequencies at 66MHz/33MHz. This is an important feature for people that want to push their system to the max without running the risk of killing their AGP or PCI cards. As you probably already know, running your AGP or PCI cards out of spec can cause serious damage to its functionality.
In addition to the AGP/PCI lock, you have an adjustable FSB as high as 250MHz. You can also raise Vcore up to 1.725V and VDIMM up to 2.7V. These numbers should adequately meet the needs of the vast majority of overclockers.
Currently, the ABIT BD7II-RAID is going for $120 in the U.S. depending on your location.