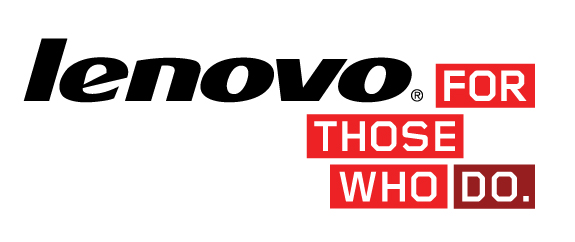 Lenovo has been busy at IFA 2015. They refreshed their consumer PC lineup, announced some ThinkPads, and are now announcing some updates to their gaming lineup. The Lenovo Y series sees an updated Y700 Touch laptop along with a couple of desktops, and Lenovo is jumping in on the gaming accessories with a mechanical keyboard, mouse, surround headset, and more.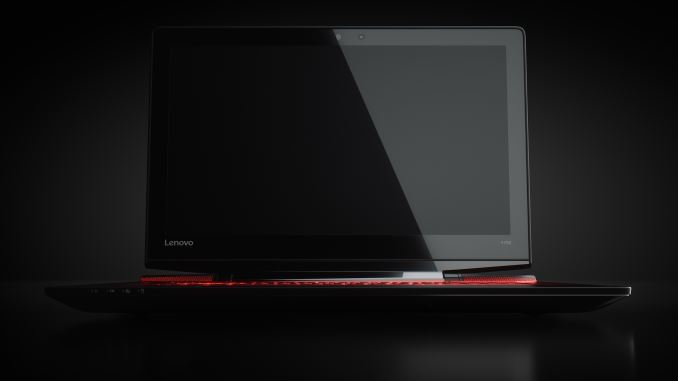 The Lenovo ideapad Y700 Touch is a 15.6-inch gaming laptop powered by Intel's 6th generation Skylake processors. The laptop features a 1920x1080 display, or you can outfit it with a 3840x2160 offering. The GPU is a NVIDIA GTX 960M which is not unexpected at the starting price of $799. You can get up to 512 GB of SSD or up to 1 TB of HDD or SSHD storage. The battery life is likely going to be not fantastic with just a 60 Wh battery, but gaming laptops are never known for great battery life. Intel outfits the Y700 Touch with a red backlit keyboard, and stereo JBL speakers with a 3 watt subwoofer.
Lenovo ideapad Y700
Y700 Touch
Y700-15
Y700-17
Processor
Up to 6th gen Intel Quad-Core i7 (45w)
Memory
Up to 16 GB DDR4
GPU
NVIDIA GeForce GTX 960M 4GB
Display
15.6" 1920x1080 with touch
15.6" 3840x2160 with touch
15.6" 1920x1080
15.6" 3840x2160
17.3" 1920x1080
Storage
Up to 512 GB SSD
Up to 1TB SATA HDD
Intel RealSense 3D
No
Optional
No
Dimensions
(mm) : 387 x 277 x 25.95
(inches) : 15.23" x 10.90" x 1.02"
(mm) : 387 x 277 x 25.95
(inches) : 15.23" x 10.90" x 1.02"
(mm) : 423 x 305 x 27.95
(inches) : 16.65" x 12.00" x 1.10"
Weight
2.6 kg / 5.7 lbs
2.6 kg / 5.7 lbs
3.5 kg / 7.7 lbs
Battery
4 Cell 60 Wh
Price
Starting at $1499
There will also be an ideapad Y700 without touch, and this will be available in both 15.6-inch models similar to the touch model, and a 17.3-inch version with a 1920x1080 display as the only offering. The 15.6-inch non-touch model will also be available with the Intel RealSense 3D camera system for Windows Hello support.
Lenovo is also rolling out some new gaming desktops. The ideacenter Y700 comes with a 65 watt Core i7 processor and a NVIDIA GTX 970 GPU. You can outfit the desktop with up to 32 GB of DDR4 memory, and it comes with up to 256 GB SSD storage and up to 2 TB of SSHD. As a desktop, there are more expansion bays as well with 4 x 3.5-inch or 2.5-inch bays, and all of this is powered by a 450 watt PSU. The Y900 offering bumps the CPU up to the Skylake-K series with a 95 watt TDP, and the GPU gets bumped to the GTX 980. Memory is once again DDR4 but with up to 64 GB available. The PSU is also bumped to a 625 watt unit. The 34 liter cases are styled in the same motif as the Y gaming laptops, and the Y900 is shown with a side panel window.
Lenovo ideacenter Y
Y700
Y900
Processor
Up to 6th gen Intel Quad-Core i7 (65w)
Up to 6th gen Intel Quad-Core i7-K (95w)
Memory
Up to 32 GB DDR4
Up to 64 GB DDR4
GPU
NVIDIA GeForce GTX 970
NVIDIA GeForce GTX 980
PSU
450 Watts
625 Watts
Storage
Up to 256 GB SSD
Up to 2TB SATA SSHD
Dimensions
(mm) : 206.4 x 503.5 x 478.9
(inches) : 8.12" x 19.82" x 18.85"
ODD
DVD/BD Combo
Price
Starting at $999
Starting at $1599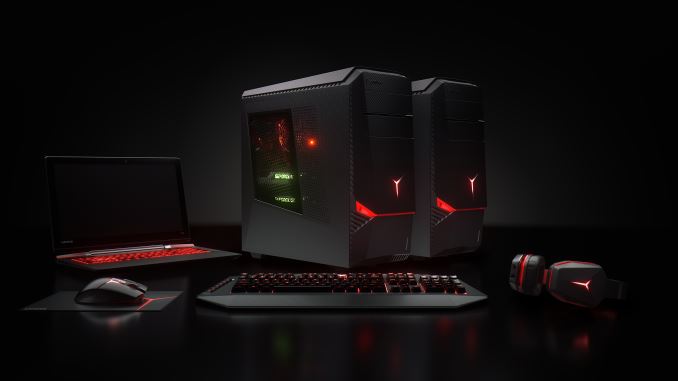 Lenovo is also rolling out accessories to go with their Y series gaming systems. The Y Gaming Surround Sound Headset is a USB 3.0 headset with a 40 mm Neodymium driver. The microphone is detachable on this 7.1 headset, and offers noise cancelling. The headset comes in at 350 grams and will be on sale for $70.
They are also offering the Y Gaming Precision Mouse, with up to 8200 DPI and 1 KHz polling, along with the Y Gaming Mouse Pad which is 350mm x 250mm with a braided locked edge design. The mouse will be available in September for $70.
Lenovo is also going to be offering a mechanical switch keyboard which has a detachable palm rest, a 3.5mm audio input and output, and six macro keys. It will be available for $140 in September.
If you need to carry all of this around, Lenovo is also offering a Y Gaming Active Backpack which will hold up to a 17.3-inch laptop and compartments tailored for gaming gear. It will retail for $100.
Source: Lenovo