Hot Test Results
Moving on to our hotbox testing, the SX600-G is only rated for operation up to 40°C, and as we can quickly see in our results it's for a good reason - its performance plummeted once placed in our hotbox. We do not get to review lower power units often here at AnandTech, yet these may be the worst hotbox electrical performance figures we have seen in recent years.
Overall voltage regulation is acceptable, at 2.5% for the 3.3V line and 3.3% for the 5V and 12V lines. The power quality however is terrible. At maximum load, the two minor voltage lines even failed the 50 mV specification limit and the 12V line reached the borderline 114 mV figure with a limit of 120 mV. With the PSU heavily cross-loaded, the 12V line failed the power quality limit as well, registering a ripple of 162 mV. Apparently Enhance just does not expect this PSU to be so heavily loaded under such hot conditions (and, considering the very limited number of connectors, it cannot really be).
Main Output
Load (Watts)
122.57 W
303.15 W
449.98 W
593.93 W
Load (Percent)
20.43%
50.52%
75%
98.99%
Amperes
Volts
Amperes
Volts
Amperes
Volts
Amperes
Volts
3.3 V
1.79
3.39
4.47
3.35
6.71
3.32
8.95
3.31
5 V
1.34
5.19
3.36
5.14
5.03
5.1
6.71
5.02
12 V
8.95
12.24
22.37
12.11
33.56
11.98
44.74
11.86
Line
Regulation
(20% to 100% load)
Voltage Ripple (mV)
20% Load
50% Load
75% Load
100% Load
CL1
12V
CL2
3.3V + 5V
3.3V
2.5%
24
30
46
64
46
64
5V
3.4%
30
42
50
72
40
72
12V
3.2%
32
60
88
114
162
64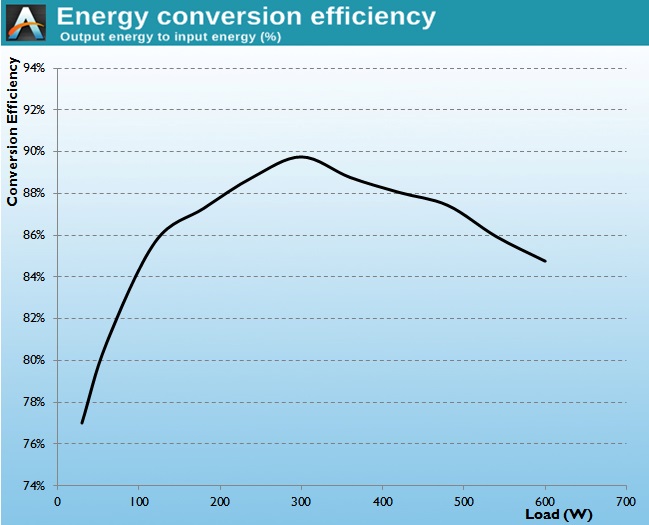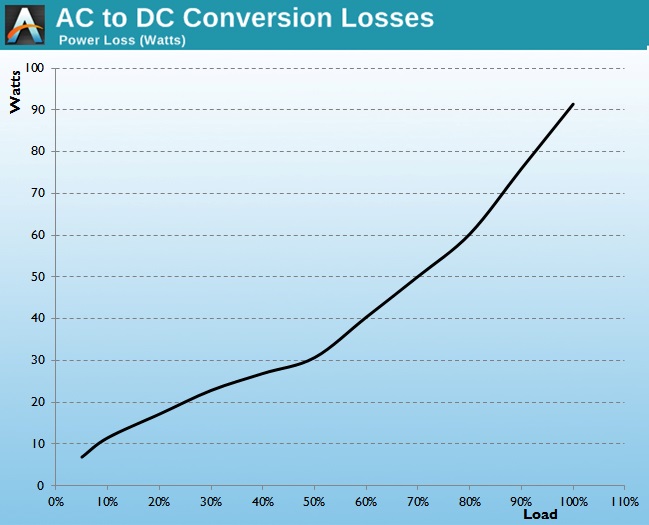 We need to stress that this is a PSU rated at 40°C and we perform our testing at temperatures higher than 45°C - we could reduce the ambient temperature of our hotbox testing but we chose not to do so as the results would then not be comparable to those of our previous reviews.
Alongside the regulation and power quality, the energy conversion efficiency plummets as well. The average efficiency reduction is 1.9%, with a high drop of 3.3% at 100% load. The active parts of the PSU are good and such an efficiency loss cannot be attributed solely to them, as they have to cope with very high internal temperatures that reduce the performance of even the best of parts.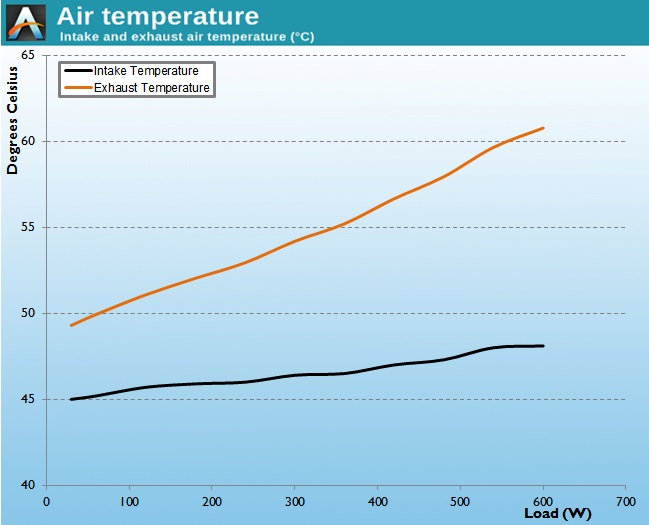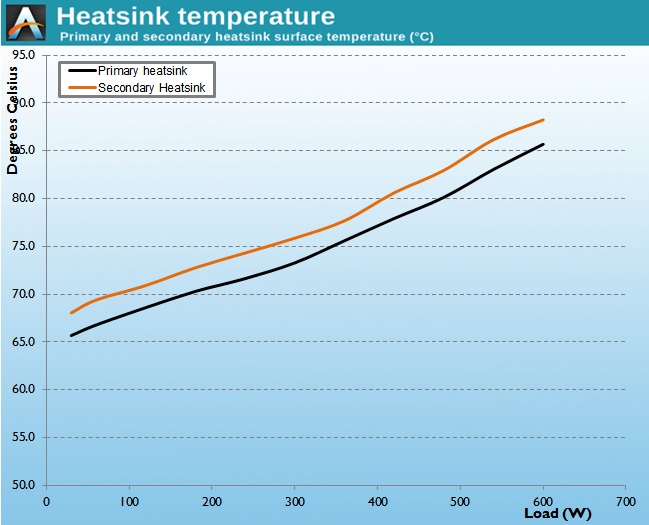 This time, the fan of the SX600-G started right away, as the ambient conditions likely were already too harsh for the PSU. With the unit being so densely packed and heavily loaded, the fan has to keep spinning faster and faster in order to cope with the increased thermal demand. It does, maintaining safe operating temperatures for the SX600-G even under the harshest conditions. The strange thing is that even at 100% load, the fan did not reach it maximum rotational speed. With our laser tachometer registering 4200-4300 RPM, it indicates that the fan has headroom to spin even faster if the conditions get harsher than this. Still, it reaches 46.6 dB(A) under maximum load, which the vast majority of users will find intolerable for everyday use.