System Performance
Intel's Broadwell rollout has been fairly drawn out, with the first chip made on the 14nm process being Core M way back in October 2014. At CES, Intel launched the Broadwell-U processors which were 15-28 watt TDPs, but all dual-core. With Intel trying to make a bigger push into mobile, even the Atom processor got moved to 14nm before the quad-core Core parts, but finally as of June 2nd, Intel launched some quad-core laptop parts and a couple of desktop parts.
MSI sent along the latest update to the GT80 Titan which is powered by the Intel Core i7-5700HQ processor. As with any CPU update, Intel has made a few tweaks to the architecture which will gain a few percentage points in IPC, however this is in essence a die shrink on Haswell, so we have to keep expectations in check. What we have seen on the Broadwell-U line is better battery life, and a nice boost in performance by the processor being able to maintain higher turbo frequencies while keeping within its thermal envelope.
With a TDP of 47 watts, the i7-5700HQ, it will be interesting to compare how the Broadwell quad-core parts compare to Haswell. The i7-5700HQ has a base frequency of 2.7 GHz and a turbo of 3.5 GHz. There is not a perfectly comparable Haswell part that we have tested however the i7-4720HQ has been in several devices this year and has a slightly lower base of 2.6 GHz and a slightly higher turbo of 3.6 GHz which should make an interesting comparison.
I have put the GT80 Titan through our standard laptop workload, and picked some comparative devices. Take note that the Clevo P750ZM actually has an 88 watt desktop CPU inside. The MSI GT72 Dominator Pro has a 47 watt TDP and the same 3.5 GHz turbo frequency so it should be a great comparison for Haswell versus Broadwell. If you want to compare the GT80 Titan to any other laptop we have tested, please use our Notebook Bench.
PCMark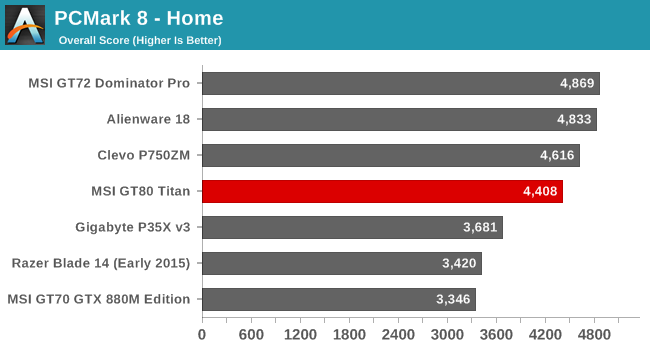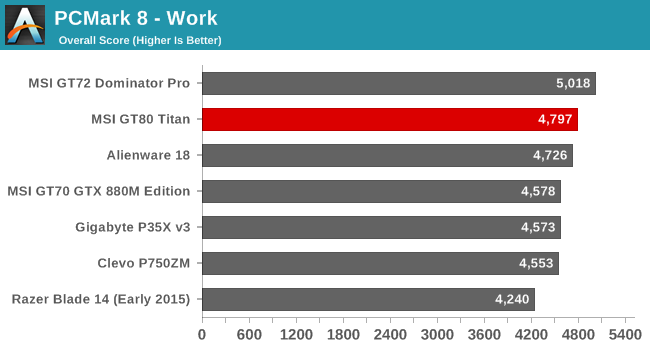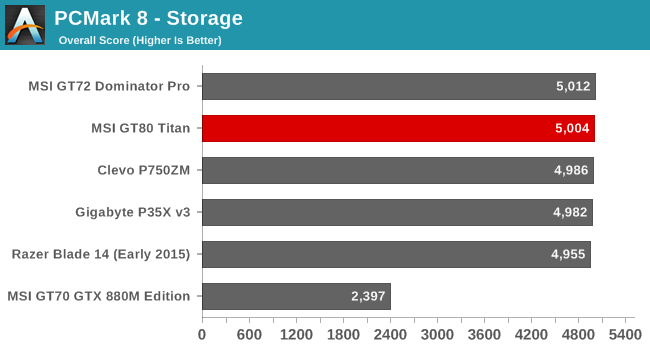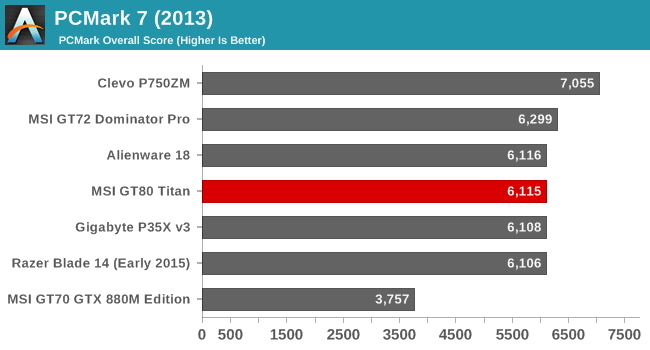 PCMark tries to simulate some real life workloads, with several different subtests for different sets of tests. It is not a pure CPU test, and also factors in memory, storage, and even display resolution. The GT80 does not outright win these tests however it is competitive. The two SSDs in RAID 0 help boost it to one of the higher storage scores, and for the target market the extra cost and loss of battery life of RAID 0 is fine. One thing to note is that the Creative test on PCMark 8 would fail to run on this device, so there was no score recorded for that test.
Cinebench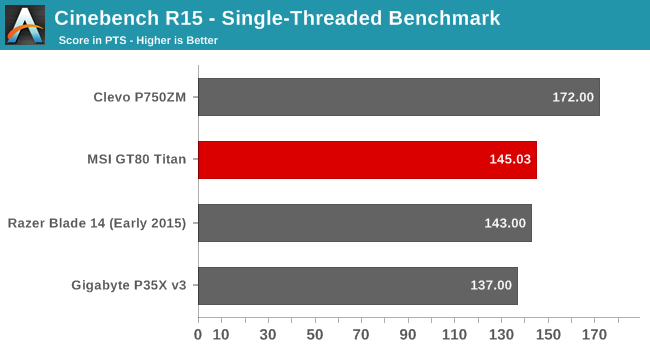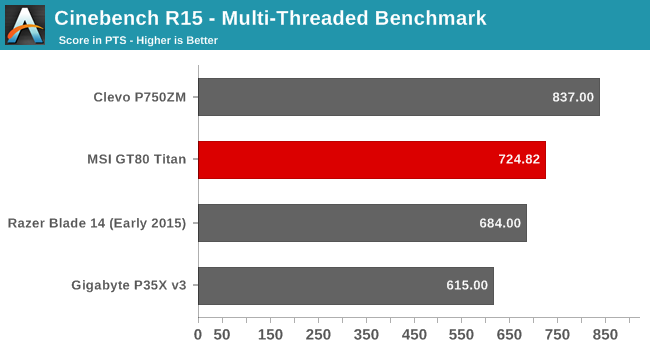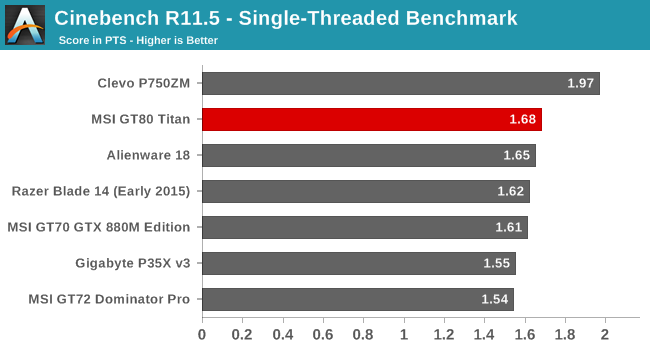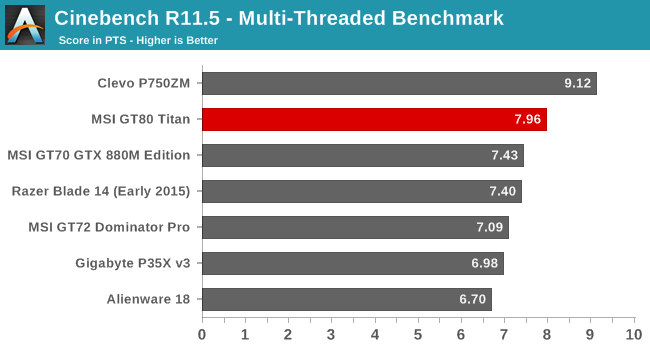 Cinebench is more of a pure CPU test, and it favors high frequencies and IPC. Here we get a better feel for Broadwell and the i7-5700HQ performs very well. It outperforms all of the other 47 watt processors we have tested despite not having the highest turbo frequency.
x264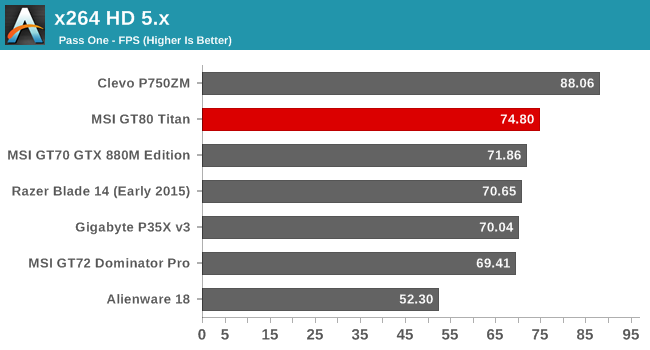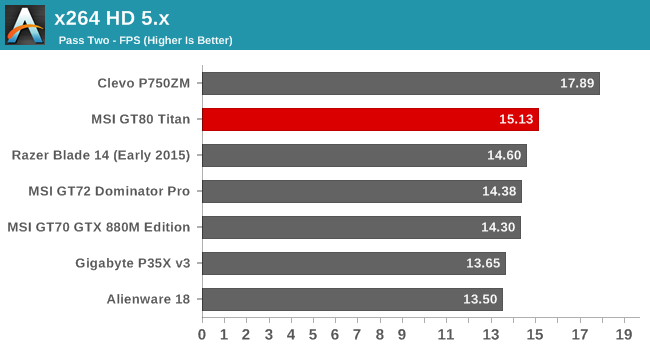 Once again, the i7-5700HQ outperforms all other 47 watt parts although it can't compete with the 88 watt P750ZM. The move to 14nm clearly opens up some additional headroom to keep the turbo frequencies up.
Web Tests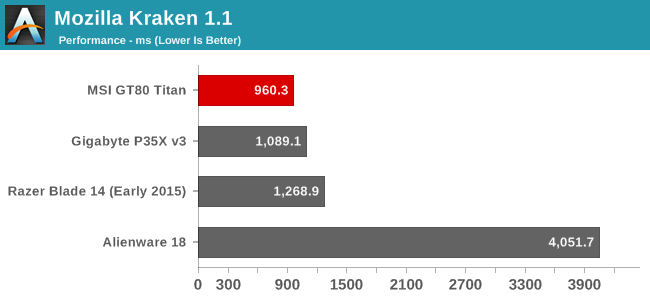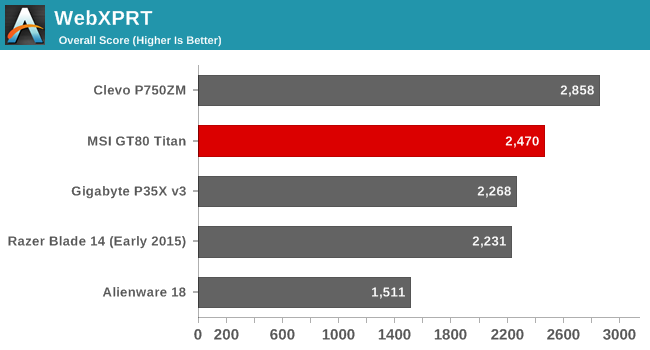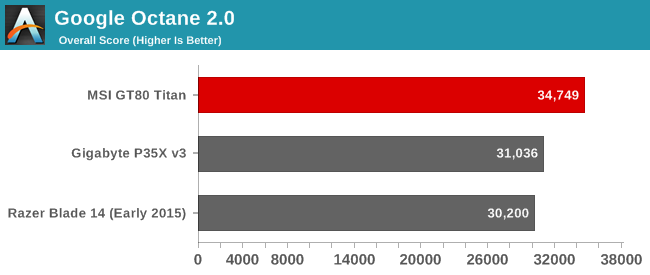 Our web tests continue the trend that has already been set. Once again the GT80 Titan sets the standard, and is only trumped by a notebook with a desktop processor.
Broadwell may just be a die shrink of Haswell, but the 14nm process is very effective. Despite having a maximum frequency of just 3.5 GHz, the i7-5700HQ outperforms Haswell parts that can turbo up a few hundred megahertz more, which is pretty impressive.